Gallery Stroll will be happening this Friday, but for several galleries that can't afford the dues to get listed, they're going to throw exhibitions anyway for you to check out. --- One of those shows will be taking place at The Guthrie on 200 South, aptly named
The Unseen
, is an exhibition of Salt Lake City's lesser known and rising talents. The showcase will feature over a dozen artists including Nikki Engel, Rheanna Sonnichsen, Trevor Dopp, James Silva, Skyler Chubak, Mike Murdock, Robin Banks and more.
Today, I chat with Ricky Vigil, SLC-based writer and illustrator, about his artistic career, his comic series Super Cool and Stuff, thoughts on the show and the local art scene, all with samples of his works that you can check out this Friday. (All pictures courtesy of Vigil.)
Ricky Vigil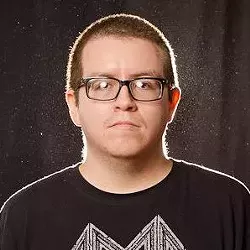 Gavin: Hey, Ricky. First thing, tell us a bit about yourself.
Ricky: Hi, Gavin. My name's Ricky. I'm a creator of worlds, an eater of pizza and a lover of small dogs. I like to make comics and listen to records.
Gavin: How did you first get into art, and what were some early influences on you?
Ricky: I've always been interested in art, in a way. As a kid, I was super-into comic books, from when I was really young and into Sonic The Hedgehog, then the X-Men and Spider-Man a little later, and even later discovered more alternative stuff ranging from Preacher to more artsy stuff from Daniel Clowes and Charles Burns. I've also always been really interested in cartoons and video games, so my first artistic endeavors were trying to replicate my favorite characters – I literally have dozens of notebooks full of drawings of ridiculously proportioned Street Fighter characters.
Gavin: I know that at the Univeristy of Utah you pursued an English major, but did you study any art there or are you mainly self-taught?
Ricky: I took a painting class and a drawing class at the U, but neither of them was very beneficial. I did learn a lot from my high school art teacher, Mr. Dente, though. Before I took an actual art class, I didn't understand things like perspective or proportions ... or erasing. I took the basic framework I learned there and have been tweaking it over the years as I expose myself to new influences, to varied amounts of success!
Gavin: What made you decide to start drawing cartoons and comics and publishing them online?
Ricky: When I was in high school, I became aware of webcomics and got really into a few of them – particularly, Penny Arcade. I figured that my friends and I were weird/interesting enough to warrant a slightly fictional webcomic, and I tried a few times to get them to collaborate with me, but all of my efforts went nowhere -- though if you are a creepy enough Internet detective, you can find some stray comics from this era on MySpace. A few years later, I became aware of people doing comics more in the style of a daily journal, like James Kochalka and Ben Snakepit, and I figured if they could make comics about the mundane things in their daily lives, then I could, too. One night in July 2011, I couldn't sleep, so I decided to make a comic about it. Then, I made another one the next day, and another the next day, and another the next day, for about five months. I figured since I was making so many, I might as well share them with people, so I started posting them online.
Gavin: Why did you choose online at first, rather than complete comics, and where did the title come from?
Ricky: I chose to post them online rather than make print copies simply because it was easier. Scanning a few comics, cropping them, uploading them on the Internet and posting a link to all my social-media accounts is a pretty quick process, compared to constructing a zine. The title Super Cool and Stuff actually came from my former co-worker at SLUG Magazine, Adam Dorobiala. We shared a computer, and at one point started leaving drawings on Post-It notes for each other to discover when they came in for their shift; this actually made me start drawing a lot more regularly than I had been for a few years. One day, Adam left me a drawing of a dinosaur, saying, "Hi, Ricky. I think you are super-cool and stuff." I liked the way that sounded, so I decided to use it from there on out.
Gavin: What's the process like for you when creating a new comic, from the story to final product?
Ricky: It varies from comic to comic, but, basically, I take an experience from any given day, distill it down to four panels -- I adapted this format from James Kochalka's amazing American Elf daily comics;go read them! -- draw it with pencils, then trace over it with pen and marker. Sometimes, a situation from my real life is ridiculous enough that I can script it exactly as it happened and it will still translate as a funny comic with a punchline and everything, but usually things have to be exaggerated slightly to generate a bit more humor, and occasionally, shit will just be entirely made up, but inspired by something I'm feeling or a recent experience. It's pretty flexible -- as I long as I have an idea that I think will work, I make a comic about it. Sometimes they're funny and sometimes they aren't, but I'd rather try and fail than not try at all.
Gavin: When did you first take an interest in zines, and how did they influence your style?
Ricky: I became interested in zines as a teenager when I discovered punk rock and indie culture in general. I grew up loving to read, especially magazines, and I thought it was really awesome that people were creating their own magazines of entirely original content and not really pandering to anyone or satisfying anyone's expectations than their own. Most of the zines I was into initially were entirely music -related, but it was discovering Ben Snakepit that made me realize that I could make my own comics about the boring shit that happens to me everyday and still present it in an interesting way. I'm not the greatest artist in the world, and the things that I draw about probably don't interest a whole lot of people, but I like the idea of distributing my work to other people, whether they be friends or strangers, so the zine format works really well for what I'm trying to do.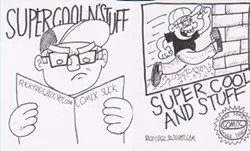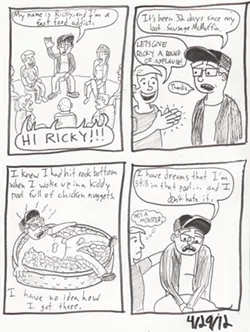 Gavin: Last year, you put out your first physical collection of comics at the Alt Press Fest. How was it putting that together, and what was the experience like for you being at the festival?
Ricky: Super Cool and Stuff #1 was a lot of fun to put together, but I really didn't know what I was doing. I re-drew a bunch of comics that I had made from over the previous year and cleaned up a lot of lettering and spent a lot of time figuring out how to lay things out and duplicate them correctly ... then, I realized that I was making things a lot harder than they needed to be. It seriously took me about a month to put that zine together, and there was very, very little content in it that wasn't pre-existing on the Internet. The experience at the festival was really good, though! I ran out of zines within two hours, since I was giving mine away for free. I actually met a few people who knew about my comics who didn't know me personally, and I met a lot of people involved in the local zine and art communities who have been really supportive.
Gavin: Since that time, what's your progress been like on your next set, and are there any other series you'd like to start?
Ricky: Super Cool and Stuff #2 came together a lot more slowly than I had hoped. I didn't make any comics for about five months since I got wrapped up in a few other things. I also lost one of my notebooks that I had filled with comics and ended up losing some content I planned on putting in the second zine. However, this has forced me to make some more comics, and some of them are actually gonna be exclusive to Super Cool and Stuff #2. If I end up finding that notebook, which I really hope I do, I'm gonna put out Super Cool and Stuff #1.5. I am also working on a comic about the end of my previous relationship called Freak Scene that I'm not sure I'll ever show anyone -- but I am totally gonna put out a zine of pizza reviews! My goal is to have three new zines before this year's Alt Press Fest, and I'm hoping to work on some super-top-secret comic stuff for SLUG, as well.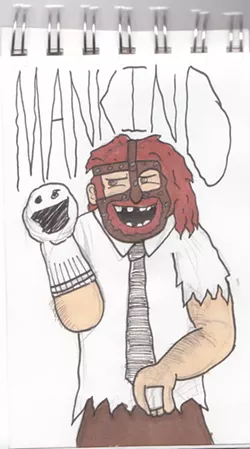 Gavin: Tell us about the works you have on display for this month's Stroll.
Ricky: I'm planning on having five or six things up at the show. Three of them are Utah Jazz-related, and at least one of them is pizza-inspired. The biggest deal for me is that I'm gonna have copies of Super Cool and Stuff #2 with color covers, and those are gonna cost $2. I've never charged for my zines before, so it should be an interesting experience. I plan on putting out some free copies of Super Cool and Stuff #2 with black & white covers, but those will mostly be dropped various places around town a few weeks after the show.
Gavin: How has it been working with the Guthrie and being displayed with other local artists?
Ricky: I haven't been too involved in the process, but it's been neat! Rheanna Sonnichsen has been planning this particular show as a showcase for some lesser known Salt Lake artists, which I think is a really cool concept. I'm stoked to be in a show with some amazing local artists like Trent Call and Sri Whipple, as well as some of my personal homies who I know to be very talented, such as Dusk and Robin Banks.
Gavin: Moving on to local art, what are your thoughts on our art scene, both good and bad?
Ricky: I think there is a lot of amazing local art out there. We're really lucky to have Gallery Stroll every month and a bunch of venues for artists to show their work. Salt Lake is a surprising city in a lot of ways, and the art scene is definitely one of them.
Gavin: Is there anything you believe could be done to make things more prominent?
Ricky: I think that the audience for local art is definitely there and those who are aware of Gallery Stroll and the art scene in general will always be interested, but one thing I would like to see are some more interestingly themed group shows to draw out people who might not normally be interested in local art, but who might be into The Big Lebowski, to use a show Signed & Numbered did a few years ago.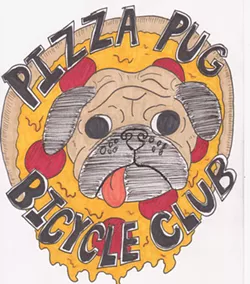 Gavin: What's your opinion on Gallery Stroll today and the work being displayed each month?
Ricky: Gallery Stroll is awesome. It's a great venue for new and veteran artists to get their work out there.
Gavin: What can we expect from you over the rest of the year?
Ricky: My goal is to put out five zines this year, learn how to screen print, make a whole buttload of gig posters, hopefully, be in a few other art shows, and update my website more regularly. Hopefully, all those things will happen.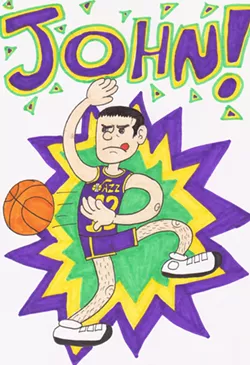 Gavin: Is there anything you'd like to promote or plug?
Ricky: Yeah, check out SLUG Magazine every month to see a new full-page comic from a different local artist. This is one of the projects I've been overseeing as the contributing editor of the magazine, and I'm really stoked on what we've been getting. So far, we've run comics from Steve Thueson, Trishelle Jeffery, Robin Banks, Tommy Dolph and myself, and we have some other really great artists lined up.
| | | | |
| --- | --- | --- | --- |
| Follow Gavin's Underground: | | | |