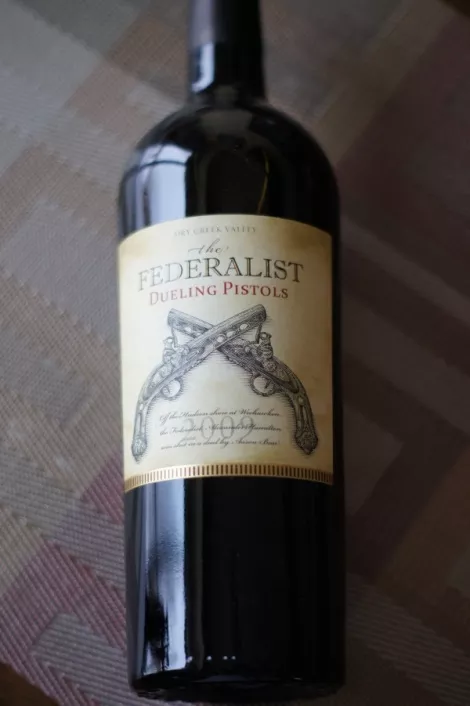 I'm just taking a wild, unscientific guess here, but I'd suspect that the majority of gun fanatics aren't wine lovers. However, if you do love both guns and wine, here's a wine for you: The Federalist Dueling Pistols 2009 ($35) --- from Terlato Wines International.
Of course, non-gun-toting wine sippers might want to indulge, also. This big, bad-boy wine -- weighing in at a whopping 15% alcohol -- can help get you through the most frigid winter evening, armed or not.
You might recall that Alexander Hamilton (the original Federalist) died from injuries sustained in a duel with Aaron Burr, in 1804. Well, dueling isn't really all that acceptable in today's society, so Terlato Wines created this blend of two red-wine varietals and allowed them to "duel it out" in the bottle.
Dueling Pistols is 50% Zinfandel and 50% Syrah from Sonoma's Dry Creak Valley. The Zinfandel and Syrah undergo primary fermentation separately, then are blended post-malolactic fermentation and aged for 15 months in 20% new oak barrels.
Frankly, I was surprised that this young, high-alcohol wine wasn't "hot" on the palate. There's enough bright fruit -- lots of jammy cherry aromas, along with black cherry and blackberry flavors -- to balance out the substantial alcohol. There are also some black-pepper and spice notes on the finish that made The Federalist Dueling Pistols an excellent partner for steak au poivre.