SAGE Utah has become one of the most beneficial programs attached to the Utah Pride Center since it landed a SAGE charter a few years ago. --- The program focuses on the LGBT community of the age 50 and above, addressing their specific needs, issues and interests while also setting up events and workshops aimed at promoting advocacy throughout the SLC community and outreach toward the entire state. From its inception in 2009, the program and its members have become a socially influential wing of the Pride Center, providing support in a way that many other organizations fall short of.
Today, I chat with our friend Charles Lynn Frost, the program director of SAGE Utah, about the organization and its formation, the work it does and what it is aiming to achieve in the community. (All pictures courtesy of SAGE Utah.)
Charles Lynn Frost
Gavin: Hello, Charles. How have you been since we last spoke?
Charles: I'vee been doing well, very busy as a community activist, actor, and particularly focusing on my role as director of SAGE Utah, a program of the Utah Pride Center. SAGE Utah is growing because the demographic of SAGE-age LGBT people is increasing rapidly as the boomers are aging. SAGE stands for Services & Advocacy for Gay Elders. It is a national organization, with affiliates in 16 different states.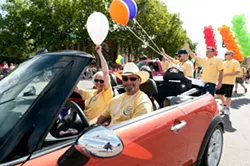 Gavin: Briefly touching on your character Sister Dottie S. Dixon, you had a successful run last year with the latest play. What are your thoughts looking back on that last production.
Charles: Well, it was a tremendously rewarding experience, getting the opportunity to work with the entirely amazing and professional staff at Salt Lake Acting Company, particularly Cynthia Fleming and Keven Myhre. Keven and I go way back in SLAC; he is a wonderful designer and director. Cynthia makes you feel like you are at a party every time you are in the building. I also got the opportunity to co-write with my best friend, Dr. Christopher Wixom. We have written together before, and creating DOTTIE: The Sister Lives On was great fun to Zzzzhhhuuzzz our creative minds collectively. The production staff, critics, and audiences were also a huge plus; the play was extended three times due to sell-out performances, and that is always a very satisfying experience as an actor, playwright, and monologist. Thank you, Gavin, for asking.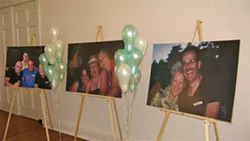 Gavin: Since it ended, what have you been doing with local theater and outside the stage?
Charles: I promised my husband, Doug Lott, to take a year off from live performance, since the last play was a year long process, beginning with conceptualization, plot structure, thematic choices, writing, rewriting, rehearsing, production staff meetings, memorizing, cutting and refining, and then performances. Other than doing a long-promised fundraiser for Intermountain Therapy Animals during the 2012 holidays, Sister Dottie has been on hiatus. There are always certain theatrical roles that intrigue me, but nothing this year – so I can keep my important promise. As you know, Sister Dottie is a regular on X96's Radio From Hell segment The Painful Circle, and has a twice-monthly advice and timely tips segment called What Would Sister Dottie Do? on Tuesday mornings at 7 a.m.! Uggghh. Be on the lookout at the end of 2013 for a Babs DeLay & Charles Lynn Frost/Sister Dottie collaboration. Shhhhh.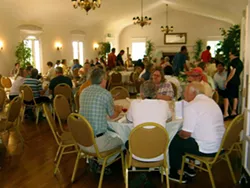 Gavin: For those who aren't aware, what is Sage and how did that organization begin?
Charles: SAGE, as mentioned, is a national organization, with affiliates in numerous states across the country. Services and Advocacy for GLBT Elders was founded in New York City in 1978 by a small group of LGBT activists of all ages who recognized that LGBT people did not have the supports they needed to age in good health and with financial security. Originally known as Senior Action in a Gay Environment, the founders set out to create that network of support, first in New York City and then nationwide.
Gavin: What kind of impact has SAGE had on a national level, and what role does it play in the LGBT community?
Charles: SAGE national is a tremendously effective organization, galvanizing the 50-and-over LGBT demographic and providing sustainable solutions on a national level; specifically, within the advocacy and political arenas. SAGE national also provides numerous resources, assessment tools, networking, alignment, programming ideas, education and relevant information that can be utilized within the many state organizations. SAGE national is also vital in national roundtable discussions, panels, hearings, gatherings and confabs relating to aging issues and guaranteeing that LGBT seniors are included and fully represented. In 2009, the Utah Pride Center officially became a charter of SAGE national. Jennifer Nuttall was first SAGE director for the program, and it has grown since the inception. SAGE-age people -- or Sagers, as I like to call them -- are the fastest growing demographic and program that Utah Pride Center offers. This is a reality nationally, as well, with baby boomers aging and retiring at record-setting levels. Roughly 10,000 baby boomers turn 65 every day! As director of SAGE Utah, I can tell you there are many vital challenges and exciting opportunities we are currently addressing or have plans to address, which I will highlight in subsequent questions.
Gavin: How did the idea come about to form a Utah chapter of SAGE?
Charles: The demand was growing and the needs of our gay seniors were becoming very apparent long before 2009. With the "Coming Out" movement having been monumentally successful, Sage-age/boomer queer people were the largest American generation to begin fully embracing their authenticity. Few people know this, but in 1869, 100 years before the Stonewall Riots, the German homosexual-rights advocate Karl Heinrich Ulrichs introduced the idea of self-disclosure as a means of emancipation;. a brilliant idea, way ahead of its time. Invisibility, or remaining in the closet, had been a major obstacle toward changing public opinion. With this desire to be real and to join other movements advocating civil and equal rights within the LGBT community, Sagers have been among the historical change agents who have been difference-makers all. Valerie Larabee, executive director at Utah Pride Center and a Sager herself, saw this increasing need and had the foresight to network and align with SAGE national.
Gavin: When were you approached to join the organization, what were your initial thoughts?
Charles: Joining or participating in SAGE Utah is free, open to all – especially those over 40, and all of our events, gatherings, forums are strategically intergenerational. I was fully aware of SAGE Utah prior to becoming an employee and director of the program, but admittedly was not as involved as I should have been. I attribute that to not getting myself informed, as well as an extremely full life. During my first year as director, one of the first objectives was focusing on brand awareness and program recognition. I can happily say that our numbers have grown briskly, and SAGE events are becoming quite popular.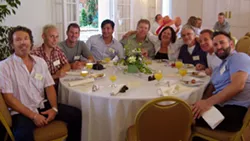 Gavin: What eventually made you decide to join, and how was it becoming the program director?
Charles: After strongly considering where I wanted to work and for what causes, the universe kept pummeling me with clues that it was to be working for GLBT elders. I pondered the idea of refocusing my energy, passion, and work life toward being a leader for this queer demographic, and the answer kept coming up YES. As you know, Gavin, I have been a gay activist for many years, focusing primarily on gay youth and young-adult safety, suicide, bullying, and most importantly, family acceptance and preservation. Those causes are still very important to me; however, I now have another age demographic that I am targeting my skills, experience and talent toward. There are enormous challenges facing the aging queer community, and I feel honored to work on behalf of them.
Gavin: How important is it for the LGBT elders to have this kind of organization and support?
Charles: Enormously important! Gay seniors are very similar to all seniors when it comes to aging, but there are also some unique issues they face regarding the five basic human needs. It took me some time to cogitate, categorize and understand how to best begin meeting those needs, which I have divided into a grid to help others understand SAGE Utah, as well as strategically plan to meet immediate and fast-approaching needs. Those five needs are: physical, intellectual, social, emotional and spiritual. This graph I've provided, hopefully, illustrates and informs people of how SAGE Utah is structured to meet constituent needs.
Gavin: What has it been like building up your team, and who do you currently have involved with the program?
Charles: SAGE Utah is divided into five affiliate Utah regions with a master strategy of Support, Advocacy and Celebration for Sagers throughout the state. Embracing the SAGE within, building awareness, outreach, support programs, activities, events, education, and information sharing are at the very core of SAGE Utah's mission. SAGE Utah also offers multi-generational historical sharing, performing and visual-arts mentorin -- additionally, a series in sexual health and well-being, spiritual healing and recovery, care-giving and care-giver support, shifting the aging mindset, legal rights and benefits, intentional communities, resource sharing, time banks, and much more. There are regularly scheduled SAGE activities, events, potlucks, performing and visual-art outings, as well as other chances to meet with others to learn, laugh, understand, and share. The SAGE Utah Advisory Committee is a volunteer council of SAGE constituent leaders who, along with myself, listen to and engage in dialogue with various SAGE communities, with the aim of assuring the most comprehensive and effective implementation in meeting the diverse needs of the aging Queer Community.
Gavin: What would you say are the goals for SAGE Utah at this time, and what kind of impact are you hoping to have on both the LGBT community and the state?
Charles: Momentum and interest are both on the rise, with the following being the most important goals we are currently addressing: investigation of intentional communities and LGBT co-housing; LGBT cultural-competency training and education for providers, businesses, institutions, and organizations; SAGE presence and offerings within all five regions of the state; legal issues for LGBT seniors; physical, mental, emotional, and spiritual health, recovery, and support; shifting the aging mindset within the queer community; assessment of senior-care offerings and facilities regarding LGBT Utahns; national LGBT advocacy and policy work, health-care acts, senior-care acts, etc; reaching and serving multicultural SAGE audiences; and intergenerational historical, experiential, movements and history sharing.
Gavin: For those interested, how can they get involved with the program or help contribute to its cause?
Charles: Straight and gay people of all ages are welcome at all SAGE Utah events, potlucks, activities, forums, outings, social-salons, and community conversations. Join our Facebook, and contact: Charles@utahpridecenter.org.
| | | | |
| --- | --- | --- | --- |
| Follow Gavin's Underground: | | | |