As we start to thaw from the chilly winter, we're starting to get a look at the local music picture, and things are looking good in the coming months. --- Heading toward spring, we've got two from familiar names and two fresh, full albums. First, I'll start with the latest from
Matthew Quen Nanes
, who has been pretty quiet over the past year. His last release was the
Royalty
EP back in the spring of 2011, after Swans Of Never broke up and he went into doing solo work. Now, he's returned with a brand-new three-track EP titled
Nostalgia
. After hearing an early preview, it looks like Nanes is back doing the power-acoustic music we last saw him performing, and with any luck a new full-length is on the way. The EP isn't out quite yet, but you can check out the single "Portland" from
his Bandcamp page
before it drops later this month.
Next up is a brand new full-length album from a hard-rock duo by the name of Baby Gurl. The two members of Jordan Fairbanks and Chris Wadsworth, who formerly played in Eons and Heather Ass Worship, respectively, have combined their efforts into a rock album that branches off into experimental areas that I can't call "sampling" or even really describe as "experimental rock" without insulting it. Whatever they crafted with Andy Patterson at the helm for this album, A Name And A Blessing, it works really well and is worth listening to. Right now, there's no place to pick it up except from the band themselves, who will be playing at Burt's tonight.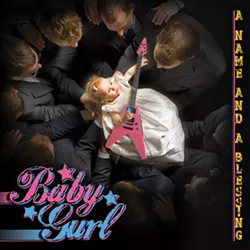 Speaking of duos, this week we saw the latest release from SLC electro-pop lovers Wake Up Nebula. It's been a while since we've seen something from the band, as their last release was a three-way-split EP with Change To Fire and Cootie Catcher. Since that time, they've been working on their own independent label, YNFB Records, which is based out of Orem. It looks like they got the label squared away because, out of the blue, they dropped their second full-length album on Tuesday titled Never Fall In Love With Birds. You can download the entire album for free off the group's Bandcamp page.
Finally, we get to the one release show this week from Caleb Blood. The pop/rock transplant from California made his debut on the local scene a few years ago, even released a debut EP in 2011 called Listen Up, but he failed to really catch on with the public or the press and became one of the forgotten that year. Since that time, Blood (seen above, courtesy of his Facebook) has changed his image a bit and upped his game, not to mention improving the band backing him and drawing some good crowds in Provo. Tonight, he'll be releasing his first full-length album called +one at Velour, playing with Season's Extreme and The Fellows. Just $8, starting at 8.
Love music, head out, buy local!