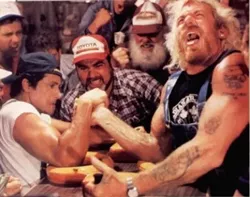 Welcome to The Secret Handshake's best of SLC's Craigslist -- a monthly, hand-picked selection of Salt Lake City's finest weirdos and useless hoo-haa. For a writer, I'll admit that SLC's Craigslist is a great place to unearth some outstanding leads, but it comes with a cost.--- The deeper you dig into Craigslist, the more likely you'll unearth something terrible. I know, it can be a brutal job harvesting these posts, but you guys are worth it. So, without further ado, here's this month's bag of weird:
Craigslist title: Bro, I'm Bored - m4m - 28 (SSLC)
Text from post (edited for brevity and clarity): So, I recently returned to Utah, and for a while now I don't really have a ton to do. I got some friends around here, but not a lot of "bros." Most of my buds are now married, have kids, or are off on other adventures. So, are there any dudes (preferably 25-35) who like to be adventurous, dig sports (especially hockey), like to drink (gotta be at least 21), and would be cool to chill? Don't really care if you're straight, bi, or gay, long as you can get along with my friends, and understand that I ain't lookin for anything like that. Just a bro or two to kick it with. Make sense? Some kinda pics or at least list of interests would be good in the email. Peace out.
First off, I can't help but think that this post was written by this guy, which is just sad. I can't help but feel bad for the guy because every bro should have a bro to call their bro. Hopefully, when he finally meets a bro, he'll tell him to "Pop a Squiznot."
---
Craigslist title: 106 VHS Movies -- $80 (Cottonwood Heights)
Text from post (edited for brevity and clarity): VERY SALABLE LOT ... All in original packaging as you would see in store... Absolutely no porn ...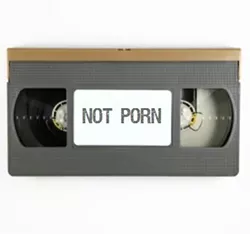 What we're dealing with here is an old-fashioned Hoover maneuver. When someone goes out of their way to say "Absolutely no porn," just give them the old "suuuurrrrre" nod. Plus, he wrote in all caps, "VERY SALABLE LOT." Come on, how much more more evidence do you need?!

---
Craigslist title: Arm Wrestling Buddies? (Salt Lake City)
Text from post (edited for brevity and clarity:Looking for a couple of dudes (maybe even strong chicks) who want to see what they're made of. I've been lifting like crazy lately and I want to see how many people I can beat at arm wrestling. I'm here because I know I can win. So, who wants to get whooped on with my arm of steel? I'm not kidding, I'm really fucking strong.
As everyone knows, there's one surefire way to get a massive arm of steel and it doesn't involve lifting. But either way, this person posted a pic from Over The Top, which means he (or she) knows what it takes to get to the top. Proceed with caution.
---
Craigslist title: Cuddling Sale! - m4w - 25 (Provo)
Text from post (edited for brevity and clarity): Let's face it, human touch is a necessary part of our lives. Sometimes life gets too busy with work, family, and everyone's demands on your time making it hard to develop a relationship. Sometimes all you really need is to be held while you relax. What I'm offering is exactly that. Absolutely no sexual activities, clothes must be worn and no stress while you are cradled in my arms. Find comfort and relaxation at the cost of $20 for every 30 minutes. Offer is good to all women of any age.
You must be one hell of a hugger to think a women will pay you $20 for a half-hour hug sesh. But the guy is onto something -- people love hugsand saving money. Shop around, you can't beat that price.
---
Before it's lame, let's make a Harlem Shake video
Craigslist title: Who wants to make a Harlem Shake Video? (Provo)
Text from post (edit for brevity and clarity) You clicked on it, now you gotta do it! Have you seen those Harlem Shake videos everyone is doing? GREAT! Let's get some people together and make one! Got a crazy costume? Like to dance? Want to be famous? Then let's make a video!!!! Please, only college students. I don't want any weirdos or drama, just people who really want to do this. I want to make one before they get played out. Put Harlem in the subject so I know ur 4 realz.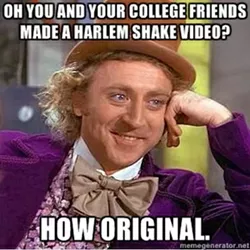 If The Today Show and the Uof U have both done Harlem Shake videos, then, clearly, this stupid meme is over. On the other hand, if you did choose to make one, nothing could be as bad as the Fox 13 rendition.