Hello to all you mask-wearing, scarf-wrapping, inhaler-carrying, Capitol-marching, why-the-fuck-are-we-breathing-exhaust-fumes enthusiasts! --- So, if you're one of the thousands in Utah who didn't quit Facebook -- like that's a thing you should be cheered for when you were dumb enough to join it in the first place -- you've been inundated with HUNDREDS of posts about our air quality. Honestly, I don't need Facebook to tell me that; I have windows and I leave my house more than once a day. Don't get me wrong, I love the protests and the activism and marching on every political office to change the air quality, but when it comes to social networking, a select group of you are stupid and annoying. You can incite change without posting photos of babies in gas masks every 30 minutes. Seriously, stop it before I start posting "unlike" logos on all your crap. Before we dive into happenings, here's the latest addition to the 337 Memorial Wall for the first time in six months.
First up, The Beehive Bazaar is taking applications for crafters to be displayed during its May event, which has been expanded to two weekends, as well as moved to a new location at The Shops on the far north end of University Avenue in Provo. Click this link here to apply to be a part of this very awesome craft-festival happening in Utah County.
A couple of weeks ago, the news came out from Kayo Gallery's Facebook that the gallery was closing down. Owner Shilo Jackson posted on Feb. 9 that, "I don't have an official close date and I've got shows booked that I intend to stay open for. The more sales Kayo gets, the easier it will be for me to stay open. So, come buy some art or some cool merchandise or donate some moola for the cause. The official close date is to be announced." This is a tragedy, as Kayo has been a focal point for new and rising talent to showcase their art when many other galleries wouldn't dare touch it. I know for a fact there are some people with real cash on them, and several who know people with real cash on them, who read this blog. Do the city a favor and help save this gallery. Pay its rent for a coupleof years and help keep intriguing art flowing through downtown.
Moving on to events, tomorrow night the Big Movie Mouth-Off crew will take over Brewvies for the Oscars. I already wrote this up in this week's edition of City Weekly, so go read the Essentials and then head over to the show.
Monday night at Salt Lake Acting Company, the new Play Sounding Series it has started up will have a free reading of Grant & Twain, a play that focuses on the memoirs of a former president and Civil War hero and how the acclaimed writer got him to write the book. History fans will probably dig the play, and, hey, how often do you get an offer for a free reading from local production companies?
On Wednesday, the Utah Museum Of Fine Arts will work with the Utah Film Center to present On The Ice, one of three films the partnership is presenting from Native American filmmakers whose work represents the changing ways Native American storytelling has evolved. The film looks to be pretty good; I highly suggest checking it out if you're a film fan.
One Friday, UMOCA will be premiering two showcases as part of its First Friday event. Ana Prvacki will have An Installation About Etiquette, which will run from March 1 until April 27, and Ignacio Uriarte will be featuring an exhibition called A Summary Of The Workplace As A Medium. Uriarte will also be on hand for an opening reception and Q&A, as well as an artist-led walk-through.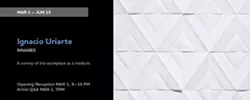 On Saturday, those of you with mad Tetris skills had better get your thumbs ready, as the second annual Bot Dispute II, a video-game tournament, will happen at 1700 S. 245 East. To stress a point, this will be a FRIENDLY competition! Organized by Joe Greathouse, the goal of this tournament is to create a center for independent game testing and development called ENTWAR. All are encouraged to donate their old video games, which will go toward creating a library of games in the greater pursuit of understanding game design and advocate what those involved consider to be positive growth in the area. Tournament begins at 3p.m.!
Next Sunday, March 3, Craft Sabbath will be back at the Main Library showing off the latest in arts and crafts from some of Utah's most talented creators. You'll find them on the main promenade from 1-5 p.m., and, of course, say hello to the City Weekly folks manning our table. Ask for a button.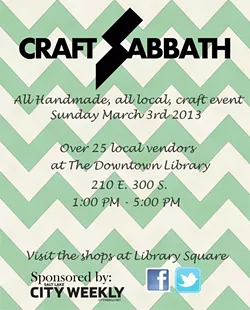 The rest of the first week of March is mostly concerts -- tons of concerts; if you have a free night at all next week, there should be something awesome to check out. But the last event happening on March 9 will be a UCW-Zero live event. See Utah's biggest pro-wrestling organization live and filmed for the camera, as it will be recording matches to show later for television. Head on over and check out the show.
As for the blog: Over the next couple of weeks, I'll have live concert interview, a look at the latest Plan-B play, check in with a local artistic house, visit with a rising podcast, talk with a brewery outside SLC and explore a promotional group in Provo. At least, that's the plan for now provided I don't end up choking on everything floating above me when the snow stops. As always, we'll see what happens.
| | | | |
| --- | --- | --- | --- |
| Follow Gavin's Underground: | | | |