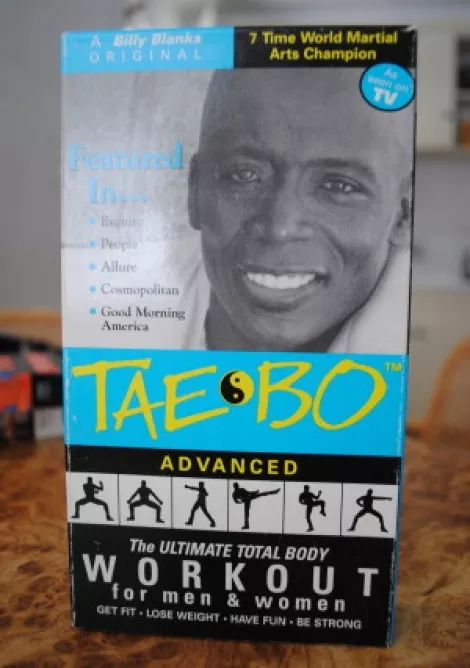 Please, allow me introduce myself: I'm a 30-year-old man who hates working out, drinks more beer than water, meets a weekly quota of Chiptole and hasn't been in a gym since high school. With that out of the way, I'm here to tell you how to lose weight and feel great! ---
Now, for most of us, when it comes to blasting fat, our gut instinct is to splurge on a gym membership or maybe even a set of P90X DVDs. But not all of us have the income or tolerance for fancy gyms and non-pornographic DVDs that end with X. So, for those us who'd like to save a little scratch and still look good, let me tell you about an effective yet overlooked option: thrift-store exercise tapes.
Thrift stores are full of crap no one wants, and this goes double for VHS tapes. Every secondhand store has a wall -- no, a library -- (usually near the back) that's packed with used, unwanted and often unopened exercise tapes. This is called the wall of forgotten dreams, a proverbial graveyard littered with your mom's unfulfilled hopes for a metal butt. It's also a great place to find whatever type of exercise method you're looking to do. Plus, tapes are cheap—for the same price as a monthly gym pass, you could score two to three garbage bags of tae-bo.
But first things first: You're gonna need a VCR. Luckily, you can buy back the one you donated for less than $10. Just be sure to test it out while you're in the store. I must have gone though four or five VCRs at the Sugar House Deseret Industries before I found one that actually worked. So, choose wisely, and be sure to look for features like auto-tracking, auto-rewind, multiple heads and maybe a even remote control strategically jammed inside the tape deck.
Once you have a handful of tapes and your new/used VCR, you should be ready to roll. The following is a rundown of my personal 2 1/2 hour workout I did (for science) after a night of blasting through an eight-piece KFC meal (plus two sides ... also for science):
Rodney Yee's AM Yoga For Beginners
Cost: 50 cents
Workout time: 15 minutes
Music: Flutes, harps and relaxing seagull squawks
Summary: A lot of breathing, stretching and a guy wearing a Speedo.
I've never done yoga before, and I will say this was a good video to start with. Based on this video, yoga is essentially a lot of lying down on the floor, breathing and relaxing, which are all hobbies of mine. I thoroughly enjoyed this tape because if feels like I'm not doing anything at all. The only thing that was challenging about this video was keeping my dogs from licking my face while I lay on the floor. Namaste.
---
Jane Fonda Start Up
Cost: 50 Cents
Workout time: 25 minutes
Music: Demo tracks from a shitty keyboard
Summary: 20 minutes of "Damn, Jane Fonda was fine."
After yoga, I figured Jane Fonda would be a good way to take it up a notch. But, this video is more entertaining than difficult. It's basically a half-hour of this. I'm not complaining. To be honest, I would willingly watch this video if I were locked in a windowless van and it was the only tape in the back of said van. But all in all, it's more hilarious than beneficial. If you're into '80s asses, arm-dancing to crappy music and a low-sweat workout, then Jane Fonda is your girl.
---
Men of Steel: Abs of Steel 2 with Scott Cole (from the creators of Buns of Steel)

I couldn't find a clip, so here's a trailer for Man of Steel--which promises to be infinitely better.
Cost: 75 cents
Workout time: 30 minutes
Music: '90s motivational, after-school-special jams
Summary: A polite young man with perfect abs asking you nicely to do crunches.
The first 15 minutes feel like you're just doing man vogues, but the second half of this video will kick your ass. Seriously, I was involuntarily grunting. This is because the host, Scott Cole, tricks you into pushing yourself by being extremely nice and motivating, "Come on, guy, just two more sits-up. That's it. You're doing great." Damn you, Scott Cole. I'd punch you in the stomach if it weren't made of polished steel. Overall, I enjoyed this video. If you can put up with the music and making eye contact with Scott Cole while hip thrusting, it's worth the cost.
---
Tae Bo Advanced Workout
Cost: 75 Cents
Workout time: 57 Minutes
Music: The birth of techno music
Summary: Intense punching and kicking while being yelled at by Billy.
This workout is so intense, it made my two dogs start fighting, for some reason -- a testament to the success of tae bo in the late '90s. Billy Blanks was a motivational stud. The video takes place in Billy's private tae bo laboratory, and this can be a little scary, especially when he says things like, "I'm gonna work you, boy. I'm watching you; even if my back is turned, I'm always watching you." I couldn't even make it halfway through this video—I spent the last half hour of the thing listening to Billy yell at me and watching my dogs fight in the corner of the living room while I ate a banana on the couch. It was the hardest thing I've ever done in my life.