For last week's Monday Meal, I posted a very simple recipe for fish fillets poached in broth. For a side dish, I suggested curried-rice pilaf. --- A number of readers requested that I post that recipe, so, here it is. It, too, is quite simple, but a delicious dinner accompaniment.
You could also make this a main dish by adding cooked shrimp, chicken, tofu, veggies, etc. to the rice.
Ingredients:
1 cup basmati rice
1 Tbs. unsalted butter
1 Tbs. olive oil
1 shallot, minced
2 garlic cloves, peeled and minced
1-inch piece of lemon zest
1 tsp. Madras curry powder
1/2 tsp. ground cinnamon
1/8 tsp. turmeric
1/2 tbs. salt
1 Tbs. fresh lemon juice
1/2 cup toasted cashews or pine nuts (optional)
Method:
Heat the butter and olive oil together in a medium saucepan over medium heat.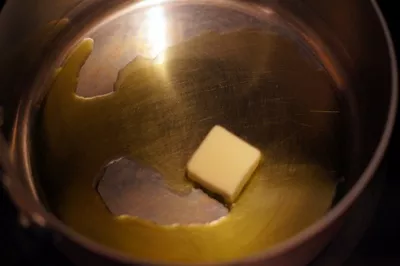 When the butter has melted and the oil is hot, add the shallot, garlic and lemon zest. Saute until the shallot is wilted, about 4-5 minutes.
Stir in the spices (curry powder, cinnamon and turmeric). Mix well.
Add the rice to the pan and, stirring frequently, cook for a couple of minutes to lightly toast the rice.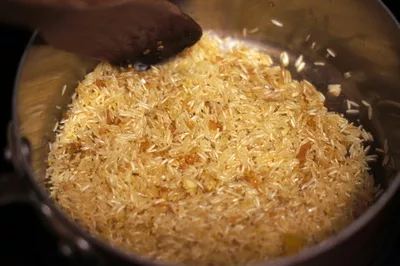 Season the rice with the salt. Add 1 1/3 cups water and bring to a boil. Then, tightly cover the pan and simmer over low heat for 15 minutes.
Remove the pan from the heat and allow it to sit, covered, for an additional 5 minutes.
Add a tablespoon of fresh lemon juice to the rice and stir.
For added texture and flavor, I also like to stir in toasted cashews or pine nuts, but that's optional.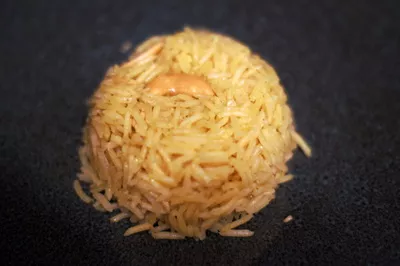 Photos by Ted Scheffler