Bullets & Belles label themselves as "contemporary doo-wop" and "whimsical soul." Beyond the sounds they produce, their songcraft and lyrics are smart and poignant. They talk with
City Weekly
about their sound and their songs off of the recently released debut album
Be Glad
.---
The overall aesthetic of this minimalist three-piece harkens back to something like Billie Holiday meets doo-wop, Bing Crosby minus a swinging horn section or classic-pop-meets-indie-contemporary songwriting. And when the two female voices come together in a scratchy harmony on top of piano, acoustic guitar and drums—like on Be Glad—you might pull out a hankie and swoon.
To read a feature and interview with the band, go here.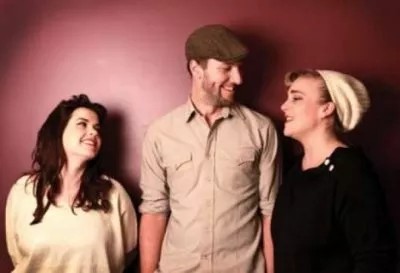 Bullets & Belles are:
Ryan Cron: Guitar
Erin Haley: Keys
Noel Sandberg: Bass

The band writes about four original songs in depth. To read lyrics, go here. To purchase Be Glad, go here.
"A Change Unlike the Rest"

Erin: For me, this song is about the strength of a good relationship. Hardship is inevitable, but by understanding that you are strong because the other person brings out the best in you (as opposed to that person making you weaker, because they ultimately bring out the worst in you) you are able to weather any storm together. I wrote it for Ryan at a point in our relationship when I was starting to realize that we were more than bf/gf but were actually partners helping each other through life.
Noel: What I love about this song is that it is one of the first that we solidified together as an acoustic trio. Our harmonies work together really well. I also love the energy of it; it is one of our most upbeat songs and it allows us to explore our pop influences.
Ryan: This song is one of my favorites to play at shows because it really gets the crowd's attention. It had been Erin's song for quite a while before being adopted by the band. When Noel sang on it and our harmonies meshed together, I knew we definitely had something.
Production note: This song was one of the easiest to record, given the simple arrangements and the fact that the song was so well-rehearsed. The harmonies came together in the studio as easily as they did live.
"Be Glad"

Noel: About a year ago, I was going through a major life change -- my decade-long relationship was falling apart, and my partner was moving out of a house we shared together for four years. It was a heart-wrenching and devastating time for me, and no doubt a painful process for my friends to watch me go through. When Erin told me she had written a song for me about what was going on, I was both flattered and, honestly, terrified. It is a scary thing to have such a personal and painful experience exposed to an audience. To have my intimacies exposed when I was already feeling vulnerable was really hard for me at first. But the gentle coaxing from my bandmates helped me to overcome my initial hesitancy. It took a while to realize that the song wasn't about a sad desperate end, but a new start. It is about packing up and moving on and, ultimately, being able to look back and be glad for the experience and how it shaped me. I am so grateful to my friend for giving my story a song, and allowing me to make it my own. Now, the song to me is almost a battle cry: Bring on that better someday!
Production note: The intro, listed as "(go)" in the tracklist was recorded in our practice space using an old and quite out-of-tune piano. Erin played the keys and she and Noel sang live, all of it going into one mic. The arrangements for "Be Glad" proper are as extravagant as they get on the album and we took advantage of overdubbing techniques to layer vocals to our heart's content. The guitar solo features five guitar tracks and is inspired by techniques used by Les Paul and Brian May. The outro was originally intended to have more of an epic feel, but Erin modified the arrangements to be sparse, adding an almost creepy feel to it that really allowed that section of the song room to breathe.
"Monday Morning Prayer"

Erin: I wrote "Monday Morning Prayer" in the winter of 2011. At the time, I had this crazy, horrible job that I hated so much. My office was in an old hospital that had been converted into a series of offices upstairs, and an animal-testing facility downstairs. Sometimes, the death and formaldehyde smell that emanated from the basement was too much to bear. My paychecks would frequently bounce, causing my bank to massively charge me in overdraft fees. The heater was always broken in the winter, so I would hunch over my computer, watching my breath, typing with gloves on and a scarf wrapped several times around my neck. I cried. A lot. Luckily, Ryan and I worked together at the time, and we would sneak off to long lunches and laugh about the absurdity of the place, until we got back and the dreary, freezing truth would sneak back into our souls. My first job was as a busser at a restauran; one of those big massive chains that doesn't give a shit about anybody. I remember one day while lugging some awful, stinky bus tub to the kitchen thinking, "I hate the food. I hate my co-workers. I hate the customers. I hate the sounds. I hate the smells." I would hide out in the bathroom, just to catch waves of sanity. I finally made one of the first major decisions of my life in that bathroom stall: "Life is too short to do shit you hate this much" Granted, this was before I had real bills to pay, so there was a bit of a luxury in my new mantra. So, my heinous former job of 2011 was something I was trying so hard to learn to enjoy, or at least tolerate. Why run? Why not throw yourself at it, do the very best you can, excel, and see how you feel? I need to pay the bills. Looking back, I should have quit two weeks into it. There is something about hating your job that makes you question everything else. "I need to be responsible and plan for my future"; "Ugh, maybe I should sell the house"; "How will I ever retire if I go back to being a server"; "What am I going to be when I grow up? Surely not this."; "What about my future kids? How will I afford them"; "Well, the Earth is melting and no one cares anyway, so maybe I shouldn't even have kids"; and so on and so on. I tend to get a bit carried away in what I've always referred to as "existential belligerence." So, "Monday Morning Prayer" is my ode to that lost, in-your-20's, "none-of-the-decisions-seem-right-but-if-I'm-just-patient-enough ... " feeling. Luckily, I have found much kinder, softer, nicer, better jobs since.
Production note: This track, perhaps more than any on the record, highlights the vintage feel we got from tracking to tape. The decision to use tape was spontaneous; I literally saw the TASCAM sitting under a desk and asked Klay (Gustin) if it still worked. The reels themselves had been sitting around for quite some time so the tape had a significant hiss across all the tracks. There is even a slight warping effect you can hear at the top of the drums that sounds not unlike dust on vinyl. Issues like that make a lot of engineers cringe, but we feel that it lends the record a sense of character that would be sorely missed had we not gone that route. Gospel-style choral vocals were layered using a single mic that was recording the three of us singing different registers of three-part harmonies on each pass.
"All I Got"

Ryan: I don't write many love songs, mostly due to my own fear of people finding out what a cheesy, sentimental guy I really am. This song began with the rhythm strummed on the acoustic guitar and the A to A6 vamp heard at the top of the song. After playing that riff, I knew the song needed something sexy. I didn't want to be overtly sexy, but I didn't want to shy away from it, either. What I wanted to convey more than anything with this song is a feeling of closeness and how great it is to know someone on the most intimate level. I wanted to capture that feeling of desperately needing someone and hating to ever be away from them. I am extremely blessed that Erin and I have the kind of relationship we have and I wanted to celebrate every level of that. That said, the song's lyrics virtually tumbled out and the song quickly took form. Erin and Noel added the quintessential backup vocals on the chorus and it clicked. I plan on writing more like this one soon!
Production note: Originally, the song was intended to have a garage-rock feel to it. I tracked a drum track for it and later discarded it because it felt rushed and was played rather poorly. At the time that call was made, it was too late to do another drum session to re-record it so I had to come up with something different. The snapping and clapping were added almost out of necessity, but it turned out to be just what the song needed.