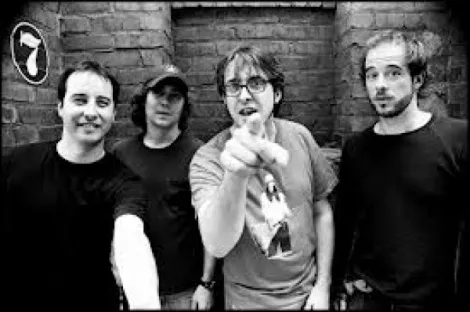 There are baby-food flavors that bluegrass musicians want on shelves, and moves that they would do if there were such things as mandolin-seeking missiles. Yonder Mountain String Band elaborates.---
You know those silly questions that some interviewers sneak in at the end of an interview with a band? Well, Beside the Question is a blog series here at City Weekly dedicated exclusively to those random, ridiculous wringers— because, after all, you can't be serious all the time.
So, the mountaintop jamgrass Colorado outfit, Yonder Mountain String Band, answered some ridiculous questions with some mighty ridiculous answers. The four-piece from Nederland, Colo., has certainly grown up over their 13 years of jamming, but during it all, they've kept their child-like zest for playing. And since they've been rearing children, it seems like their live sets have become even more gleeful.
Yonder Mountain String Band plays at The Depot (400 W. South Temple, 8 p.m., $20 in advance, $25 day of show) on Friday, March 15.
City Weekly: Ben recently posted a video on YouTube, "Baby Tips from Ben." I have a few questions about babies: First, where do babies come from? You know you will eventually be asked this, so I'm helping you prepare.
Dave Johnston: Son, babies come from people making babies.
CW: Do you think that Yonder will ever release a "bluegrass for children" album?
DJ: Seems unlikely, but never say never, right?
Adam Aijala: Possibly. I think the more pertinent question would be, "Do you think Yonder will ever release another album?" I mean, come on, it's been since 2009. Oddly enough, it's partly because of children that we don't have a new album.
CW: What flavor of baby food is currently not in production but should be?
DJ: Yams with chocolate chip.
AA: Bubblegum flavor with extra aspartame.
CW: And another question inspired by your YouTube video: In the spring, there was a trivia question about a Yonder Mountain song played in the style of a video-game soundtrack. However, no one guessed it. So, can you now tell us what the song is?
DJ: I don't even know this one.
AA: "Maid of the Canyon," an instrumental written by Dave Johnston.
CW: OK, I have a bluegrass trivia question for you: What famous TV bandleader did Grisman record with?
DJ: Doc Severinsen?
AA: Lawrence Welk? No clue.
CW: That's pretty old-school. Let's talk about new school, specifically dubstep. Let's imagine that Yonder collaborated with Skrillex, or someone like that, for a hybrid album. Tell us about it.
DJ: Nothing drops like a banjo.
AA: That would a pretty weird collaboration because our music tends to be up-tempo and on the front of the beat and dubstep sits way on the back. It would either be really good or it would totally suck.
CW: Do you guys ever get reactions like this?
AA: I'm sure we get plenty of reactions like this, but no one's ever said it to my face.
CW: What would you do if there really were mandolin-seeking missiles?
DJ: We would get stupid amounts of discretionary spending, throw a big party and develop the technology.
AA: If there really were mandolin-seeking missiles, I'd try not to stand next to Jeff on stage.