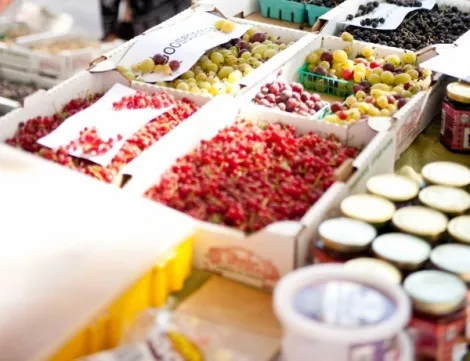 The
Downtown Alliance
has announced the vendor lineup (and it's a big one) for this Saturday's "Easter Eggs & Spring Greens" winter pop-up Farmers Market. ---
The market will take place on Saturday, March 16, from 10 a.m. to 3 p.m. at the Hellenic Cultural Center, 279 S. 300 West in Salt Lake City.
Lots of fresh, ready-to-dye eggs will be available, along with produce like baby spinach, mixed greens, lettuces, asparagus, arugula, potatoes and zucchini. Other offerings include local grass-fed lamb, beef and pork. Visitors can also sample and purchase handmade cheeses, gourmet spreads and jams, breads, pastries, gluten-free products and other artisan foods.
A number of food trucks will be on hand, and other ready-to-eat foods will be available for purchase.
The vendor list for Saturday's winter farmers market is as follows:
The Bagel Project
Biocentric Bros
Blue Spring Farm
Blue Star Juice and Coffee
Cheese Bread Mania
Cupcakes by Kasthuri
Chad's Produce
Chocolate Conspiracy
Clifford Family Farm
Dessert Bites
Drake Family Farm
Good Grains Gluten Free Baking Co.
Instant Karma
Charming Beard Coffee Roasting
Laziz Hummus and Spreads
Lau Family Farms
Love Muffins Bakery
Mololo Gardens
Nature Baked
Winder Farms
Millcreek Olive Oil
Paul's Vegetable Farm
Pierre Country Bakery
Rico Foods
Sadee's Pride
Sugar Daddy Sweet Shoppe
Snowy Mountain Sheep Creamery
Sugared
Tankinz Noodle Mfg, LLC
Tequenos Factory
Terrapin Station Smokin' Co.
Tifie Ranch
Turbo My Garden
Zoe's Natural Garden
Lewis Brothers Food Services
Off the Grid SLC
Lorenz Mobile Sharpening
Tagge's Jams and Salsas
Salsitas Mendoza
Kenyon Organics
3 Brothers Tacos
Urban Compost Systems
Wasatch Community Gardens
Bryan Palmer Decorative Wreaths
Whew! That's quite a lineup. The theme for the upcoming April 13 pop-up winter farmers market will be "Tulips & Turnips." The Downtown Farmers Market in Pioneer Park opens June 8.