The last Gallery Stroll before spring -- probably one of the warmest Stroll events we've ever seen in March -- rolled out this past Friday. --- There were not as many new galleries as expected, and to be fair, not as many new people as expected, either. Apparently, those who usually enjoy the Stroll were enjoying the newfound warm weather in other ways, or possibly better locations, than in the many downtown galleries.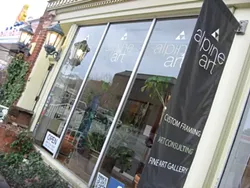 In any case, it didn't stop me from hitting up Alpine Art on South Temple for a look at what they had on display, which featured Mark Seely and Jayne-Ann Mulholland, who use what's been described as "naturally uncontrollable processes" to create their works in an organic kind of art. Today, I chat with Mulholland about her artwork and career, and show you what's currently on display for you to go check out in this gallery here.
Jayne-Anne Mulholland
Gavin: Hey, Jayne-Anne. First off, tell us a little bit about yourself.
JA: I am a native Utahn. I dropped out of school in seventh grade, electing instead to do a self-taught high school correspondence course. I "studied" at a local coffee joint, the Salt Lake Roasting Company, where my education consisted of observing and conversing with homeless people, Vietnam vets, yuppies, hippies, intellectuals, pseudo intellectuals, internationals and various misfits and fit-ins. I got an education all right, and a GED, to boot!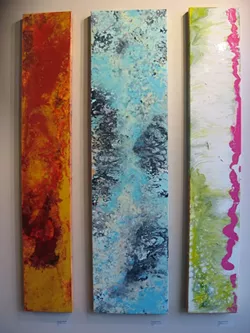 Gavin: What first got you interested in art, and what were some early influences on you?
JA: As you may know, my first call to art was the theater. I wanted to be an actress because I was painfully, clammily, sweatily shy, so I put into action the old adage that says to "face your fears and you will overcome them." After four years of "facing my fears," I hid from every doorbell, every phone jingle and dressed like a Quaker to become unnoticeable. Just FYI, the Quaker bit doesn't work. Not only did I not overcome my fears but they unapologetically multiplied like rabbits into a cornucopia of social phobia; plus, I can unequivocally proclaim that I am the world's worst actress, although Madonna is a close second. Seven hundred and thirty days later, you could say that I was discouraged. I just happened to be at the home of some friends, and their 11-year-old daughter was sketching on a pad, just anything that she thought notable, and I was much impressed. She had all these children's books lying about on artists, like Picasso, Matisse, Monet and Van Gogh. I visually devoured them all, especially Van Gogh and Monet.
JA: I asked my young friend if we could sketch together sometime and she said yes. I noticed how she could look at something once or twice, then return to her pad and draw it exactly as it was, with light and shade and proportion and color and everything without have to look at it again. Amazed, I tried to draw like that, too, with blushing results. I sucked at it yet was still very intrigued by this whole new way of self-expression that eluded me so disgracefully as an actress. Accepted once again at the U, this time to the painting and drawing program, I took life-drawing classes, figure-structure classes, classes on proportion and perspective. Again, I found myself falling short of the other students to the point of morbid embarrassment. Was I good at anything besides sucking? It wasn't until returning to a painting class -- on critique day, of all days -- after a week of self-pitying, self-absorbed, self-imposed exile that something changed for me. I had mistakenly put too much linseed oil on my painting's surface, which inadvertently had congealed in my absence. When I saw it, I pictured myself getting at the front of the class attempting to convince class and teacher how I purposely created this ... this ... this: "What could I say?" I stood still, frozen with my disgraceful creation, when suddenly the teacher began praising it and the students followed her with cheers and accolades, which caused me to look at it again till I began to believe and agree that it was not a monstrosity after all, but rather a daring departure from the status quo and a bold gesture of what was collectively decided to be a profound expression of my "vulnerable femininity, all vaginal and elegant all at once." I had found my voice.
Gavin: You studied at the University of Utah in fine art as well as theater. What made you choose the U, and what was your time like there?
Jane: I chose the U because i'ts where I live. My 10-year journey there was cliquishly good, bad, and ugly, but finally and beautifully self freeing. The self-confidence I was pining for in the theater, I found in my painting.
Gavin: What drew you to mixing oils and acrylics together in the way you shape your art?
JA: Upon the happy incidence with the aforementioned painting, I thought, "Boom! There it is: I found my voice!" From then on, I experimented with anything I could get my hands on.
Gavin: How much work goes into a single piece, from applying what you're using to cutting it down and finally to glazing it for the final product?
JA: I can work on a piece for a couple of hours a day over a three-month period; other paintings may take multiple months or even years to complete.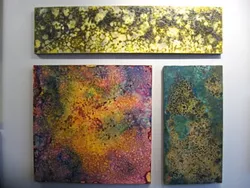 Gavin: Considering your body of work, what are your thoughts when you hear people's reactions to what they see in it?
JA: I am constantly surprised by what people see in my work! I welcome sundry interpretations, perhaps in the same way that a person might define an inkblot -- there are no right or wrong answers. Let's just say that the variety of responses are endlessly fascinating.
Gavin: I read elsewhere that your process is constantly changing to find new ways to make different materials work together. How far would you say you've come since you started, and what more would you like to achieve?
JA: I don't know how far I've come, but I know I'm not quitting. Every new medium is explored with just as much intensity as the day I began this voyage. My artistic expression will always be a work-in-progress informing the intuitive process.
Gavin: Tell us about the artwork on display for this Stroll.
JA: The paintings on display now are a glimpse of approximately the last five years of work.
Gavin: How has it been for you working with Alpine Art for this showing and displaying alongside Mark?
JA: It has been a true pleasure. The curator, Matt Chiodo, does a remarkable job choosing the exhibitions. His choice to put Mark Seely's and my work together is brilliant. Mark and I work much the same way, yet the outcome or "mood" of our respective work is completely different.
Gavin: Touching on local, who are some local artists you like checking out or recommend people should look for?
JA: I'm a huge fan of Shalee Cooper's photography, especially her black-and-white work. John O'Connell's paintings are eye-catching, as well as Winter Jones'. I'm excited to see more paintings, collage and graphic-design work from Tyler Bloomquist. Randall Lake is synonymous with Utah art and it's been interesting seeing his work evolve so profoundly over the last few decades.
Gavin: What can we expect from you over the rest of the year?
JA: Currently, I have more shows scheduled this year and am responding to requests for small-scale work.
Gavin: Is there anything you'd like to plug or promote?
JA: I'd like to give a shout out to Shawn Rossiter, who does a phenomenal job with his nonprofit online magazine called 15 Bytes, which tirelessly promotes Utah artists and local arts events. Check out what local artist Kaziah Hancock is doing with her Project Compassion, which is also a nonprofit. She and a handful of artists are helping the families of soldiers who have lost their lives on military duty. Families who want to participate send photos of their deceased loved ones and they are then commemorated as paintings and given back to the families as treasured keepsakes.



| | | | |
| --- | --- | --- | --- |
| Follow Gavin's Underground: | | | |