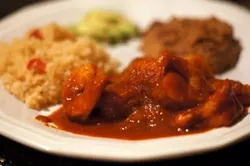 One of my favorite Mexican dishes is camarones a la diabla ("devilish" shrimp), so named because it can be devilishly spicy. --- Frequently, dried chile peppers are toasted and then hydrated to make the diabla sauce. This version is a quicker, simplified one that uses chile powder rather than dried chiles.
Ingredients:
1 lb. medium shrimp, peeled and deveined
3 Tbs. New Mexico chile powder (you could also experiment with others chiles, like guajillo, pasilla, etc.)
1 Tbs. paprika
1 tsp. salt
1 tsp. Mexican oregano
1/2 tsp. ground cumin
1/2 tsp. freshly ground black pepper
16 oz. tomato sauce
2 garlic cloves, peeled and chopped
2 jalapeno peppers, de-stemmed, seeded and chopped
1/4 cup Mexican hot sauce, such at El Pato
2 Tbs. vegetable oil
1/2 cup chicken broth
1 Tbs. unsalted butter
1/2 onion, peeled and thinly sliced
Method:
In a blender, puree the chile powder, spices, garlic, jalapenos, hot sauce and tomato sauce until smooth. If the mixture is too thick (it should be like a thin gravy), add a little chicken broth or water.
In a small-to-medium saucepan, heat 1 Tbs. of the oil over medium-high. When the oil is hot enough to make a drop of the sauce sizzle, carefully add the puree (it may splatter) and stir well until the mixture thickens some, about 5-7 minutes.
Add the chicken broth and stir. Partially cover the pot, lower the heat, and allow the diabla sauce to simmer and thicken, about 30 minutes.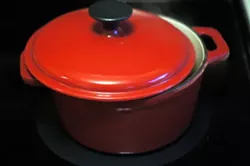 Near the end of the cooking time for the diabla sauce, melt the butter along with the remaining 1 Tbs. vegetable oil in a large skillet over medium-high heat.
Stir in the sliced onions and cook, until slightly wilted, 2-3 minutes.
Add the shrimp to the skillet with the onion and cook, stirring frequently, until the shrimp are just pink but not quite cooked through; they'll finish cooking in the sauce.
Carefully pour the diabla sauce into the skillet with the shrimp and stir well. Cook the shrimp for 2-3 minutes in the sauce, until cooked through.
Taste the sauce for spiciness and add additional Mexican hot sauce, as needed (or as much calor as you can stand!).
Serve with Mexican rice and refried beans.
Photos by Ted Scheffler