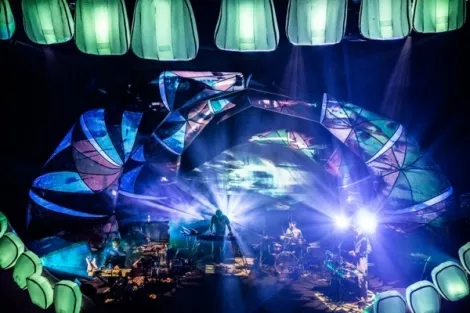 In a press release on Sunday, indie-rock gods Animal Collective postponed their spring tour, including a stop in Salt Lake City at The Depot on March 23, due to illness.---
Avey Tare was struck with strep throat (the press shot above now seems fitting and sad). On March 11, the band announced that only the first leg of the tour was postponed, but the musician couldn't pull through. So, all North American dates through Treefort Festival have been postponed. Details about rescheduled dates will be released as soon as they are available.
Here's the statement from Avey Tare: "To all of the AC fans out there. I feel its best you hear it right from the horse's mouth. It kills me to have to postpone all these shows and it's something I could never even have imagined happening. I'm positive that we were as excited as you all to visit all of your towns and have a good time together. But because of the strain on my voice that's being caused by an intense case of strep throat, I am unable to play any of these shows. Unfortunately, I wasn't diagnosed soon enough and haven't been able to kick this in the right amount of time. We promise you all that we are doing everything we can to reschedule all these shows ASAP and we will be visiting your cities. We hope you can all understand and sympathize with the situation. It's been really fun for all of us to be playing these days, and the energy you all give us makes us want to take it further and further with you and give it right back. Hopefully, we can continue to do this together soon. Until then, stay well."
And you can read a statement from Dan Deacon at Pitchfork.