Purses ... no matter the size, color, texture, dangling accessories or any other number or combination of appealing things about them, for many women they are a vital addition to their wardrobes or lives. --- And much as is the case with other necessities, such as earrings or shoes, the quest to find something that is the perfect fit and look can be a daunting one, especially if you're not quite sure what you're looking for. Department stores do their best to sell you the most expensive one they can with little care, and most designer shops only carry a couple of brands with no variety.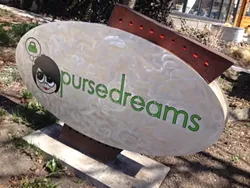 With that in mind, Purse Dreams was born, rising to prominence as one of the thriving locally owned shops in the 9th & 9th area, offering women several forms of variety along with a knowledgeable staff ready to help you find exactly what you need. Today, I chat with the founder of Purse Dreams, Jennifer DeVries, about her career in retail, starting up the local business and her run so far, the selection she carries, thoughts on local business and a few other topics -- all with pictures of the shop for you to check out in this gallery here.
Jennifer DeVries
Gavin: Hey, Jennifer. First thing, tell us a little bit about yourself.
Jen: I'm a lifelong shopaholic. I'm also a fashion fanatic. I devour blogs, magazines and runway shows like most people do with In-and-Out burgers. I've worked retail off and on for 20 years. I have two daughters, who at 8 and 7 are starting to develop their own styles. I love getting dressed up, but in my off time, I'm a hippie who loves enjoying the outdoors and seeing live music.
Gavin: What first got you interested in fashion, and what were some early influences on you?
Jen: I remember as a young girl my family didn't have lots of money to spend on clothes. My mom was a bargain shopper and she would scour the sales racks at Sak's and buy me and my sister trendy items without spending a fortune. My grandmother is probably my earliest influence. She always had her hair perfected pulled back into a low bun and looked amazing without a lick of make up on. She showed me how to be a classic beauty and not just wildly follow trends.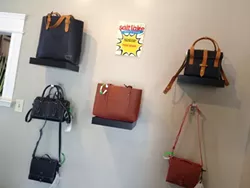 Gavin: Did you have any studies in fashion or design while in college, or was it just more of a passing interest?
Jen: I was actually a history major with an education minor. I taught high school social studies for five years up in Seattle. I became a statistic and got burnt out and left teaching. I have always loved fashion, so even though I didn't study fashion in college, I have always been studying fashion.
Gavin: What drew you specifically toward purses and handbags, and how did you grow a passion for them?
Jen: I have a very unhealthy love for shoes and bags. I'm one of those crazy people who swaps out their purse depending on the outfit or plans for the day. There are bags I use for traveling, for concerts, for shopping. My passion for purses comes from my belief that great accessories make the outfit. I can wear clothes from Target and Old Navy, but it automatically looks more pulled together with a great leather purse and shoes.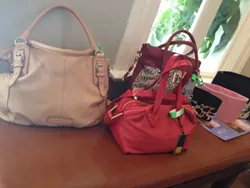 Gavin: Prior to Salt Lake City, you lived in Seattle for many years, working retail. What was your time like up there and learning the ropes of the industry?
Jen: One of the best jobs I ever had was working at Nordstrom in downtown Seattle. This was back when personal customers were kept in a binder, not on the computer. I learned how to provide excellent customer service at that job. Nordstrom is still the company that I look to for an example of an honest retailer. There are so many retailers out there who are promoting one-day sales every week and I feel that these type of stores are deceiving the customer. I'm not here to trick you. I just want you to find a purse you love, whether you purchased it at my store or somewhere else.
Gavin: What eventually brought you to SLC, and what did you think of the valley when you first moved in?
Jen: My ex-husband was originally from SLC, and when he moved back from Seattle, I followed him here. At first, it took some getting used to. Honestly, it was the least diverse place I had lived in when I moved here 10 years ago. As a former American government teacher, my biggest complaint was the lack of separation between church and state. I have mellowed over the years and now find the quirks more endearing than enraging.
Gavin: When did the idea come about to start up your own purse shop, and where did the name come from?
Jen: The idea was formed a few years ago when my second daughter was starting school full time and I was ready to get back to the non-mom workforce. I played with the thought of going back to teaching, but realized that my passion wasn't there anymore. My personal frustrations with shopping in SLC led me to believe that there were other women like me who were looking for something different. The name came from my own experience of obsessing over a certain bag and finding that this obsession even showed up in my dreams. Yes, I do have purse dreams.
Gavin: How did you come across the shop in the 9th & 9th area, and what made you choose it as the location?
Jen: I love how this neighborhood is home to the most unique locally owned boutiques and businesses. The customers who shop in this area are looking to support local small businesses and hoping to find something you won't find at the mall. I believe that there are many people who don't want the same thing as everyone else, and this is the place to find the unique items.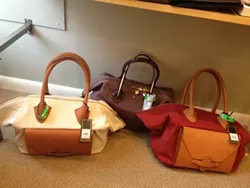 Gavin: What was it like for you putting the store together and choosing your selection to open with?
Jen: I was a bit overwhelmed, not having opened a business before. I made some bad decisions, but learned from them. I couldn't know exactly what my customers would be looking for, so I had to guess based on what were top sellers for the brands.
Gavin: You opened up in the spring of 2011 and pretty much became an overnight hit. What did you think of the response from shoppers during that first month of business?
Jen: It was painfully slow the first few months I was open, so overnight hit seems funny to me. I was lucky enough to garner the attention from several local stylists and editors who realized that I offered SLC something that wasn't here before. After my purses started showing up in local magazines and fashion shoots, people started to find us.
Gavin: How do you go about deciding what specific purses you'll have in stock and on display? What is it you look for in a product that you want to put in the shop?
Jen: I try to offer a great selection of purses that will appeal to a variety of women. There are so many different sizes, textures, and colors. Spring bags are bright and colorful and fall bags tend to be more classic. When choosing what I bring into the store, I always think about whether or not the bag is functional as well as fashionable. Leather quality is at the top of my demands.
Gavin: One of the biggest differences in your shop that you point out is that you allow people to try the product out in the store and get a feel for how it will work for them. What influenced that decision and how has it paid off?
Jen: This is the biggest benefit of Purse Dreams. My staff is here to help you find the right purse, and sometimes it's a process of trial-and-error. I have women stop in just to see what is new, and then I have women who have visited regularly in search for their perfect bag. We want you to try on the bag, check out the pockets, the zippers, the straps, and make sure it works for your life. Shopping online is easy, but it doesn't allow you to do any of these things. I think women appreciate the fact that they can smell the amazing leather as soon as they walk into Purse Dreams. We still don't have smell-o-vision on our computers yet.
Gavin: Not everything you carry is a brand name; there are a lot of independent designers and even local creators displayed on the shelf. How is it for you working with nonestablished and up-and-coming creators?
Jen: Probably one of my favorite parts of my job is finding independent local designers. A great example is Glitter Gutter Glamour, who only had an online shop through Etsy. I loved their necklaces and wanted to sell them at my store. This has become a great partnership for a growing artist to showcase their work in a retail space.
Gavin: I've noticed you've branched out into some jewelry and accessories, as well as some coats. Are there any other areas you're looking to include in the shop or are you comfortable where things are at now?
Jen: I'm pretty content with the current selection at Purse Dreams, but I do have some ideas brewing on the backburner. You'll have to watch and see what happens.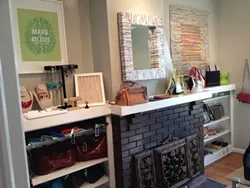 Gavin: Moving on to local stuff, what are your thoughts on our fashion scene, both good and bad?
Jen: I think that SLC is on the verge of greatness. Not just on the fashion scene, but also in music, food, and community organizations. There are so many amazing, talented people here. I've become friends with other boutique owners and love how we support each other and brainstorm about how we can all succeed. Now the bad: Not all business owners are supportive of each other. This has been a huge disappointment to find out as a rookie. There are talented designers, artists, stylists, and photographers who work tirelessly to create amazing works of art, yet they get little-to-no recognition. Also, I find that SLC has a hard time paying for quality. Not only in bags, but in other areas, as well. Many are still in the quantity-over-quality mentality. I'm hoping to change that.
Gavin: Is there anything you believe could be done to make it more prominent?
Jen: I would like to see the local fashion scene to organize and work together to push the envelope and educate the public. I joke to my fashion friends in New York that SLC is at least one- to two-years behind on fashion trends. I hope we can close that gap.
Gavin: Do you have any favorite shops you like to work with or shop from that people should be checking out?
Jen: My favorite local shops right now are Fresh and Unhinged; Ian and Helen have done an amazing job bringing in urban wear to SLC. I feel like this genre is blowing up right now and Fresh is doing it right. Also, Corey at Unhinged has created an unique shopping experience that reminds me of what Urban Outfitters was 20 years ago -- a great mix of vintage and new items, where you will find great deals and one-of-a-kind items.
Gavin: Being a local business, what kind of a challenge has it been competing against bigger chains and staying in business at this level?
Jen: Even though Nordstrom carries some of the brands that I do, I don't feel as though they are a direct competitor. My selection will be different than theirs, and I feel that their presence helps educate customers about these brands that I carry. I think that the mall chains fill a different niche than the boutiques.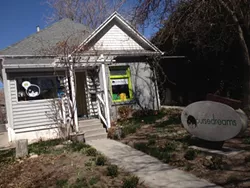 Gavin: What can we expect from both Purse Dreams and yourself the rest of the rest of year?
Jen: There will be a location change during the late summer. Not sure where yet, so stayed tuned.
Gavin: Aside from the obvious, is there anything you'd like to promote or plug?
Jen: Go support your local small businesses!
| | | | |
| --- | --- | --- | --- |
| Follow Gavin's Underground: | | | |