Hello to all you scarf-stretching, hoodie-finding, beanie-washing, coat-dusting, that'll-teach-you-to-trust-Utah-weather enthusiasts! --- No sooner had all of you started looking for Bermuda shorts and flip-flops than just as quickly you were yanking out the clothes you had put away a week ago. Is there some strange memory loss that happens around here, that everyone thinks snow will just not happen after we see 60-degree weather? Someone at Westminster College, start a study. Before I dive into events, here's the latest addition to the 337 Memorial Wall:
First up, Wasatch Roller Derby's next bout will take place tomorrow, as the Tuscon Roller Derby make their way north to take on the Midnight Terror at the Derby Depot. Get your banners out and show these Arizona ladies how we do things in Salt Lake City. $10 in advance, $15 the day of, and the bout kicks off at noon.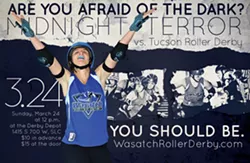 On Monday night, Salt City Indie Arts will present the Salt City Slam Finals, live at the Off Broadway Theatre in downtown SLC. This is your opportunity to see the top 10 poets in the city compete for a chance to join the SLC team and go to Cambridge, Mass., for the 2013 National Poetry Slam! These include Jesse Parent, DeAnn Emett, RJ Walker, JoKyR, Nick Shifrar, Willy Palomo, Dave Alberti, Benjamin Barker, Olivia Vessel and Kari Lindsey. Plus, the evening will feature Alvin Lau from HBO's Def Poetry. Tickets are just $5 at the door.
Skipping ahead a bit to Friday, we'll see the fourth annual Submerged In Art exhibition, the yearly charity event for the Road Home featuring some of Utah's best artists. Located at 2275 S. Highland Drive, above The Tap Room in Sugar House, the two-day event will feature over 40 artists displaying their works for you to purchase, with proceeds going toward the charitable organization, along with live music and festivities happening downstairs in the bar. This is a really worthy cause. I encourage everyone to attend and at least chip in the suggested $3 donation to check it out.
Next Saturday, we'll see a musical showcase take over The Shred Shed ,as it plays host to Zookeeper Fest 2. There isn't much to say about this show, but what a show it is, as $5 will get you 18 bands! No joke here. Kicking off at 12:30 p.m. with The Conscience, bands will constantly switch out for 12 hours and bring you some great established acts, as well as fresh faces to the local music scene. The first time they did this event it was phenomenal; you really should check out some of the bands performing this time around.
On Sunday, March 31, there will be two events, the first being Jesse Walker's Third Annual Bunny Hop. For six hours, the DJ supreme will take over The Garage along with some of his best friends to perform live, including brunch and an Easter egg hunt for your entertainment. They'll also be taking donations for the Nikki Breedlove Recovery Fund. Join them and enjoy yourselves.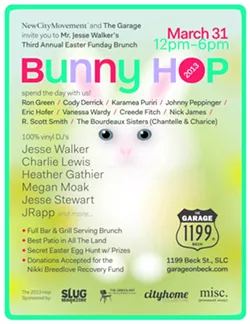 If the Bunny Hop isn't your deal, then perhaps free films are? The Geek Show Podcast will take over Brewvies once again for its free movie night, with this month featuring two of the greatest college films ever: Revenge Of The Nerds and National Lampoon's Animal House. As always, the films are free but the food and drinks aren't, and remember to tip the bar staff well.
The final thing I'm going to discuss is actually a week-long event, as Muse Music Cafe presents its Battle Of The Bands. None of the bands have been announced yet, but if you're looking for some of the best up-and-coming performers and bands in Utah County, this is the place to check them out. Over the years, this battle (much like Velour's bi-annual version) has become a stepping stone for a lot of musicians to get their music out to the masses in spectacular fashion. If you want to see what's happening in Provo, attend these shows. They'll run all week, with the finals happening April 6.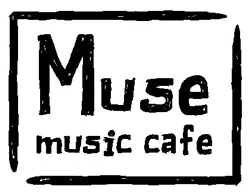 As for the blog: Over the next of couple of weeks, I'll do a show recap, check out what's been happening with the dead, explore the latest storytelling showcase, chat up one of the newest podcasts in town, see the latest plan coming from Plan-B and a brand-new furniture place with a touch of art. At least, that's the plan; who knows what's on the horizon? And, of course, be sure to check back here at CityWeekly.net for the Best Of Utah results on Wednesday before the issue hits the streets. As always, we'll see what happens.
| | | | |
| --- | --- | --- | --- |
| Follow Gavin's Underground: | | | |