This past Friday, if you weren't roaming through a large gallery or bundling up around hot cocoa, you might have been at a big fundraiser at Bar Deluxe. --- The
Salt City Derby Girls
were in full force this past weekend, raising money for their season with an entertainment showcase featuring a couple of musical acts, the VooDoo Darlings, a tattoo competition and other surprises with the hard-hitting derby gals. All in all, it was a pretty good evening.
The main feature of the evening was The Cliterinas, whom I'll be chatting with today for this interview. For those of you who didn't attend, you can check out pictures of the evening and performing acts in this gallery here.
The Cliterinas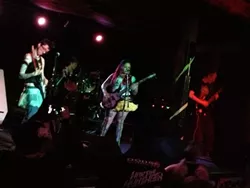 Gavin: Hey, everyone. First thing, tell us a little about yourselves.
Brewja: The Cliterinas are almost an all-female band -- Justine is just an awesome guy who hangs out with us -- writing punk-rock music based around the shit we like to talk about. We do covers, as well.
Gavin: What got you interested in music, and who were some of your favorite acts and musical influences growing up?
Brewja: I'm a metal head through and through, but I can say a huge influence to me was The Doors and Queen, believe it or not. Just so much talent in every aspect of those bands, it's incredible.
Squid Vicious: When I was a little girl, my mother used to play her records for me. I thought it was the greatest thing in the world! My favorite records were I Love Rock n' Roll by Joan Jett & The Blackhearts and Stevie Nicks' Bella Donna. I also grew up loving The Beatles.
Drum & Roll: I have played percussion since junior high school. From jazz band to marching band, I have always been banging on a drum or noodling on a marimba. That, along with a natural desire to listen to a variety of music genres, has led me to where I am now. I love everything from Evanescence to CocoRosie, Bjork to Metric -- basically, all-female vocals with killer instrumentals.
Gavin: How did you all come together to form The Cliterinas?
Brewja: I needed entertainment for a roller derby game, just something quick for 10 minutes. I figured, well, I play the bass and I sing, all I need is guitars and drums. So, I asked some friends if they would learn some covers with me so that we could play this halftime show and they agreed. Little did we know we would have so much fun. At the actual game is where we met our drummer, she heard us play and asked to join us; the drummer who did the show with us was just helping us for the night. Of course, her being a chick, I was like, hell, yeah, and next thing you know, we just formed the band.
Gavin: What was the biggest influence behind forming a punk-rock band, and what kind of challenge is it for you creating a punk sound that stands out from the rest?
Brewja: Well, it had to be punk, it just had to. I love love love everything riot grrl, and so if I am going to be in another band, it's gonna be like that. PUNK PUNK PUNK. What I did want to do differently was talk about things that are usually not OK for "girls" to talk about, like periods, sex, and men's penises. We're breaking all boundaries, lyrically -- girl power in every literal sense.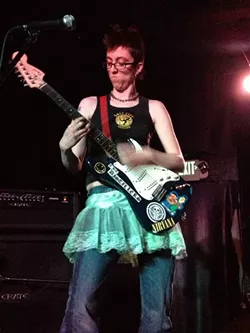 Gavin: You've been a band for less than a year at this point. How has it been for you playing around the valley and striving to build an audience?
Brewja: We are good at what we do and what we sing about. Both dudes and chicks dig it very much, and all the promoters and venues have been awesome.
Gavin: Are you looking to record an album sometime soon or are you mainly focused on playing gigs for now?
Brewja: Album is definitely a must; who knows when, though?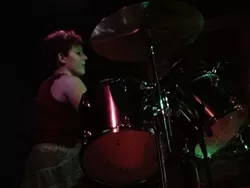 Gavin: Are you looking to tour down the road or will you just stick to Utah for now?
Brewja: Touring is very hard; time off work, money to actually leave, etc. So, if it is possible, then, yeah, we'd love to, but not a focus at this point.
Gavin: Moving on to statewide stuff, what are your thoughts on the local music scene, both good and bad?
Brewja: I used to do booking and promotions for death and black metal, and I am happy to see that the audience numbers for those kinds of shows has grown a lot. It makes me happy to see people opening up their musical taste. The bad, it's still Utah and it's still hard to get some of our very talented bands here recognized.
D&R: I must admit that I am not as into the scene as I probably should be, but I do love what I hear. The local music scene seems to be really diverse, therefore appealing to all crowds.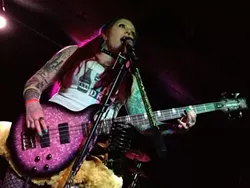 Gavin: Is there anything you believe could be done to make it more prominent?
Brewja: People need to stop competing against each other and support each other. I see some catty-ass shit going on with promoters and venues, and it aint cool, and it doesn't help anyone. If we all help each other, we all win.
D&R: I understand alcohol laws, but 21-and-over shows are a real bummer because it keeps a lot of our young listeners from discovering the local talent. If we could allow for more shows for all audiences, that would be very beneficial for the whole music scene.
Gavin: Not including yourselves, who are your favorite acts in the scene right now?
Brewja: Pagan Dead -- psychobilly, but metal, but psychobilly, but just all around amazing; Odium Totus -- actually formed by a former member of another amazing band, so this is good metal with an ambient twist; Yaotl Mictlan, my most favorite favorite favorite metal here in Utah; All Systems Fail, my most favorite local punk, hands down; and LHAW, who are an awesome group of people who play awesome music. Xolotl, because I am also in that band. And last but not least, Adipocere, because they rule.
Squid: The Blue Moon Bombers are a fun act
D&R: Especially after becoming friends with him in a coffee shop, Brad Stock is an incredible local musician with a huge future in the industry. I love the Sinisters in the ska scene, Ruts & Weeds put on an incredible show -- rest in peace, and Jenn Blosil.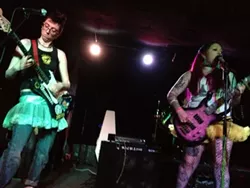 Gavin: What's your opinion on the current airplay on community radio and how it affects local musicians?
Brewja: I have an iPod and Pandora radio; I admit I haven't heard the radio in a long time.
D&R: Obviously any kind of publicity is great for a local musician as it gets their name out there, but I definitely think there is room for more. All musicians should be given the opportunity for their music to be heard.
Gavin: What do you think of file sharing these days, both as musicians and as music lovers?
Brewja: I am all about it. I think the mix cassette tapes we made each other back in the early '90s is what really helped musicians get recognized. If it wasn't for the friend of a friend to tell you about his friends band in XYZ, we wouldn't ever have known them. So, it's definitely a positive, I think.
D&R: It is incredibly bittersweet! However, my final answer is that sharing the message of music seems to be more important to me than making a profit from it. That isn't to say that we shouldn't all diligently follow the law -- ahem -- but if someone likes what they hear, access to it should be possible. If they, myself included, really want to support that musician, they will pay for it.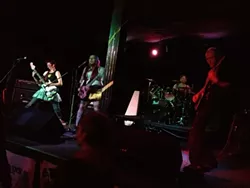 Gavin: What can we expect from all of you over the rest of this year and going into next?
Brewja: We're going to keep doing what we do, for as long as we are able to. I have got a lot to say and have no plans of shutting up anytime soon.
Gavin: Is there anything you'd like to plug or promote?
Brewja: Please check out our other bands. Justine is in Adipocere, Squid is also in Vengeance Tampon, and I also play in Xolotl. Also, Drum, Squid and I skate for the Salt City Derby Girls, so you have to check us out there, beating each other up.
| | | | |
| --- | --- | --- | --- |
| Follow Gavin's Underground: | | | |