As Plan-B Theatre starts to make its way to the end of its season, the company takes a another trip back into the past with its latest production,
Suffrage
. --- The two-woman production focuses on the lives of a pair of sister wives in the later 1800s, during the start of the women'-suffrage movement when Utah was only the second U.S. territory to enact rights for women. The pairing explore the politics and effects it had on the state and families at that time, giving a bold look at the hard road women had to travel for equality from the start.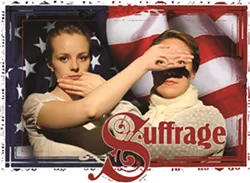 Today, I chat with the two actresses from the play, April Fossen and Sarah Young, as well as playwright Jenifer Nii and director Cheryl Cluff, about the production and their thoughts on the messages within, all before the play debuts tonight at the Rose Wagner Theatre. (All pictures courtesy of Plan-B.)
Sarah Young, April Fossen, Jennifer Nii & Cheryl Cluff
Gavin: Hey, everyone. First thing, tell us a little bit about yourselves.
Cheryl: I'm 47. I received my bachelor's degree at Southern Utah University and I co-founded Plan-B back in 1991. I'm a bewildered wife and mother of two kids, ages 7 and 5.
April: I'm a mom, wife, actor, accountant and baker.
Jenifer: Born in Idaho, then moved to Utah to attend university. Go Utes! That was over 20 years ago. Despite annual whining about shoveling snow and the inversion, I believe there's something special about this place.
Sarah: I'm 23 years old and a graduating senior at the University of Utah.
Gavin: What have each of you been up to in local theater this season?
Cheryl: Most recently, I designed sound for Plan-B's Adam & Steve... and Eric(a) and directed/designed sound for Radio Hour: Sherlock Holmes & The Blue Carbuncle.
April: Romeo & Juliet with Davis Arts Council and the Script-In-Hand Series reading of 8 with Plan-B.
Jenifer: I've been fortunate enough to be a part of Plan-B Theatre Company's playwriting lab and will be writing for this year's SLAM event; also for Plan-B.
Sarah: I've been taking a bit of a break from theater this fall and winter to focus on school. This past summer, however, I played Juliet in Romeo & Juliet at Davis Art's Council. I also had the privilege of performing in Plan-B's 8.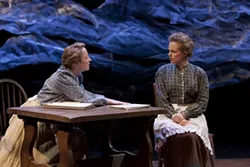 Gavin: Jenifer, how did the idea for Suffrage come about, and how much research did you delve into for it?
Jenifer: Suffrage was sparked by a conversation Jerry and I had about what an interesting thing it is that Utah was the second territory in the Union to grant women the right to vote. There were women here who were very progressive, and they were supported by prominent leaders of the Church of Jesus Christ of Latter-day Saints, of which many of these women were members. And yet, this is a fact that is rarely talked about or taught, and the perception of Utah women – outside and, distressingly and too often, inside the state – has dramatically changed. We wondered why that is. I did quite a bit of research to prepare for this play. I am embarrassed to say that I knew very little about the suffrage movement, and even less about Utah's place in that. I had to read up on both, and found both utterly fascinating.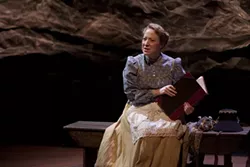 Gavin: Talk about putting the play together and why you brought it to Plan-B?
Jenifer: Putting any play together is tough stuff for me, and Suffrage was no exception. I wondered how to tell an interesting story that was also faithful to the history. Doing both is a challenge; I hope I did all right. Plan-B actually commissioned the play.
Gavin: Considering the subject matter, what kind of message were you hoping to invoke with women?
Jenifer: I don't know that I had a message so much as I had questions: What am I doing with the right these women fought so hard to give me? Within the scope of my daily life, can I do more?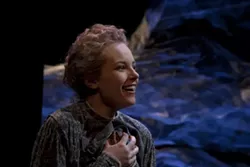 Gavin: Cheryl, what were your thoughts on the play after reading it, and what made you want to direct it?
Cheryl: The first thing I thought was how each side is balanced. Jenifer doesn't push one opinion over the other, which is great, and she never preaches to the audience. And also, how relatable both women are. I see myself in both of them – I identify with the things they struggle with, and I think a lot people will, men and women. I immediately loved the line, "If you believe in your heart that you walk in truth, then do so with courage. But I must go and do likewise." I wanted to direct it because the topic is extremely interesting and the script is very well written ... and this is one my parents will feel okay about attending. They always ask me, "Now Cheryl Ann, is this a show we'll enjoy? And because I don't want them to be uncomfortable, I usually tell them, "You should skip this one." They are very LDS and nearly 90 and, well, they just don't enjoy the majority of stuff we do at Plan-B. Which is fine ... after years of therapy. I'm going off on a tangent that I didn't intend. Sorry.
Gavin: What are the challenges of working with just two actors rather than an ensemble cast?
Cheryl: It's really no different than a larger cast. You still have to figure it all out. Actually, I think directing is easier with a smaller cast, or maybe I should say I am more comfortable with a smaller cast and two is just great; it simplifies things a lot. I don't think a small cast or a one-person show is any less exciting theatrically than a 20- or 50-person cast.
Gavin: April and Sarah, what were your personal thoughts on the play after reading it?
April: I was amazed that I knew so little about this part of both LDS and Utah history; I wish I had known it all along. Women in polygamist marriages in this time period had to be strong and self-assured and hard-working. The script has really made me appreciate how complicated their lives were.
Sarah: When I first read the play, I was a bit shocked that I didn't know anything about this important part of Utah history. I have lived in Utah all my life and never heard of the suffrage movement in Utah, or the fact that polygamist women were active in it.
Gavin: What was it like for both of you auditioning and eventually getting your parts?
April: I've been lucky enough to be attached to the project as Frances since Jen's first draft.
Sarah: When I auditioned for Ruth, I was very nervous. I had the feeling that I wasn't right for the part and so did not have high expectations of getting the part. But during the audition, as I read one of Ruth's speeches, something clicked. I felt a connection to the importance of the story that Ruth and Frances have to tell. After that, I was thrilled to get the part.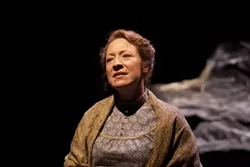 Gavin: How has it been for you both fitting into these roles and interacting with each other?
April: I've been lucky enough to work with Sarah before. I played the Nurse to her Juliet last summer for Davis Arts Council, so we already have a good working relationship. There are some similarities in that relationship to the one we are playing now, and some differences, of course. But at their core, they are both relationships between women who have a deep love and admiration for each other. Also, Sarah has been my off-and-on nanny, so there's a little bit of a real-life component to our onstage relationship.
Sarah: April and I have known each other for years in many capacities. I have been the nanny of her two girls for a couple of summers, and we joked that I was sort of a sister-wife even before Suffrage came up. She also played the Nurse to my Juliet last summer at Davis Arts council, so I feel like we've had a great chance to get comfortable with each other onstage. Fitting into the character of Ruth was more of a challenge: She is curt and blunt, a bit self-righteous in her ways, but she does it out of sheer love for her family. She's "a peculiar woman," as Frances says.
Gavin: Considering that it's just the two of you, does it present more of a challenge that you have to play off each other more without an ensemble of characters, or do you find it easier with the two-women back-and-forth?
April: It takes a different level of energy to sustain a play when there are just two characters, but there's something comforting about just having the one other person to rely on -- especially when that other person is someone you trust.
Sarah: It's not easy to carry half of a show, but working with April, who is not only a great actress but someone I love and feel comfortable with, makes a two-person show not only easier, but a delight.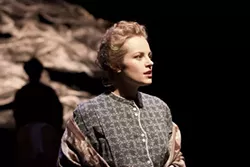 Gavin: What are all of your thoughts going into opening night?
Cheryl: I'm looking forward to seeing how the audience reacts to this show on opening night – and all the other performances, too. Specifically, I'm wondering, will they be surprised that polygamy and the suffrage movement were so intertwined here in Utah? What will they think of the fact that the play isn't anti polygamy? What will active LDS members think about their church leaders' support of women during the suffrage movement vs. their current support?
April: There are lots of people who I think would really appreciate this play and I hope they will see it.
Jenifer: Terror, and gratitude.
Sarah: I can't wait to have an audience finally! Suffrage is a story that needs and deserves to be heard. I hope that audiences will understand how hard Utah women fought for their families and their rights, and also ask themselves, "Are we furthering the suffrage cause? How are we honoring these women's legacies?"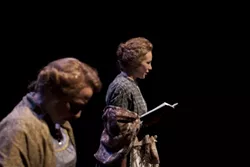 Gavin: What can we expect from all of you over the rest of the year?
Cheryl: SLAM! And some great stuff next season that I can't quite tell you about yet.
April: SLAM! After Suffrage closes, I go right into rehearsing The Righteous & Real Housewives Of Utah County for Alligator Press Productions – the show runs May 15-26 at the Post Theatre. We get a day off for SLAM!
Jenifer: SLAM!
Sarah: My next project is The Farndale Avenue Housing Estate Townswomen's Guild Dramatic Society's Production Of MacBeth with Meat & Potato Theatre, and in the summer I hope to work with Davis Arts Council's Summer Shakespeare again.
Gavin: Aside from the obvious, is there anything you'd like to promote or plug?
Cheryl: SLAM!
| | | | |
| --- | --- | --- | --- |
| Follow Gavin's Underground: | | | |