Hello to all you award-winning, food-piling, drink-guzzling, museum-dancing, credit-snubbing, Best-Of-Utah-hangover enthusiasts! --- Well, that was an interesting two weeks. There are a ton of things I could get into, ranging from the congratulations, the complaints, the party itself and the aftermath, but, really, I'd just like to say thank you. To all of you who voted for me, thank you; it is very humbling winning my
fourth award
in five years for this blog, and the third by popular vote. There were so many others you could have voted for, with no obligation to the publication or the website, and you still chose me. I am honored and extremely grateful, and I'll strive to continue making this blog interesting and informative about the local entertainment scene in Utah as best I can -- starting with an update from the 337 Memorial Wall.
Speaking of awards, I want to send two special congrats of my own. The Utah Arts Festival just released its Mayor's Artist Award winners, and two of the most prominent on the list are Radio West and Bryan Young. Doug Fabrizio, Elaine Clark and Benjamin Bombard have made efforts to highlight the local music, art and film scenes through the KUER show and are well-deserving of the honor. And, of course, a shout-out to Big Shiny Robot founder and City Weekly co-conspirator Bryan Young for his work as an author. Congratulations to both.
While we're kinda on the topic of music, The City Library is currently accepting submissions for people to play its Summer Music Series. Formerly Music @ Main, this is the weekly performances held in the outdoor amphitheater, featuring mostly acoustic sets from some of SLC's finest bands and musicians. Click this link here to apply; applications are due by April 15.
Speaking of music series, the Salt Lake Arts Council is still accepting applications for the Brown Bag Concert Series. Throughout the month of August, bands will take over public areas for short lunchtime performances, a new band every day during the work week. It was announced that applications have been extended through April 22, so if you want to be a performer for this series, click this link here to download the application.
Going into events, the big thing to talk about this coming week is the Salt Lake Comedy Festival. Now in its third year, the festival was pushed up to April so as to not be lost in the confusion of the summer. Taking over venues like the Broadway Theatre, Midvale Theatre and Off Broadway, this week-long festival will feature improv competitions, a comedic film fest and a stand-up competition as part of the festivities. You can currently buy tickets from its website, but hurry before these events sell out.
Around the end of the week on April 12, Burt's Tiki Lounge will play host to Smooches For Pooches, presented by Dottie's Dames. Five bands, pin-up gals, derby gals and special vendors will all be on hand for a one-night extravaganza, and all proceeds will go toward For The Love Of Paws, which goes toward helping the homeless and their pets. Go check it out.
Next Saturday, things are gonna get awkward at The Complex, as it'll be hosting Awkwardfest. The brainchild of The Awkward Hour host (and City Weekly writer) Brian Staker, this one-day showcase will celebrate the five-year anniversary of the podcast with a concert/performance show running from 1-9 p.m. The admission is free, but Brian is kindly asking for donations to help pay for the costs of continuing to run the show by himself. Details can be found on the Facebook party link; please go and get awkward with one of the best shows in town.
Moving on to a sad note, if you haven't gotten word yet, the Joshua Payne Orchestra is leaving Salt Lake City! Yes, sad but true --Payne and his hefty set of musicians are headed for the West Coast (Los Angeles to be specific), but not before they take off in style On Friday, April 19, The State Room will be the official spot to bid Payne and company farewell, with a lineup featuring David Williams, The Weekenders, Pablo Blaqk and Jay William Henderson. Snag tickets while you can, as this is damned sure to sell out.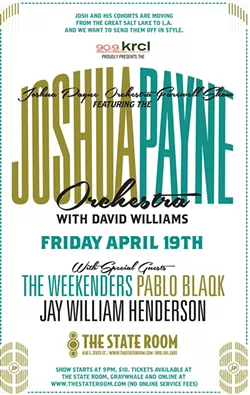 And finally, in two weeks, April 20 won't just be for forgetting your entire day in a bong, it will be Record Store Day. Now, granted, there are about a dozen stores participating and I'd love to give them all a shout-out, but truth is none quite do it like Graywhale (now that Slowtrain is gone, that is). You're going to see massive sales, tons of exclusives and live performances from every shop. If you want everything your heart desires from the RSD release list, you'll probably need to dart around the valley anyway, but be sure to catch some of the awesome shows while you're doing it.
As for the blog: Over the next couple of weeks, I'll have coverage of the latest performances from SLAC and RDT, chat with a makeup artist, explore a sketch-comedy show, have concert coverage and a brand-new furniture/art gallery. At least, that's the plan; as always, we'll see what happens.
| | | | |
| --- | --- | --- | --- |
| Follow Gavin's Underground: | | | |