When it comes to local blogging, many of the writers, myself included, behind those lengthy tomes of information and banter usually stick to a single blog for recognition and consistency. --- Rarely do you see a familiar name pop up in multiple places as a source of info and insight. But, that's exactly what's helped make Capree Kimball a standout in online media, as she currently has her hands in seven different blogs, including her own design blog and recently becoming an editor with the DIY website Curbly. Kimball is one of the few people in Utah who can say they've made a career out of blogging.
Today, I chat with Capree about her life prior to forming her first blog, her career in online media, working with multiple websites and her thoughts on the medium in general -- along with photos from her various blogs including pictures of DIY mouse pads and bowl, dog ID tags and a makeover of her office. (All pictures courtesy of Kimball.)
Capree Kimball
Gavin: Hey, Capree. First thing, tell us a little bit about yourself.
Capree: I'm a tin-robot-collecting Pisces who loves dogs, bright colors and eating biscuits & gravy whenever possible.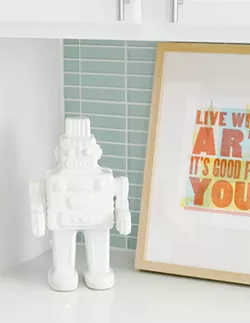 Gavin: What first got you interested in photography and design work?
Capree: I was raised in a very artistic and creative home -- my dad is a graphic designer and painter, and my mom has a background in sculptural textile design, so my passion for visual arts and design has been a part of my life since I was a wee babe. I first witnessed the magic of the darkroom, though, when I was 13, and proceeded to take every possible photography class that was available to me – and then some. By the time I was a senior in high school, they'd run out of classes, so the photography teacher and I sat down and developed a curriculum for me for that last year. I was ... pretty nuts about photography.
Gavin: You received your BFA from Brigham Young University in photography. What made you choose BYU, and what was your experience like there?
Capree: Ahh, BYU! I'll be completely honest, when I chose BYU, I was a kid going down a checklist. Once I got there, it was a bit of a culture shock. My experience there was mixed; the quality of education I received was fantastic, but I mostly just put my head down and focused on getting out of there as fast as possible. I haven't set foot on campus since I graduated, if that tells you anything.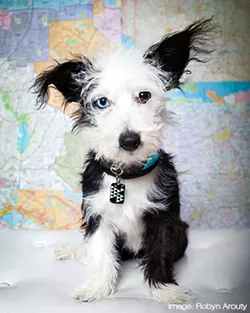 Gavin: For seven years you ran your own photography business. What was it like running it while earning your degree?
Capree: Honing your craft through real-world experience and formal education while making -- a teensy tiny bit of -- money? That was pretty great.
Gavin: What made you decide to close up shop in 2009? And would you ever consider going back to running your own studio again?
Capree: I went into the BFA program with an interest in blending fine art and fashion photography. Once I got out, the only real opportunities I saw here in Utah were in the family-portrait and wedding markets. I tried my hand at that for a bit, while also landing a few gallery shows, before I decided that I hated it. I couldn't take one more photo of a 20-year-old in a wedding dress. Since I'm an all-or-nothing person, I decided to stop, cold turkey, and pursue something that would inspire and fulfill me, which ended up being blogging about art, design and decor. As for running my own studio again? Nope, never. It's full steam ahead for me.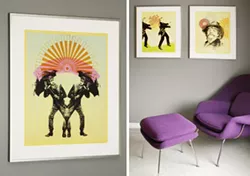 Gavin: When did you take an interest in blogging, and what were some of the first blogs you really got into?
Capree: I really started getting into blogging in 2006, specifically blogs that focused on modern art, interior design, etc., which at the time were pretty limited. I think the first blog I started reading was Design Milk. After a year of consuming, I decide to be a creator and started my own blog, MAIYA, in 2007.
Gavin: What made you decide to start your own, and how did the concept for My Adventure Is Your Advantage come about?
Capree: I started MAIYA as a way to share and curate all the incredible things I found on the Internet. I had just purchased my first home -- right before the real estate bubble explosion; yay -- and was excited by the idea of developing my own unique aesthetic and expressing that through decor.
Gavin: For that first year, how did you go about finding topics and designs to talk about, and what was it like for you building an audience over that time, cold, with little name recognition?
Capree: I was already spending ridiculous amounts of time browsing the Internet for cool stuff, so MAIYA was just a continuation of that. My goal from the beginning was never about building an audience or making money, or any of that. I just wanted to share what excited me. If other people were into it, awesome; if not, I was just going to keep plugging along.
Gavin: When did you realize that you could turn this into a career, and what was the turning point for you that made you go for it and become a professional blogger?
Capree: When I started being approached by other sites to contribute, I realized, "Hey, there might be something to this." Curbly was the first to reach out to me because they'd seen my work on Grassroots Modern and liked my aesthetic and writing style. In the years following, I really hustled and said "yes" to just about every opportunity that came my way, big or small. I wanted as much experience as I could possibly get.
Gavin: How did you come across Grassroots Modern, and how did you end up working with Creede Fitch on his website?
Capree: I think I first discovered Grassroots Modern when I was searching for information about modern homes in Utah. It was the only site that popped up. After checking it out, I was hooked and became a daily reader; it was the first blog I'd read in Google Reader (RIP). About a year later, Creede put out a call for contributors and I responded, got the gig, and wrote for Grassroots Modern for almost four years.
Gavin: What kind of challenge was it for you working on two different blogs at the same time, and how did you manage to balance it out?
Capree: The only challenge, really, was time management, which I still, and will always, struggle with. Even if, on the surface, each blog seems to be about the same thing, i.e., "modern design," they still have their own unique angle. I try to identify that and tailor my content to fit the style of the site.
Gavin: What's the process for you when writing about a topic for any website? And how difficult is it for you to keep it original without running over territory you've already covered before or on another website?
Capree: First, you have to know what the goals of each site are. Like I mentioned before, once you identify that, it's not hard to tailor your content for each blog. Even if the same topics get covered on multiple websites, you can still approach it from a different angle. Though, you should consider whether covering it again will contribute to the overall conversation. Generally, I try not to post about the same thing twice if I can help it.
Gavin: At what point did you realize you were becoming a name in the world of blogging, and what was your reaction to the attention and the recognition you were starting to receive?
Capree: Ha! I don't know if I'm a name in the blogging world, but thanks, I'll take it! I think the first time someone recognized my name was at ICFF, the International Contemporary Furniture Fair, a few years ago, which was an "OMG, it's you! You wrote about our stuff!" kind of recognition. It was strange. I never expect people to remember who I am, even after meeting in person, so having someone I'd never met recognize me was weird ... and weirdly flattering. Even now, I'm pretty convinced no one has any idea who I am, which is fine by me. I like working behind the scenes.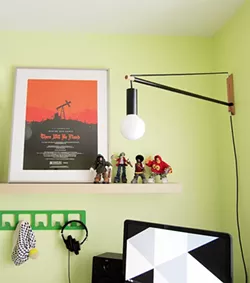 Gavin: Since 2009, aside from the two sites you write for, you've joined five other websites as a featured writer, including Wantist and 2Modern, as well as taking multiple roles with Curbly. What made you decide to expand your reach, and how was it for you when you joined each site?
Capree: Between 2009-2012, I really threw myself into the world of blogging. Like I said before, I'm an all-or-nothing person, so I decided to give it all my creative energy. At one point, I was writing about 30 posts a week. In 2012, I took on two editor roles and have since cut back on my contributing writer gigs to focus on these.
Gavin: With Curbly, you've become deputy editor, a position that for a lot of people in the industry would require some kind of college degree in writing or journalism. How is it for you to hold such a high position on a website with that much exposure in the design world?
Capree: Honestly, new media isn't about degrees. It's about having a unique voice. You need to be a good writer, sure, but more importantly, you need to be a passionate writer. And you need to work hard. Always. Most of my peers do not have backgrounds in publishing or journalism, but we're extremely driven folk who get shit done. If you have a good work ethic and are excited about what you do, people will notice and you'll be successful.
Gavin: You've been blogging for nearly six years and have become one of the more recognizable names in the medium on a national level. What's your take on how far you've come and the way your career has turned?
Capree: Insert cheesy quote here about hard work and giving it your all, preferably the one from Conan O'Brien, which I actually happen to like. Honestly, I never started out with the goal of turning this into a career. I pinch myself every day that I'm fortunate enough to be doing what I love for a living. It's rare and something I don't take for granted!
Gavin: Looking forward, are there any types of blogs you'd like to start or websites you'd like to be a part of that you haven't had the chance to write for or about?
Capree: Maybe I'll start a Tumblr blog about tin robots. I have a small collection and, well, tin robots are pretty badass.
Gavin: On the local blogging front, what do you think of the sites being produced from Utah, and what could the blogging community do to gain more exposure?
Capree: Many of the larger blogs coming out of Utah are parenting and/or lifestyle blogs, which isn't my bag. That said, they are good at what they do and I have a lot of respect for anyone who can write about what they're passionate about and turn it into a career. And that's the thing: Write about what you're passionate about. If it's Himalayan weaving techniques, awesome. Make it the best damned blog about Himalayan weaving. Own your interests, develop a unique worldview and contribute to the conversation in your blogging community.
Gavin: What can we expect from you over the rest of this year?
Capree: More DIY projects, some exciting new columns and my first tattoo!
Gavin: Aside from the obvious, is there anything you'd like to promote or plug?
Capree: Yes! This week marks my one year anniversary as the managing editor of Dog Milk, which is the canine-focused sister site of Design Milk. If you're crazy about dogs and design, definitely check it out. We have a pretty great time over there.
| | | | |
| --- | --- | --- | --- |
| Follow Gavin's Underground: | | | |