It's not very often that you'll find a dish as scrumptious and effortless to cook as this one. You could start it in the morning, go to work or school --- and it'll be done when you come home. Every time I make this Mexican-style pork, I wonder why I don't use my crock pot more often! 
Essentially, this is a spice-rubbed pork roast that cooks primarily in a crock pot. The finished product is great for making tacos, burritos, tamales, or anything else you can think of to use spicy pulled pork for. 
If I have some canned green chiles on hand, I like to add them to the pot to help flavor the pork. I also sometimes throw in a tomato or an orange, halved, which gives the pork a carnitas-like flavor. Feel free to experiment with other ingredients.
Also, you'll notice there isn't any cooking liquid listed below. The bone-in pork is juicy enough that no additional cooking liquid is required. However, if you use a really lean cut of pork, you might want to add a half cup or so of water or broth to the pot before cooking.  
Ingredients: 
3 1/2 - 4 lb. bone-in pork sirloin roast or shoulder roast 
1 Tbs. brown sugar
1 Tbs. kosher salt
3-4 Tbs. Mexican chile powder, to taste depending on the level of spiciness you like 
2 tsp. ground cumin
1 tsp. Mexican oregano, crumbled
1 tsp. onion powder
1 tsp. garlic powder
1 tsp. cayenne pepper (more if you'd like to increase the heat)
1/4 tsp. cinnamon
1/8 tsp. ground cloves 
1 small onion, peeled and sliced
2 Tbs. canola oil
1 small can diced green chiles (optional)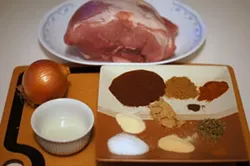 Method: 
Stir all of the spices, brown sugar, oregano, etc. together in a small bowl.
Liberally rub the spice mix all over the pork. Allow the pork to "marinate" in the spices for at least a couple of hours, preferably overnight in the fridge.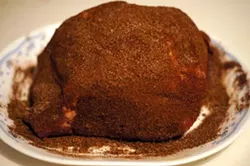 In a skillet, heat the cooking oil over medium-high heat and brown the pork roast well on all sides.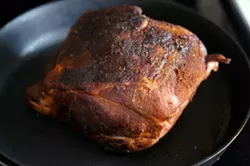 Place the sliced onions into the bottom of a crock pot and put the pork roast on top of the onions.
Cover the pot and cook on the low setting for 8 to 10 hours, until the pork is tender and almost falling apart.
Remove the pork roast to a cutting board and cut or tear the roast into large pieces.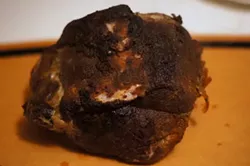 Then, use a couple of forks to shred the meat.
Place the meat into a bowl and toss with any leftover cooking juices from the crock pot.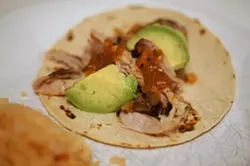 Photos by Ted Scheffler