For most photo shoots, there is a ton of work that goes into making every shot count. Hair, wardrobe, clothing, lighting, the location and the models all play a part, including the area we'll discuss today: makeup. --- Sometimes overlooked because of the subtlety, makeup artists play an intricate part in the look and feel of any situation to be captured on film, whether it be a bright radiance or a subdued beauty. One of the more prominent local names contributing to these efforts is makeup designer Aspen McKenna, contributing her talents to several local photographers and filmmakers to help make their works shine.
Today we're chatting with McKenna about how she came into working in makeup, her career and honing her skills, projects she's worked on and a few other topics. (All photos provided by McKenna.)
Aspen McKenna
Gavin: Hey Aspen, first thing, tell us a little bit about yourself.
Aspen: Hello Gavin! Thank you for taking the time to speak with me! Well, I am an independent make up artist based in Salt Lake – I have been doing make up full time for about three years now. I love it! I couldn't have found a better profession for myself.
Gavin: What first got you interested in art, specifically painting?
Aspen: I've always loved art – in all forms for as long as I remember. I took every art class available in high school but when I went to college I decided to take a more traditional road with my education: business and marketing with a specialty in creative services. I was looking for a way to blend my love of art with a strong business foundation.
Gavin: Prior to makeup, what were some of your early works like?
Aspen: Paintings (oils, acrylic, pastels, watercolor) some on traditional canvas and some on recycled found items that I found interesting, multimedia pieces, and repurposing old pieces. I also, randomly, love needlepoint work. I've tried my hand at all sorts of art – some that I loved for the experience and process (even if the results weren't always what I'd envisioned), and others that I love and still try to find time to do today.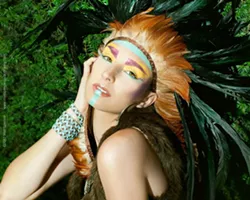 Gavin: How did that translate over to makeup design for you and what was it like utilizing that skill?
Aspen: The thing about make up is that it's completely temporary. It lasts a moment in time in the grand scheme of things – if a photographer does not capture it it's almost like it never existed. I actually love this aspect of make up, especially body painting and body art. The one of the most interesting (and difficult) things to do is to take a two dimensional drawing or idea and watch it come to life. It jumps off the page or out of your head and moves around on a human body. You have to start thinking of your art in ways that you never did before. How will this curve flow on the body? Will it wrap around and accentuate the ribcage or will it end up cutting the body in half and your art will look like two pieces on one body? Having to alter your way of thinking about your art is one of the hardest things I've ever had to do artistically. I still paint on canvas and I occasionally find myself thinking of my canvas as a more animate object. It's kind of a trip.
Gavin: You didn't immediately jump into it, and instead had a career in marketing. What was that career like for you and how long had you been doing it?
Aspen: I started working in the marketing department for Sinclair Oil Corporation right out of college. I sat at a desk for eight hours every day and poured over sales numbers versus retail space allotted for each brand – needless to say it wasn't what I'd hoped it would be. That led me toward the creative services side of marketing doing large product launches and event planning. I was able to work with several great companies like Subaru of America, TiVo, and Broadway Across America. I really enjoyed this part of my career before make up – I think it has helped me to manage my make up company better and more efficiently.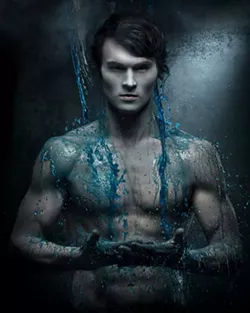 Gavin: What made you decide to go into makeup design and what was the transition like going from a promotional career into a creative one?
Aspen: It was a bit of a happy accident really. In late 2008, the recession hit and marketing budgets were drying up pretty quick. I had just come off a large contract and decided I'd rather take a bit of a break than try and hustle for the few marketing contracts that were out there. I had always loved make up, so I started doing research on local programs and decided to give it a try. I thought, if nothing else, it would be fun.
Gavin: I read you trained at the Taylor Andrews Academy, what made you choose their program and what was your time like learning there?
Aspen: I did a lot of research before I decided on Taylor Andrews for their make up course. The deciding factor for me was that they offered a MAC cosmetics certification with completion of the program. I was in a class of eight people – I'm still friends with almost all of them and am proud of each of their achievements. I met some amazing instructors who are friends as well as mentors now. Sherri Curtis, Dallen Flint and Frank Armstrong specifically. The school is mostly for hair stylists – it's not specifically a make up school – but I was never made to feel less than anyone else in the class. I actually teach at the school now. I teach a business and marketing class so that the students have the necessary information to turn their make up skills into a career. Teaching is one of the most important things I do now in make up and I truly love it.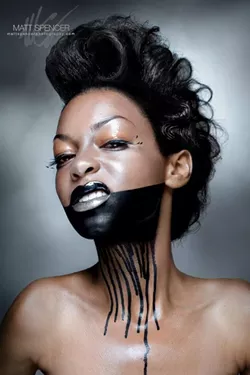 Gavin: What was your first year like working in the field and what were some early lessons you learned doing it professionally compared to learning in classes?
Aspen: Oh wow – that first year! I did some terrible work – but I learned so much from it. I worked within some great creative teams who helped me become a better artist. Working in the field, things move so much faster than in a classroom setting. In class you are given time to make decisions and mistakes. On the floor of a fashion show? Not so much. When you are given 11 minutes with a model to go from clean faced to runway ready there is no time for decisions – you have to be prepared well beforehand and be ready the moment the model sits down in your chair.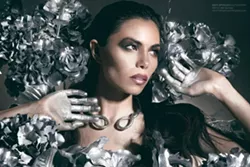 Gavin: For those who may be curious, what kind of products and brands do you specifically use in your kit to get the kind of results you like?
Aspen: One thing about me that is a little different from other MUA's is that I am not brand loyal – I am quality loyal. If a product works and works well, it will be added to my kit. I love MAC but there are other lines that I like better for certain products. Liquid liner? Stila or Illamasqua has more pigmentation and a better flow rate for me. My favorite blush is from NARS but it is quickly being replaced by a new product in the Naked line by Urban Decay. I love Make Up Forever for a lot of my body art work – but I never really stray too far from my traditional art roots when it comes to body art – I still work with acrylic paints, pastels and traditional art brushes. (Actually, my beauty brush belt even has traditional art brushes in it.) I also prefer products that can do more than one thing or be used in a unique way. For example, using eye shadow as lipstick or blush. The more ways you can use a product, the more you get out of having it in your kit.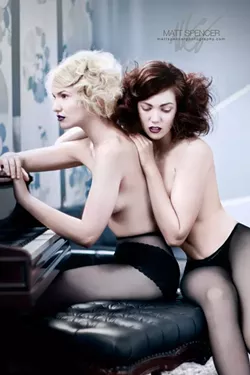 Gavin: What's the process like for you when working on someone, from blank face to final creation?
Aspen: It depends on who is the creative force behind the look. If it's me then there has been a lot of thought and sketching done before they even sit down. I'll already have done a lot of color combining and pigmentation mixing ahead of time so I have the exact colors I want on hand and can get started immediately. I always start with a primer that has a good moisturizer in it. The key to youthful skin is hydration. Then I will start clarifying the skin – bringing my canvas to one solid and consistent shade so I can choose where the color, shadows and highlights will be. I look at the bone structure of the face and place my skin tone colors where the bone structure actually is – not where I think it should be (this is for a beauty look - in a conceptual or super high fashion look I might do something different for more drama). Once the skin is contoured, highlighted and blushed I move to where I want the most dramatic part of my look. Eyes? Lips? Cheeks? Brows? The options are endless. I always look at the face and choose what the most dramatic feature should be. This is usually where I start and then move on to other areas until I achieve the overall look I'm after. Once the look is done I choose my setting product based on what the look is going to do – photography? I chose one that will reflect and refract light with the strobes. Bride? Waterproof EVERYTHING. Night out? A long lasting setting spray like All Nighter from Urban Decay.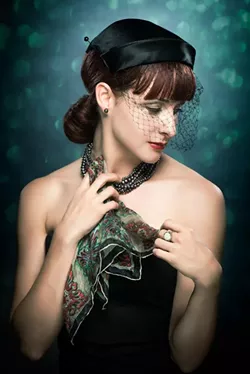 Gavin: In the past few years you've worked runway shows, fashion shoots, competitions, videos, films, etc. For you personally, what are your favorite projects to work on and why?
Aspen: Creative collaborations! Working with some of my favorite creatives around town and watching the whole process come together is simply amazing. I had a shoot just last week that included five people and custom made wardrobe (I decided to give hat making a try). My apprentice Liberty Blanchette was able to have the experience of a full creative team. Two beautiful models made the overall look shine and the photographer who captured it exceeded every one of my expectations by capturing exactly what I had in my head. It was exactly why I do what I do.
Gavin: You've been doing makeup design for nearly three years, what's your take on how far you've come and where are you hoping to take your career?
Aspen: From taking my first make up class three years ago, I've got a lot of work under my belt (published both here in the US and abroad), I've received two top ten international artistry awards, and have made some amazing friends. I'm also very proud of the relationships I've made with other people in the industry. My plans for the future include a brick and mortar space, loads more teaching, more international work, and taking advantage of every opportunity that comes my way.
Gavin: For those looking to get into this line of work, what advice do you have for them?
Aspen: Look into your school of choice. Make sure you are getting exactly what you want from the school. Think about what you want your business to do – not necessarily just that you "want to do make up." What is your business plan? Do you want to own a salon? Do you want to create your own make up line? What are your long-term goals? The answers to these questions will change over the course of your career, but knowing what you want at the outset will help you get off the ground and start to fly so much faster.
Gavin: What can we expect from you over the rest of the year?
Aspen: Several international publications are in the works right now, more teaching, several more films. More of everything!
Gavin: Is there anything you'd like to promote or plug?
Aspen: YES! I have a wonderful agent – Niya Artist Management – whom I adore. She also does model management and has some of the best modeling talent in Salt Lake and across the nation under her Niya Model Management label. Matt Spencer Photography is an amazing photographer that I work with often and consider a great friend. We have several projects coming out this year that will be simply amazing! I can't wait to share them! If you watch my progress on my website or my Facebook, you will see what's coming up in my world and please feel free to post anything to let me know what is up with yours!
| | | | |
| --- | --- | --- | --- |
| Follow Gavin's Underground: | | | |