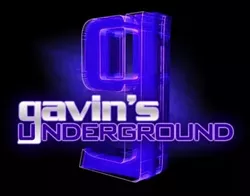 Gallery Stroll may have had a bit of a chill to it, but it was still a far better way to spend Friday night than bundling up for whatever rain or snow was set to roll in. --- Particularly interesting for this month were the new galleries and pop-up locations that happened along Broadway, as I saw at least three new locations who look to be adding to the Stroll in new ways. I'll discuss one of those at a later date, but for now, we'll visit a familiar spot along 300 South.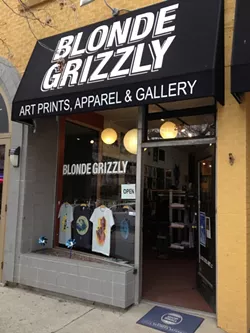 Blonde Grizzly played host this month to a smaller exhibition from paperworks artist Cindy Bean in its back gallery, which also housed many familiar faces from past shows. Today, I chat with Bean about her career and art, along with a few other topics, all with artwork you can check out from that night in this gallery here.
Cindy Bean
Gavin: Hey, Cindy. First off, tell us a little bit about yourself.
Cindy: I grew up in Nevada in the typical Las Vegas home; my dad was a blackjack dealer and my mom was a cocktail waitress. After graduating from high school, I moved up to Provo and got a degree in design from BYU. After that, I moved around a little, back to Vegas, up to Seattle and then finally settling here in Salt Lake, where I currently live in Rose Park -- represent -- with my husband, Tom, our boy, Luke, and our dog, Starla.
Gavin: What first got you interested in art, and what were some early influences on you?
Cindy: I've always loved to draw. When I was a kid, I would draw from those Lee Ames books as much as I could. Every Friday night, my parents would go bowling at the Showboat with the German-American league. One of the bowlers there was a drunken Indian named Bill. Bill would have me draw a squiggle on a sheet of paper, and from that squiggle he would draw a cartoon. Bill was a magical person to me.
Gavin: You received your degree from Brigham Young University. What made you choose its program, and what has your time there been like?
Cindy: My BYU days were awhile ago. I graduated in 1999 with a BA in design. A lot of people tend to knock BYU, but I loved it. I made the best friends there who, almost a decade and a half later, I still consider my best friends. Also, I walked everywhere and that kept the pounds off.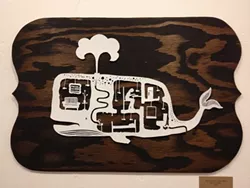 Gavin: What initially attracted you toward design work, and how has it been for you doing that as a career?
Cindy: Initially, I went into the design program seeking a degree in illustration. I didn't get into the program and was going to try again the next year. A friend of mine worked for the BYU theater box office and got me a job making posters. Luckily for me, they hired me on his recommendation because I didn't even know how to save a file when I got started. From there, I switched gears from illustration to graphic design and have gotten jobs based on my ability to do both ever since.
Gavin: When did you first discover paper cutting, and what drew you to work with the art form?
Cindy: In 2006, a friend and I went on a whirlwind trip of Europe. Stopping in Salzburg, we went to the museum at Mozart's birthplace. In the gift shop, they had these small paper cuts for sale. I bought a couple and thought, "I can do this." Then, we went to my grandparent's home in Germany. In their sitting room, they had a few paper cuts hanging on the wall. These were, by far, much more intricate than the ones I had bought in Salzburg and it shifted my line of thinking from, "I can do this" to "I'm going to need to practice this for a while before I can get this good."
Gavin: What's the process like for you when creating a new piece, from start to finish.
Cindy: My process for each piece is different every time. Sometimes, I'll see a paper cutting style I'd like to try and base it off of that. Sometimes, I'll be taking a shower and an idea will come into my brain that I want to do. Always there's research after the initial concept is thought of. I might need to find out what a flying fish really looks like or a certain type of flower. Then, I sketch a few rough drafts, finalize the piece and cut it out. The cutting part is the easiest, but that's mostly because I've had a bit of practice.
Gavin: Considering the intricate designs and time put into each design, what kind of a challenge is it for you creating each one without messing up or having to start over?
Cindy: I always mess up; I try not to. On two of the pieces in the show, there are mistakes in the cuts that only I know about. No one else has spotted them. Paper is really forgiving in some parts because when you're working at such a small scale, the amount of glue needed to mend a tear is minuscule and after a little while, even I don't remember where the errors were.
Gavin: Currently on your website, you offer templates and custom designs for people. What are your plans for expanding the templates, and if someone wanted a custom design, what would they need to do?
Cindy: The templates I do online are for beginning to intermediate cutters. Mostly, they are there to help someone figure out the art of paper cutting. If I do anything a bit more intricate or specialized, it's my art and I won't do a template for it. So, as far as "expanding" goes, I'll just continue to make more different themes. If someone wanted a cut, what they would do is e-mail me and tell me what they want and I'd tell them if I were available or interested in that theme and give them a quote as to how much it would cost. Then we would go from there.
Gavin: Tell us about the artwork on display for this Stroll.
Cindy: There are a few pieces from the story of The Marsh King's Daughter, an Andersen fairy tale, and there are also some from different tales. They all have a water theme to them. These are definitely larger pieces with much more detail to them. My husband helped me out a lot by creating custom board for the frames, so that was fun to collaborate with him on that.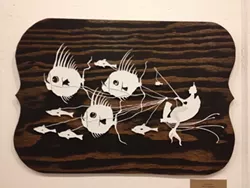 Gavin: How has it been for you working with Blonde Grizzly for this showing and having your work in their shop?
Cindy: Blonde Grizzly is excellent to work with. I like their new location a lot. I also like that there are other things for people to buy there in the shop. Caleb is very accommodating. My first show I ever did with Blonde Grizzly, we were still hanging pieces at 6 p.m. I'm sure he wanted to strangle me.
Gavin: Going local, what are your thoughts on our art scene, both good and bad?
Cindy: I enjoy what they are doing. I think having an art stroll brings the community together. I love wandering the streets every third Friday and finding art and music and food in abundance. I think it's still a bit of an exclusive club. I've talked to neighbors who aren't really into the art scene as much and they have no clue that anything is going on.
Gavin: Who are some local artists you like checking out or recommend people should look for?
Cindy: I love the show that's happening at Kayo Gallery right now with Dan Christofferson and David Habben. Both of those guys have some amazing artwork. I also love Dave Borba's art; the time he puts into each piece is astounding. My favorite local artist is Jared Clark, though. That guy is amazing.
Gavin: What's your take on Gallery Stroll and the work they're doing to promote local art?
Cindy: I think it's great that you can see a really established artist's show within minutes of seeing a first-time show from someone else.
Gavin: What can we expect from you over the rest of the year?
Cindy: Hmm ... well, I'll have a piece at the Rio Grande in May at a show put together by Jared Clark. It's called Tin and there will be about 50 different artists exhibiting in this show; it should be amazing. I will also be in another group show in September at the Blonde Grizzly with some very talented artists, such as Emily Wood and Candace Jean. I love those ladies!
| | | | |
| --- | --- | --- | --- |
| Follow Gavin's Underground: | | | |