Even though I'm just now getting around to writing this review, my hip-hop arm is still sore from last Saturday's Elevated Minds Festival at the Gallivan Center. For the unfamiliar, "hip-hop arm" is a condition similar to metal neck, or achy-breaky pelvis, but it comes from prolonged exposure to good rap music.---
Organized by Bigga Dreams Events and local rap collective Make Mind, the year's biggest rap festival (so far) pulled in well over 800 heads, despite the crappy weather. But to be honest, whenever there's a lineup featuring a slew of great local talent and high-caliber national acts like Talib Kweli, Mobb Deep, Binary Star, Common Market and The Chicharones, bad weather isn't going to stop fans from showing up to a rap show on 4/20.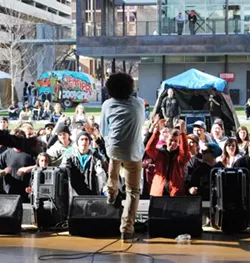 Which reminds me, I want to give a shout out to The Salt Lake Tribune for last week's write-up about how there wouldn't be any weed at this particular 4/20 hip-hop festival. Yep, there was zero traces of marijuana.
Local rapper Dope Thought of Make Mind
Anyway, Dope Thought of the Make Mind crew deserves a standing ovation for hosting the entire event (which was nearly 11 hours long). According to my tally, he performed three different sets and kept the crowd entertained in between every act -- a tough task considering rappers are notoriously late for everything.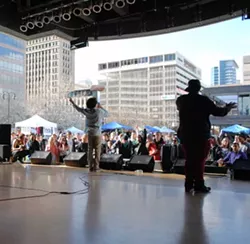 If you haven't checked out Mr.Thought's electronic side project DropInOcean, consisting of Dope Thought, his partner in crime Jackson "Worth" Savage and producer Nicko Bellic, you need to rectify that. Think Dope Thought rapping over trap-inspired/dub-step beats.Though not my usual cup of tea, I liked it. It's more of a party-rap take on his usual mellow "conscious" rap. This particular style of hip-hop always goes over well at live shows. I was mouthing "pass that blunt to the front," for the rest of the night.
I only have one complaint from that evening and it's in regard to the random girl who would periodically get on the mic and yell in a high-pitched voice, "Yeah, 420 Bitches! Whoooo!" Every time she got on the mic it was cringe-worthy. I pray to Tupac and Biggie she is kept away from all microphones. But she was only a minor peeve.
As for the headliners, Binary Star got onstage and reminded audience members why they should re-listen to the 2000 album, Masters of The Universe. To be fair, they also played tracks from their recently released self-titled EP. But for the most part, their set was one big collection of rap classics like "KGB," "Reality Check," "Indy 500" and "Wolfman Jack." I wouldn't have wanted it any other way.
Binary Star's Senim Silla (left) and One Be Lo
Mobb Deep opened up with, "Survival of The Fittest." Anytime you intro with lyrics, "There's a war going on outside no man is safe from," ears will perk and heads will certainly nod. This was about the time of night when I could start to feel the burn in my hip-hop arm. Mobb Deep is just sooo tough live.
Prodigy (left) and Havoc of Mobb Deep.
Rumor has it, a certain surprise guest didn't show, so instead of a half hour set fans were treated to well over an hour of Mobb Deep -- which was absolutely fine. Like Binary Star, they played some new material but mostly relied on classics like "Quiet Storm" and "Shook Ones Part II." Toward the end of their set, I spotted Talib Kweli dancing in the wings by himself. See, everybody respects "The Infamous."
Speaking of Talib Kweli: Before the show, I was questioning whether or not he should have been the closer. I take it all back now, all of it. If anyone knows how to headline a rap show, it's this fine gentlemen. One of my biggest irks with rappers is how little they care about their live shows.Oftentimes, rappers won't have a set ready or they'll stop in between songs to ask the audience what they want to hear. It's shitty and it ruins the pace of the show. But with Kweli, it was a whole different story. He comes out and weaves four to five tracks together without stopping, oftentimes creating live mash-ups of his own tracks.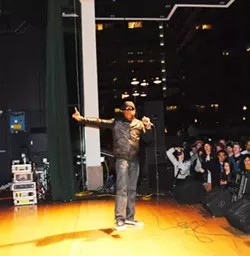 Talib Kweli
His set felt more like a dance party than a rap show. He played a lot of familiar tracks, like "The Blast," "Hot Thang" and "Get By," but also teased the crowd with samplings from his new album, Prisoner of Conscious, set to release May 7. Looking out at the audience during his set, I couldn't help but think to myself, "I have never, ever seen this much twerking in SLC."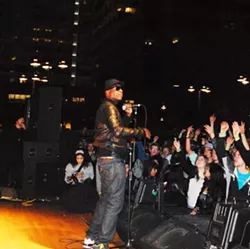 At the end of the night, Dope Thought thanked the crowd and pointed out that the Elevated Minds festival will be happening again next year, only it will be at a bigger venue. I hope the latter isn't true. The Gallivan Center was a perfect venue. Elevated Minds was one of the few music festivals where I didn't feel like I was fighting for elbow room or standing in mud all night. Either way, whether they move the location or not, it seems the Make Mind crew has a nice blueprint for how to throw a party.