I've shot quite a few guns in my lifetime, but I've never owned one; I've never felt the need to. If for some reason, a sex-crazed, burglar-terrorist broke into my house, I like to think my dog would bite him in the sack. Besides, I don't want a gun. There are enough gun-toting dingleberries walking around as it is, why add to the list?---
But since I live in Utah, where it's easier to get a gun than it is a drivers license, I figured I should at least make an attempt to understand what this gun-loving lifestyle is all about. So, when I found out the Crossroads of The West Gun Show was coming to the South Towne Expo Center, I knew this would be the perfect opportunity to exercise my rights as a "gurtdurmamerican."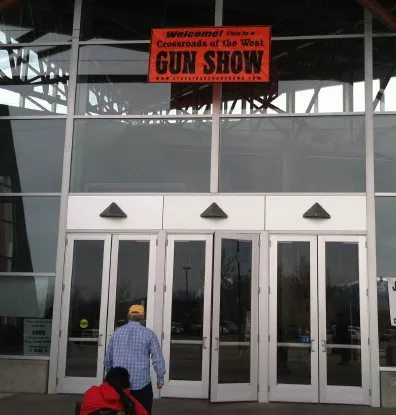 For those of you who have never been to a gun show, you should know that you can't take any pictures once you're inside (So, unfortunately this story lacks the photos it so sorely deserves).
This banner was hanging in the outside lobby. I don't remember Obama saying that but it's in quotes so it must be true.
Anyway, I didn't know about this rule. So after I bought a ticket, I was asked by a police officer who was stationed at the entrance to open my work bag. He spotted my Nikon D3000 and my other "journalist stuff" and politely told me I had to leave it all back in the car. As he explained this to me, a kid who looked no older than 12 walked through the gate with a 12-gauge shotgun over his shoulder. But whatever, rules are rules.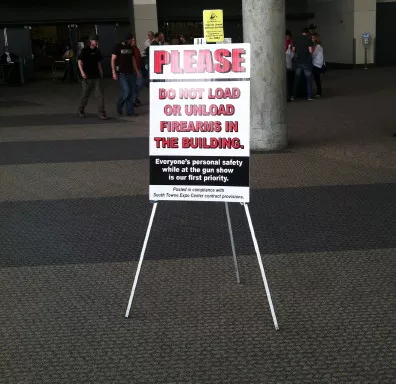 For a first-timer, a gun show can be overwhelming. Try to not get bogged down by the non-gun-related booths. This particular show had way more than just guns-- there were glassware booths, pillow booths, Beanie Baby booths and, of course, political lobbyist booths -- basically, booths full of shit that would be fun to shoot to pieces.
Choosing a gun can also be overwhelming. I was blown away by how many different types of weapons are available to the general public. In a way, the convention reminded me of Burt Gummer's rec-room in the movie Tremors, only much much bigger.

See, Obama, this is why we need assault rifles. You never know when you'll have a standoff with a prehistoric earthworm.
There were Uzis, grenades, bazookas, swords, knives, razor-blade chain whips and even little pink designer guns for the fashionably inclined gun enthusiast. For me, I wasn't looking to blow up a tank, fight in a gladiator match or look fabulous. To be honest, I was just looking for a gun that would annoy someone terribly -- like, maybe a derringer that shoots really sticky glitter (that shit doesn't come out for weeks).
After a couple of hours of wandering around, I eventually found the least Ted Nugent-looking vendor in the building and decided to give him a shout. "Heeeeey, I'm looking for a gun that won't result with me in a hospital but it still needs to have enough mustard to keep tweekers and cats off my property."
He laughed and instead of picking up a real gun, he hands me an Airsoft rifle that looked identical to an AR-15. "Well, this'll certainly do the trick," he said half joking. As I looked down at his table, I noticed he had all sorts of weird Airsoft guns. Some looked like AKs, shotguns, Magnums -- shit, there were even sweet little pistols with laser-sights. Apparently, this guy was like the Victor Bout of BB guns.
"Hmm, this one is pretty nice. But I need something I can brandish and stash in my pants." He scratched his chin for a moment and then ducked under the table. A couple of seconds later, he resurfaced with a small black box that said, "G.3 Zinc Alloy Shell." I wasn't sure what that meant, but he certainly had my attention.
"Take a look at this baby," he said with a raised eyebrow. I opened it up and saw a sleek, yet small, black pistol. "This little guy will definitely let 'em know," he said. The pistol was heavy and had a mean demeanor to it. Minus the stupid orange tip, it was perfect. I aimed it across the convention center, closed one eye and tilted it to the right. "Throw it in the bag, baby," I said as I pulled the trigger. He gladly swiped $20 bucks from my debit card and wrapped it up.
The drive home seemed like an eternity. I tried passing the time by making a mental list of things I'd like to shoot, but it didn't help -- Sandy to Sugar House felt like a five-day waiting period in itself:
Once I got home, I eagerly unwrapped the gun. "Yeah, bitch," I murmured to myself while loading the BBs into the clip. I stuffed the gun into the front of my pants and swung open the back door. While scanning the yard for a target, I settled on a piece of wood leaning up against my neighbor's fence. After a few attempts, I finally made contact. "Pew, pew" -- take that, wood.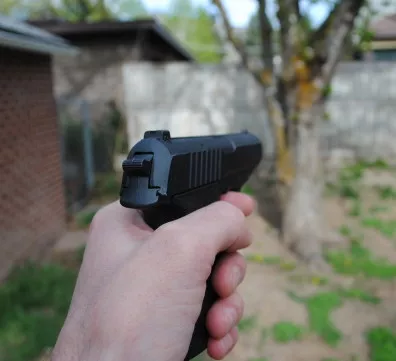 The rest of the afternoon was spent ricocheting tiny pellets off of whatever inanimate objects pissed me off. Trees, poles, trashcans, anything that was upright got a BB to the face. I think somewhere the rapper Nas could be heard in the distance.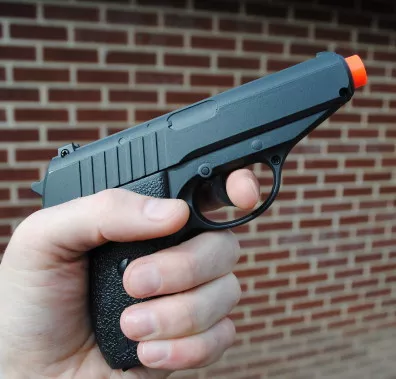 I've only had the gun for a couple of weeks now, and even though it's a toy (and so ridiculously lame you don't even need a permit to own one in SLC), I think I understand why people enjoy being a gun owner -- I do. Owning a gun is fun. Shooting shit is fun. Hell, pointing it at the mirror and reciting Men In Black quotes is fun.
Once you realize this, it's easy to understand why furthering gun control is next-to-impossible. Americans love to shoot shit; we always did. We love it so much that no matter how many innocent people get shot, we'll always make excuses for it. Last week, Congress somehow failed to pass something as menial as further background checks after one of the worst school shootings in the history of the United States. As much as opponents tried to emphasize mental illness or curbing crime rates, it didn't matter. Nothing will derail the underlining truth that gun control means limiting old-fashioned American fun.
We are taught growing up that guns aren't toys, but that's a load of horseshit -- they are. Sure, they'll kill you slightly faster than a snap bracelet or a Red Rider BB gun, but they're just as unnecessary and enjoyable. This is why we can't impose common-sense laws on guns. Because when you boil it down, it's not about the loss of constitutional rights, keeping the liberal government at bay or even self-protection. It's about selfish adults losing the right to play with something fun on the weekends.
But, hey, at least we know that no matter how bad things get, if a sex-crazed, burglar-terrorist busts down your door and you don't have a dog, you'll always have the right to cap him in the sack.