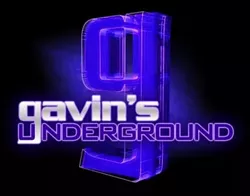 This weekend marks a special celebration for Plan-B Theatre, as it presents and celebrates the 10th anniversary of
SLAM
. --- For those of you not aware, SLAM takes a group of writers, directors and actors, gives them 24 hours to write, block and finalize a short scene revolving around a specific topic chosen at random ahead of time, to be performed live at the Rose Wagner on May 4. Several Plan-B favorites have been taking part in this event for years to the point that when this year's SLAM happens: Matthew Ivan Bennett will have written for nine
SLAM
s; Eric Samuelsen for eight; Kay Shean will have directed eight and acted in one; and Andra Harbold will have written for four and acted in one; Anita Booher will have acted in four; and Stephanie Howell will have the distinction of being the only actor to have acted in all 10
SLAM
s. Today, I chat with this group of talent before they take part in the 24-hour creative extravaganza. (
All photos courtesy Plan-B Theatre
).
Matthew Ivan Bennett, Anite Booher, Alexandra Harbold, Stephanie Howell, Eric Samuelsen and Kay Shean
Gavin: Hey, everyone. First thing, what have you been doing over this last theater season?
Matthew: Writing this year's Radio Hour and Eric(a) for Plan-B and A Night With The Family for Omaha Community Playhouse and Pygmalion Theatre Company.
Anita: I was very fortunate to do Death Of A Salesman at the Grand Theatre.
Alexandra: I've been collaborating with Robert Scott Smith with PopUp at The Leonardo on Senses 5 and Love. I directed The Eccentrics at the U, A Slight Discomfort with Jeff Metcalf and readings of incredible plays at SLAC and Pygmalion. I also dramaturged Of Mice And Men at Pioneer Theatre Company.
Stephanie: I'm not sure I can sum up the whole last season in a few words, but last week I performed with Repertory Dance Theatre in Women Of Valor, did a reading of Permanent Collection at SLAC, and had a first table read of a new Eric Samuelsen play at Plan-B.
Eric: Writing, blogging, directing. Had a staged reading of a new play, Mess Of Pottage, at the Orem Library in February. Directed Blithe Spirit at the Covey Center for the Arts in Provo. Plus, keeping up with my blog and working on multiple scripts with Plan-B.
Kay: Lots of travel, lots of skiing, lots of riding ... very little work. Trying to write a second novel but discovering I'm not very good at self-motivation. Skiing, horses, and any other thing I can use to procrastinate seem to get in my way.
Gavin: Getting right to it, all of you have done SLAM several times over the years. What is it about this particular show that keeps you coming back?
Matthew: I've gotten several good ideas for future plays by writing 10-minute plays overnight at SLAM. Plus, it's an incredibly compressed exercise in trusting yourself.
Anita: The chance to participate in something unique with a great group of artists.
Alexandra: I love creative curveballs. SLAM forces you to make decisions incredibly quickly, long before you're ready. I love the challenge of figuring out the physical form within the play that supports memorization but is also unexpected, fun, and exciting to experiment with throughout the day.
Stephanie: I'm sure I'll be asking myself that same question in the very near future.
Eric: I love SLAM, that sense of doing theater without a safety net. I love the adrenaline rush, the pure excitement of it.
Kay: The adrenaline rush! And working with all the amazing talent involved in pulling off SLAM. Like a best-friends reunion on steroids.
Gavin: What kind of preparation do each of you do to manage the stress of heading into a SLAM?
Matthew: I read a lot. Fill the well. I review my favorite playwriting books, Backwards and Forwards and The Hero With A Thousand Faces.
Anita: Just try to control nerves and be open to whatever the experience offers.
Alexandra: I try to sleep the night before so I am ready for SLAM's creative boot camp, which inevitably ensures insomnia. Maybe this year I'll try to stay up all night.
Stephanie: I'm writing this on a beach in Kauai, so ... stress management?
Eric: One thing I've learned is that you can't prepare at all. You have to be completely open to the experience, just let it happen. The only thing I do to prepare is buy some Diet Coke and Red Vines.
Kay: Sleep, cardio workouts, followed by mass quantities of caffeine. Actually ... not much since there really isn't any way to prepare for SLAM. That's one of the best things about it.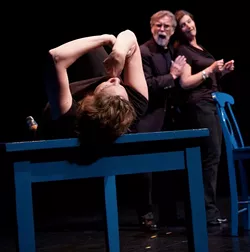 Gavin: For the writers, what would you say is the most difficult part of the 24-hour period for you to overcome?
Matthew: The first hour. I make myself NOT write for at least an hour and simply come up with ideas, which always makes me feel like I'll run out of time.
Eric: For me, I've learned that you basically have to go with your first idea. You get a title and some information about the piece, and whatever the first thing to pop in your head, you have to write that. You can't second-guess yourself, or give in to self-doubt. I have just enough time to put the play through four -- maybe five -- drafts, which means I have to jump right in and start making choices; no time for anything else.
Gavin: For the actors and directors, how challenging is the process getting the script on such short notice and putting together a play in that amount of time?
Anita: Very challenging and nerve-wracking; mostly because of the rush to memorize lines.
Stephanie: It's challenging -- very challenging; a serious mental and physical workout. But, it's also rewarding and exhilarating and gratifying.
Alexandra: Perhaps it's sympathetic response to the earned weariness of the playwrights, but it feels like we're all particularly bleary-eyed when we arrive in the morning. That feels like the biggest hurdle of the day for me. Am I going to get my bearings quickly enough for when we hit that first rotation on the stage? I was a nervous test-taker in school, and it stirs up some of the same adrenalin. It's great practice to just say yes to the challenge, so you can settle in and do the work.
Kay: The most challenging thing is to remind -- convince -- myself that I do know how to direct and that I've been crazy enough to do this myriad times before, so I can probably do it one more time without spontaneously combusting.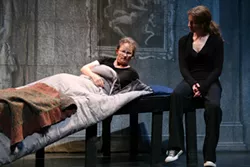 Gavin: Over the years, what has been your favorite piece, and why?
Matthew: The first year I was too nervous to enjoy myself. I was certain that my play would be considered juvenile. The second year was a highlight; I've never written anything so easily and the performance was breathtaking. In 2009, I came up with a comedy, Terms Of Use, that the actors just intuitively nailed and it felt like we'd all been rehearsing for a week. But, this is a strange question because, personally, I was unhappy during both those times, so both successes bounced right off me.
Anita: Terms Of Use by Matthew a few years ago with Kirt Bateman and David Spencer. It was somehow all about my breasts. Well, not my breasts ... the character's breasts.
Alexandra: I always feel like I've won the lottery when I get my play and find out who I get to work with for the day. I think I actually did a celebratory yell last year. Smart, funny, surreal pieces by playwrights Elaine Jarvik, Julie Jensen and Debora Threedy, with actors Teri Cowan, Teresa Sanderson, Jason Tatom, Deena Manzanares, Stephanie Howell, Mark Fossen, and April Fossen. Karma courts. Chairs as shoes. Very small pearly gates and a queue.
Stephanie: Each project is special in its own right, but I have to go back to that very first SLAM. We performed in the Black Box. It was all very intimate and raw somehow. I was part of a piece -- with my mother, Kay Shean, called The Butcher, The Beggar & The Bedtime Buddy by Eric Samuelsen. That play grew up and became Miasma, which was produced as part of Plan-B 2006 season.
Eric: I don't really have favorites, but Burning Desire is a play that I still think of fondly. I didn't do much with the title, but the set was very evocative for me, very gothic and mysterious, and it really drove my idea. Also, I had five actors instead of three that year, and that allowed me to tell a more complicated story, moving back and forth in time and space. I thought it really worked out well.
Kay: As crazy as it sounds, my favorite was acting in Eric Samuelsen's The Butcher, The Beggar & The Bedtime Buddy for the first SLAM. It pushed me to the brink and I loved it. And no, Jerry, I don't EVER want to act in SLAM again! I'll stick to directing, where I'm done by 7 and can have an adult beverage!
Gavin: Knowing the 24-hour timetable, is there ever a sense of competition to put on the best of the bunch? Or is it more a unified support, where you want everyone to succeed and help each other out?
Matthew: Certainly in the first year, I didn't want mine to be the worst. When I wrote last year, I went in with low self-esteem, but I think that it helped me because I simply resolved to write the best play I could, called Adaptation. I wound up spinning a full-length drama out of it, currently called The Cause, which I feel is some of my strongest work. I look at SLAM differently now, having done it so much. I aim to entertain or uplift everybody, whatever that means.
Anita: No, I never feel or sense competition, just a very strong esprit de corps.
Alexandra: I love the quiet sense of solidarity when we have lunch, and prior to the performance in the evening. It feels like everyone surfaces from the intense microcosms we create during the day and becomes a collective force.
Stephanie: Definitely unified support. Daisy Blake Perry, SLAM actress, wrote about this on the Plan-B Blog and equated the experience to being in "a little boat full of bravery." I love that. If I can expand on her metaphor, I'd say we're in five little lifeboats, all tied together. Each on our own, and yet connected. If someone else's boat sinks, it sure isn't going to keep yours afloat.
Eric: I don't really feel competitive. I want all the plays to succeed. The other writers are all friends, and anyway, I always want theater to be good. I'm just honored to be in that kind of select company. I will say that I don't want to embarrass myself; I hope my play won't be really obviously terrible in comparison to the other ones. But, I love it when every single play is terrific. We can't really help each other; we're working in complete isolation, but I send them good thoughts.
Kay: I don't ever think of theater as a competition. For me, it's collaboration at the highest level. I think everyone's goal is to escape without a massive train wreck. So far, so good.
Gavin: What goes through your mind as the day of SLAM approaches?
Matthew: Mostly, it's terror. SLAM is the writer version of improvisation. As a naturally pretty reserved person, I take a long time to decide what I think and feel about things, let alone what I want to say about things. During SLAM, I have to stop being that person for a night.
Anita: Nerves and more nerves, and trying to control them.
Alexandra: To be sure I get out of my head.
Stephanie: I try to avoid thinking about it for as long as possible, yet I've already had more than one SLAM-specific actor's nightmare this year.
Eric: I try to take a nap. Which is completely impossible. I start fretting about it a week before. Heck, I'm already getting nervous, and we're a week out!
Kay: Can't really do any prep. I just make sure I have sharp pencils, lots of paper, and say copious prayers of thanks that I'm directing and not acting in SLAM.
Gavin: For those who have never attended a SLAM before, what can you say to best prepare them for what they'll see?
Matthew: You're going to see Red Bull in human form.
Anita: Be ready to have fun and roll with it.
Alexandra: We've been waiting for you to come play, too. The audience is an essential part of SLAM's alchemy.
Stephanie: God only knows. If we could tell you what to expect, if we KNEW what to expect, it wouldn't be SLAM, would it? Expect the unexpected? Especially with all of these "surprises" Jerry keeps alluding to.
Eric: I say, just go and try to be open to the experience. We can't really tell you what's going to happen -- we don't know what's going to happen. But, it's certain to be an interesting night in the theater.
Kay: Be prepared for anything and enjoy the ride.
Gavin: What can we expect from all of you after this season ends, and going into the next one this fall?
Matthew: I'm working on a two-person show for Plan-B called Different=Amazing to tour to elementary schools to raise awareness about bullying.
Anita: Don't know yet.
Alexandra: The launch of Flying Bobcat Theatrical Laboratory with Robert Scott Smith and directing LOVE ALONE at the University of Utah. The Righteous & Very Real Housewives Of Utah County, a bittersweet tale of forbidden love and family secrets by Miguel Santana, May 16-26 at the Post Theatre. And in June, Pop-Up @ Leo's Mind Over Matter, an exploration of the inner workings of the mind.
Stephanie: Looking forward to this August, when I'll be participating in The Rose Exposed in Plan-B's reading of Miasma.
Eric: Well, I think I'm not supposed to say, but you can find out at SLAM!
Kay: I have absolutely no idea. I rarely know what to expect later in the day, let alone later in the year. I do know I'll stay on the board of Plan-B as long as they'll have me and continue to be amazed by everything Jerry and Cheryl accomplish.
Gavin: Besides the obvious, is there anything else you'd like to promote or plug?
Stephanie: 10th Anniversary SLAM!
Eric: Read my blog!
Kay: Nope! Just Plan-B, and See's Chocolates, which I promote by consuming as much as I can.



| | | | |
| --- | --- | --- | --- |
| Follow Gavin's Underground: | | | |