Two weeks ago, I had to make a big decision: "Should I or shouldn't I joust radio host Richie T from X96?" On the one hand, I'm not into getting stabbed in the face with a wooden rod. Plus, I've never cared for horses (they have weird-shaped heads and they urinate with an unnatural velocity).---
But on the other hand, I'll admit I've seen every film in existence that involves knights, swords and people yelling "giddyup." Ultimately, I came to the conclusion that there's no way in hell I could pass up the opportunity to ride a horse and carry a weapon at the same damned time. It just makes too much sense.
So last Friday, I ventured north to the 2013 Renaissance Festival and Fantasy Faire in Ogden and successfully checked off one of my 12-year-old self's lifetime goals: I competed in a jousting tournament. To be honest, I only agreed to it because I found it wasn't going to be full-contact jousting like in the film A Knight's Tale. Don't get me wrong -- it was intense, but in no way was anyone yelling "Wiiiillllliiiiiam!" in slow-motion...
Essentially, it was a head-to-head tournament of skill consisting of four different events: grabbing rings on the end of a javelin, throwing a spear into a stump, hitting a big spinny thing with an 11-foot pole and slicing a melon in half with a little sword. In the end, whoever accumulates the most points win … I'm not sure what, exactly; maybe a mermaid ...
or a pan flute ...
or a guy who looks and acts like Johnny Depp: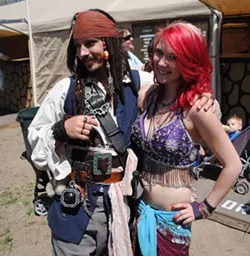 But in all seriousness, none of those awesome things were at stake. Since Richie and I were jousting for publicity purposes, the only thing that was on the line was honor. I should probably mention at this point that if you sign-up for the Knights of Honor Tournament this weekend, and you own a horse, you could win $1,000! No foolin'.
Anyway, even before we started, I knew I wasn't going to win. As we were warming up, Richie told me that this was his fourth year doing this thing. Also, his wife's parents own horses. I was half expecting him to lean over and say, "aaaaand I used to be an understudy for the Green Knight at Medieval Times Vegas."
Since I knew this whole thing was a crapshoot, my only goal was to not doing anything stupid. So, when the announcer, Sir William ( who, I should mention is an incredible badass who's been jousting since the late '90s), announced my name, I was totally thrown back when people started going nuts. I couldn't tell if the audience were cheering me on or if they wanted me to die. Either way, they were really into it. Here's what happened:
As you can see, I was vanquished by Sir Richie T Steadman. It all came down to that melon … that goddamned melon. And to be honest, I'm surprised I missed it -- I hate fruits and vegetables. Now, I could list all sorts of reasons why I lost. But, I'm not the type of person who's gonna sit here and make excuses for myself; that's what graphs are for:
Click on the image to zoom in.
One might say I should have trained beforehand. But unless you own a horse (or you're willing to do this, this and even this), your options for adequate joust training are limited. In situations like these, it's best to just see what happens. I feel if the lord almighty wants me to defeat my enemies, he'll step in, take charge and turn me into a jet or something.
So, do I regret anything? Do I wish I'd done anything differently? No. Because I know that someday, when I'm dead and gone, my kin's kin's kin will be sitting around a fire (or some sort of screen with a fire on it) and they'll tell the tale of how their great, great, great grandfather, Sir Colin Wolf Esquire, once jousted a man, on a horse, with sweet weapons … and that's all that really matters.
The second week of the 2013 Renaissance Festival and Fantasy Faire is going down this weekend in Ogden. Head to its website for more info on vendors, events and how you, too, can compete in this weekend's jousting tournament! Also, for some super-cheap, discounted tickets, check out the CW Store.