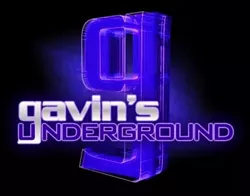 As one of the more experienced comics in the local standup scene, Arthur Carter is setting a pace for newer comedians to learn from. --- Performing both for the major clubs and on the underground circuit, Carter has been a constant force on the mic, developing his craft and act over the past six years and sustaining his performances beyond a part-time gig. Today, I chat with Carter about his career, his time in the scene and the comics coming out of it, changes over the years and a few other topics. (
All photos courtesy of Carter.
)
Arthur Carter
Gavin: Hey, Arthur. First off, tell us a little bit about yourself
Arthur: I'm a 30-year-old grouch born and raised in Salt Lake; a bit of a loner, film buff, soccer fanatic and proud papa to a couple of adorable border collies. Since losing 65 pounds in the last year, I've become vain and addicted to taking awful bathroom selfies. My friends say I'm surprisingly warm and loving when drunk. Oh, and I have an unhealthy lust for pizza.
Gavin: What first got you interested in stand-up comedy, and who were some of your favorite comedians growing up?
Arthur: I was a latchkey kid, and only child to a single mother. So, I spent a lot of time watching TV instead of getting into trouble while she was at work. I'd watch sitcoms in the afternoon with comedians in them, and at night I'd sneak back into the living room to watch them do stand up on Conan or some showcase program like Late Friday. I would study their routines and timing instead of doing my homework, then repeat them the next day at school. Those laughs in social studies were pretty addicting. And those Fs were totally worth it! I loved them all. But the ones who stuck out were veteran guys like Cosby and Bob Newhart, superstars at the time, like Roseanne and Bobcat Goldthwait. When I got a little older, an up-and-comer named Mitch Hedberg changed my life.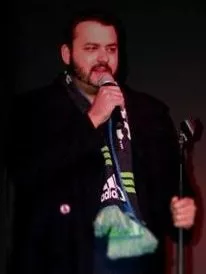 Gavin: What officially brought on the decision for you to attempt it as a career?
Arthur: For years, I wrote jokes without ever really intending to actually go onstage. When I was around 23, I was at a friend's party and he had Comedy Central playing in the background. Hedberg's special had just come out, and I rudely shushed everyone then turned the volume up on the TV. He totally blew me away with how unconventional and hilarious he was. After it was over, I drunkenly declared to everyone within earshot that I was going to do stand-up. A few months later, after guzzling a few courage beers, I finally sacked up enough to try it for the first time. My set got some pretty solid laughs, and comedy really got its hooks into me. After that, I knew it was something I needed to make a go of.
Gavin: How was it for you breaking into the local lineups and getting gigs?
Arthur: Surprisingly easy, once I made my way to the alternative rooms and got my first few sets under my belt. Christopher Stephenson and Levi Rounds were incredibly nice and gave me plenty of stage time. After a few times of hitting open mic at Mo's, Chris let me showcase. So, I went from having 3-5 to 7-10, and then 10-15 minutes pretty quickly. If it weren't for those two coaxing me, I probably would have never tried it.
Gavin: When you first started out, what were some of the lessons you learned about performing?
Arthur: If a show is hot, do your best stuff. If the room is dead or almost empty, then you have some more space to work things out and try less polished material. Don't call out the audience if they don't like your jokes. That one took me a little while because I used to take things like that personally. Nobody likes a hostile comedian unless they are really funny about it. Most importantly, relax and have a good time. The audience can tell when you aren't.
Gavin: What's it like for you personally coming up with material and deciding what works and doesn't?
Arthur: I used to sit down and actively write jokes, but as I've gotten busier with other things, I let the jokes come to me. If an idea pops into my head, then I'll try to expand on it at an open mic and see if it has potential. It's like the weirdest science experiment ever. Sometimes it still baffles me, what works and what doesn't. I suppose that is what keeps comedy interesting, to not be able to totally set your watch to what will kill out there.
Gavin: How is it for you interacting with other local comedians, both as friends and competitors?
Arthur: It's awkward at times. I can be a little standoffish with other comics; not intentionally, it just kind of happens. A handful are some of the best friends I've ever had, though. We're a strange breed. We can be genuinely happy for someone who catches heat or gets an opportunity while also cursing under our breath that it wasn't us.
Gavin: You've performed both on the bigger stages as well as on the underground circuit in Utah. What are the benefits to performing for both, and how do audiences differ between venues for stand-up?
Arthur: The underground circuit is great for doing longer sets, more experimental stuff and really cutting your teeth as a comedian. If you can get a group of disinterested people who are gakked out and playing pool to stop what they're doing and laugh at a joke, that's a huge win. The bigger stages are an absolute treat for all the work you've put in at the smaller rooms. They can be a little intimidating at first glance, but the audience is there with the intention of seeing a comedy show, and are usually attentive and generous with their laughter.
Gavin: You've been going strong locally for about six years now. What's your take on the way the comedy scene had progressed and grown during that time, and both the good and bad of the local stand-up scene ?
Arthur: It's grown quite a bit over the years. Back when I started, there were only two or three places to perform each week; now, lots of rooms have opened and given comics a chance to get up every night of the week. It could never contend with NYC or L.A., but with a little luck and hard work from everyone involved, SLC could become a scene similar to Portland, Seattle or Austin.
Arthur: It's good in that it's darker and more raw than most people both in the city and out of state would ever imagine. Utah comics can be surprisingly "real" and, at times, sad. It's refreshing to see people unafraid to pull any punches with their material and still try to keep it hilarious. It's also good that the frosty relationship between mainstream and alternative comics seems to be melting. The bad is the bad you get with any scene; a lot of fevered egos, little pay and cringe-worthy open mics.
Gavin: Is there anything you think could be done to make it more prominent?
Arthur: Self-promotion. I'm horrible at it, and a lot of other comedians are just as bad. If we could all swallow our pride, or get some in the first place, we might be able to pull in better numbers at shows. It's pointless if you can't put asses in seats.
Gavin: Aside from yourself, who are some of your favorites you like to check out around town?
Arthur: There are too many to fully list, but let's see: Cody Eden is some kind of comedy genius; Christian Pieper, Christopher Stephenson, Guy Seidel, Spence Roper, Jay Whittaker and Spencer King always make me laugh whenever I get out to shows; Jared Shipley is a good comic, and one of the only people who regularly makes me laugh over his Facebook updates.
Gavin: What are your thoughts on the clubs that provide comedians a forum to perform and the work they do to help bring in audiences?
Arthur: I haven't always been the most gracious of people to bookers and owners in the past. But lately, I've tried to really be grateful for the opportunities they provide. It can't be easy to run a comedy venue, especially in Utah. The hard work they put into making a show happen in the first place makes me want to put in hard work and put on a good show.
Gavin: What's your opinion of national stand-up comedians coming through town and what that does for the local scene?
Arthur: I love it. Sometimes they hang out with us. Sometimes they give us sagely advice. They bring in an audience who would otherwise never come out to a comedy show. And even if it doesn't make a giant impact on the scene, at the very least it gives us locals some really cool stories. I'll never forget being able to interview Marc Maron on my podcast right before watching him absolutely destroy for an hour on stage.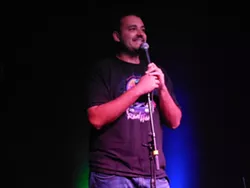 Gavin: What can we expect from you over the rest of the year?
Arthur: More bathroom selfies. More stand-up. I've been a bit of a ghost at local shows lately while trying to focus on writing sketches and film. I'm hoping to have some comedy sketches shot and on the Internet soon; maybe a short movie, as well. We'll see.
Gavin: Is there anything you'd like to promote or plug?
Arthur: I don't really tweet any more, but add me on Facebook for updates on upcoming shows. Cody, Christian, and I will be resurrecting the Grumble Mountain Podcast in the next week or so.
| | | | |
| --- | --- | --- | --- |
| Follow Gavin's Underground: | | | |