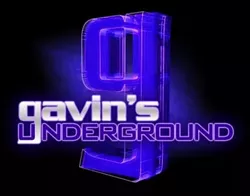 The economy may be building itself back up, but owning and running your own business is still just as difficult, especially for anyone in the entertainment industries. --- For many, sharing space is becoming both an effective way to do double your business and keep whatever space you're using secured. Photo studios, print shops, editing bays, art spaces and -- as I talk about today -- recording studios have been taking that idea and running it successfully.
Archive Recordings is based out of South Salt Lake, occupying the same studio that producer/drummer Andy Patterson has been using for several years. Its producer, Wes Johnson, who is an accomplished musician in his own right, takes over the space when Patterson isn't utilizing it to record tracks and records for both local talent and out-of-state visitors. Today, I speak with Johnson on his career and the studio, plus his thoughts on the local music scene.
Wes Johnson
Gavin: Hey, Wes. First thing, tell us a bit about yourself.
Wes: My name is Wes Johnson and I am an audio engineer in town and also a live sound engineer at Kilby Court and The Depot. I am 25 years of age and enjoy myself to the fullest extent.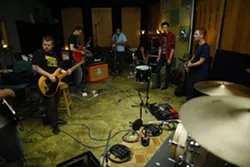 Gavin: What got you interested in music, and who were some of your favorite musical influences growing up?
Wes: Growing up, my friend's brother got me into punk music around the time I was 10. My friend and I then started a punk band called The Crashers; we ended up playing alot of shows with some great bands and that is also how I got introduced to Kilby Court and the music scene. Therefore, I grew up listening to a bunch of late-'90s Epitaph and Lookout Records bands.
Gavin: Did you seek out any college or professional training in audio or engineering or were you more self-taught?
Wes: I decided to not attend recording school and found a recording space and bought more gear instead. I did, however, start out in high school learning audio production at Spy Hop. After high school, I attended a Pro Tools Certification course in San Jose for three weeks, then in September 2008, I did a workshop with Michael Wagener -- Dokken, Metallica, Kings X -- which was a great experience. I also just got back from a three-month internship at Prairie Sun Recordings in Cotati, Calif. It's where Tom Waits recorded most of his records, and I got to assist Oz Fritz -- engineer for Tom Waits, Ramones, Iggy Pop -- on a record just this last month, in addition to assisting the two staff engineers at Prairie Sun, Isha Rrskine and Matt Wright. But mostly, I was also a gear-mover, coffee-maker and janitor, but it was still a great experience and very humbling one.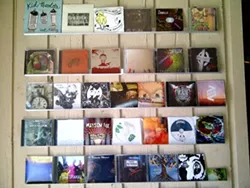 Gavin: How did you first get started professionally in recording, and what were your first few years like learning the ropes?
Wes: I just threw myself in the trenches, recording as much as I can, and stuck it out month to month. I am still trying learn all of the ropes of this industry and still have busy and slow times, just like when I started, but I feel much more experienced and efficient at my craft these days.
Gavin: When did the idea come to mind to run your own recording studio, and where did you get the name from?
Wes: My high school band was called Quiet Color and was comprised of some friends I meet at my Spy Hop apprenticeship and classes. We were itching to be able to record ourselves, so Jeff Adams, Ryan Cron, and I started investing in gear and began recording ourselves and our friends in the basement of our band house on 13th East and 5th South and came up with the name Archive Recordings. In 2006, I then moved the studio to a house on 9th South and 3rd East, right next to Oni Tattoo, until 2010.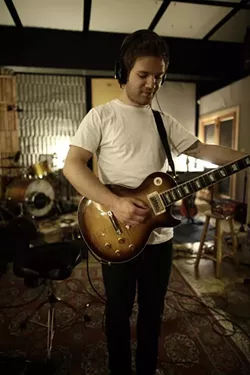 Gavin: How did you come across the space in South Salt Lake that Andy Patterson was running?
Wes: I moved into AP's when he moved into Studio B at Counterpoint at the end of 2010. I've known Andy since I was learning back at Spy Hop in 2003; later, my bandmate/close friend Jeff Adams interned for him until our band Quiet Color recorded our record on our own at AP's in the summer of 2005.
Gavin: What led to the agreement of both of you sharing the same space and working out schedules of different bands?
Wes: We have always been close friends, and Andy has always been someone I've looked up to growing up and still do, so when he told me he wanted back in the space, I was all for it, as both of our gear list makes for some fun creative times. We just take the schedule as it comes and it works out, as we both have the same end goals and are similar minded as far as our recording philosophy goes.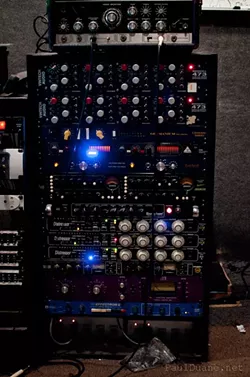 Gavin: While the studio itself is shared, do you also share equipment or do you each have your own specific gear?
Wes: We use our own computers, but we share the rest of our gear, as we both have the same idea that all of the gear we own are tools to be creative with and use to capture people's music to its fullest sonic potential.
Gavin: Tech-wise, for those interested, what kind of audio and recording equipment do you use in the studio?
Wes: I use Pro Tools 10 with a Lynx Aurora 16/Lynx AESe16, M-Aduio Profire, 2626, Dangerous D-box and Adam A7s for monitoring. You can check out our website for a complete list of gear.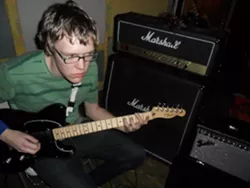 Gavin: Who are some of the bands you've been working with, and what are some of your favorite albums that have come out of your sessions?
Wes: This weekend, I started a new Cedars record, a great young progressive/post-hardcore band from Ogden. I also have New.Body.Electric coming up later this month, along with finishing a set of songs for RILE that I recorded at Prairie Sun Studios a few weeks ago. Some of my favorite records that I have done have been Prescription Tea Party by Fox Van Cleef. The Treehouse/Knowing We'll Never Grow Up split ended up awesome, along with Denver band Sleeping Weather's EPs that I recorded. I am also pumped about the new RILE stuff that I am finishing up.
Gavin: Down the road, do you think you'll ever move Archive into its own place, or are you going to stick with this studio and keep the location familiar?
Wes: I am sticking around, as far as I know, but crazy shit has been known to happen and I am also relatively young still, so I hope I can keep learning and always keep progressing as an engineer. I hope my craft can eventfully take me cool places and work as much innovative and honest music as I can.
Gavin: Moving on to statewide, what are your thoughts on the local music scene, both good and bad?
Wes: The hardest part of moving to the Bay Area for three months was not being around the music scene, as all of my friends are musicians and recording engineers. I feel like the scene here is in OK shape right now, but has some room to grow.
Gavin: Is there anything you believe could be done to make it more prominent?
Wes: Our venues are really cool; between the Shred Shed, Kilby Court, Urban Lounge, and everywhere else, we have a good thing going in that department. I know that everyone says this, but SLC bands and artists really do need a way to get noticed more in other areas of the country.
Gavin: What do you think about other studios in the area and the work they do, and who are some of your favorite producers to work with or that yourespect?
Wes: Salt Lake/Provo/Ogden area has some of the best engineers around, and there are more super-talented guys around than you would ever imagine. I only have the utmost respect for all of them and I would love to start working more with other guys on different projects. I had AP help and master a whole bunch of stuff for me. Dirk Woodruff -- LA East Studios -- has mixed an album that I have recorded that was a Spooky Moon and Mason Jones & The Get Togethers split. I've also had Ty Steadman master an EP I did with my friend Vincent Draper and the Dirty Thirty.
Gavin: Do you wish there were more areas available for bands to practice and record in, or are we pretty well set for what we have?
Wes: Not sure. I know that I prefer downtown music to Positively Fourth Street, but I have not have had to worry much about practice spaces, as I have always been able jam in my studio.
Gavin: What's your opinion on the current airplay on community radio and how it affects local musicians?
Wes: KRCL is a very cool and important aspect to our music scene. I feel it brings a very positive aspect to our community.
Gavin: What can we expect from you and Archive Recordings over the next year?
Wes: Just trying to make the studio as great as it can be. Lately, I have been doing little things, trying to bring the comfort level up and improve the overall workflow of the space. I have a few really cool records in the works for the summer, and hope to be able provide great sounding recordings to bands and artists for a realistic price.
Gavin: Aside from the obvious, is there anything you'd like to promote or plug?
Wes: My younger sister Halee Jean is an amazing artist and up-and-coming tattoo artist at Skin Deep in Murray. Also, my cousin Katie Maloney plays in a awesome local punk band called Year Of The Wolf and are currently kicking ass playing a bunch of shows. I also play in a band called Traveler's Cold; I have lots of fun with playing music my friends. Check out my website and my SoundCloud to hear my work.



| | | | |
| --- | --- | --- | --- |
| Follow Gavin's Underground: | | | |