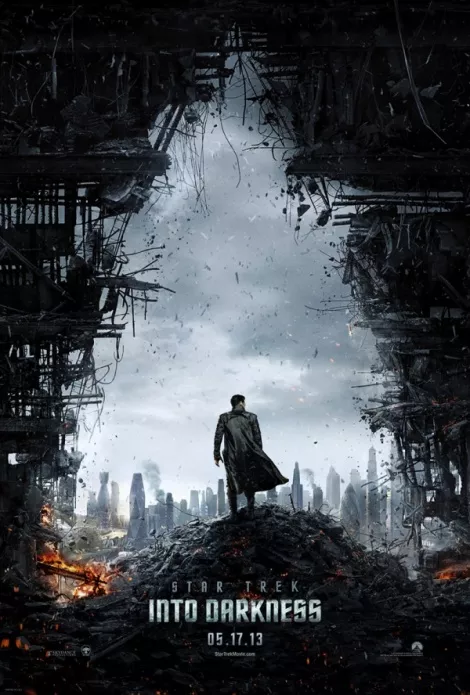 When it's time for a new
Star Trek
movie, you know it's time for the hacks to go blandly where they've always gone before: lazy references. ---
Like any familiar franchise entry, Star Trek Into Darkness comes ready-equipped with quotes and familiar touchstones so critics can nudge readers with them and avoid creativity. I wonder how many variations we'll see on "to boldly go," for example?
"To boldly go where a Star Trek film has gone before. That's my main beef…" – Paul Chambers, Movie Chambers
"It doesn't boldly go where Star Trek has gone before. The story slips out of warp drive and into impulse power…" – Gary Wolcott, Tri-City Herald
"Abrams boldly goes into Star Trek Into Darkness, and crushes it again." – Peter Travers, Rolling Stone
"While not marking as significant a step to boldly go where few science fiction sequels have gone before, Abrams makes a very entertaining one…" – Jeffrey Lyles, Lyles' Movie Files
"Star Trek is still boldly going its own way …" – Roger Moore, Movie Nation
"Expecting a Star Trek sequel to boldly go where no movie has gone before would be highly illogical." – Joe Williams, St. Louis Post-Dispatch
"Star Trek Into Darkness is a first-class ticket into outer space. If you feel the urge, rocket yourself into blockbuster happiness. … This movie boldly goes." – Bruce Kirkland, Jam! Movies
"Star Trek Into Darkness may be going not so boldly back to the archives, but it serves up an exhilarating spectacle …" – Claudia Puig, USA Today
"[I]t does go — albeit more cautiously than boldly — where his previous film hadn't gone before…" – Mike Scott, Times-Picayune (New Orleans)
"Star Trek Into Darkness is a giddy homage to what's come before it, but it also at least tries to go boldly where ... well, you know." – Bill Goodykoontz, Arizona Republic
By comparison, then, other reference points seem almost imaginative:
"Set your thrusters on maximum for this swashbuckling sci-fi action-adventure … Live long and prosper!" – Susan Granger, SSG Syndicate
"…fast and fun, zipping along on all thrusters…" – Rafer Guzman, Newsday
"Star Trek Into Darkness moves at warp speed … Abrams and his ace editing team set their phasers to stun in a series of exciting and slick set pieces." – Jason Buchanan, TV Guide
"Star Trek Into Darkness is out of this world. … Beam yourself up for this one." – Tom Long, Detroit News
Let's all now set our phasers on "oh, for the love of God, please stop."