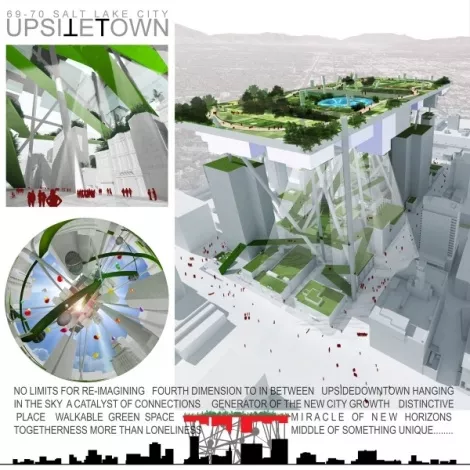 Six designs have been selected as finalists in an innovative design competition to reimagine "the spaces between" two downtown Salt Lake City blocks. Now, through May 31, the public can vote on a vision of downtown they like, whether that means interactive games downtown or the creation of a giant upside-down replica of two city blocks placed on stilts and suspended over downtown---
"More than 200 design teams from over 48 countries and the United States submitted ideas for these two blocks of downtown that will be a cultural hub to rival that of any city in America," said Downtown Alliance spokesman Nick Como at a press conference Tuesday. The SixtyNine Seventy design competition was a project pushed by the Young Architect's Forum and supported by the Salt Lake City Redevelopment Agency and the Downtown Alliance that sought submissions on how to redesign public spaces between City Creek and the "cultural corridor" of downtown, including the site of the proposed Utah Performing Arts Center.
A jury has already judged the entries, but the public still has an opportunity to vote on six finalists to receive a $40,000 people's choice award. While the winning design won't necessarily be adopted by city leaders, the competition has provided Salt Lake City residents the opportunity to support the imagination and genius of designers from around the world, and has also given Salt Lake City planners an idea of the kinds of makeovers that Salt Lakers would like to see come to downtown's neglected alleys and lots.
"Every one of these ideas represents hundreds if not thousands of hours devoted to our city," said Greg Walker, chairman of the Young Architect's Forum. "They are not just ideas for idea's sake -- they are hopes and catalysts of what can happen in our city."
The six finalists include submissions from the United States and countries like Brazil and Poland. The boldest idea is likely a submission called "Upsite Town" (pictured) that imagines recreating two blocks of downtown, turning it upside down and suspending it on supports above the blocks it replicates, so that a person could look up and have a moment of Inception-like vertigo, seeing a mirror image of the blocks they're standing on hovering above them. Another design celebrates the 2002 Olympic Games by placing interactive "urban games" throughout downtown that people can play and have their scores displayed on public spaces downtown.
The voting is open now to the public, who can vote once a day now through May 31. Visit the Sixtynine Seventy page here to learn more about the finalists and to vote for your favorite.