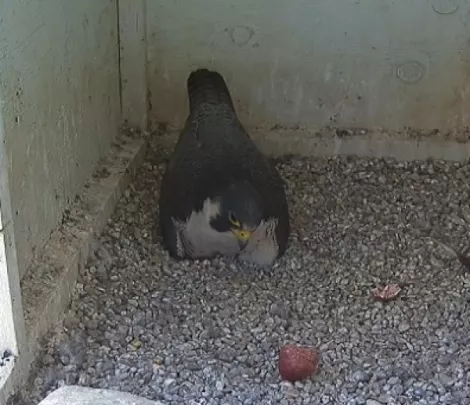 After last night's Dancing with the Stars finale, Salt Lakers who are in need of a new reality-show obsession are in luck. You can tune in to watch falcons doing bird stuff, all day, every day, on the Peregrine Falcon Cam, located in downtown SLC.---
The bird cam, brought to you by The Utah Division of Wildlife Resources, features a happy falcon couple in their nesting box, who have recently welcomed four eggs that are expected to hatch later this month.
The pair's nesting box is located on the Joseph Smith Memorial Building, which is a great location for the unwed, cohabitating falcon couple to be documenting their bird business.
Click on the image to view Falcon Cam.
After the eggs hatch, viewers can tune in to watch the chicks, or eyases, feed and grow until they leave the nest, which is typically around six weeks later.
Peregrine falcons have been nesting in downtown SLC since 1984, but more importantly, have been feeding here since that time. Why are their feeding habits so important? Because peregrines are carnivorous birds that feed almost exclusively off mid-air meals. That's right. They mercilessly stalk, pursue and eat their prey, all at in-flight at speeds of up to 200 mph -- otherwise known as a "falcon punch."
Screen-grab via Church of Jesus Christ of Latter-day Saints and Utah Division of Wildlife Resources