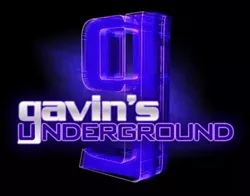 Its been a while since we've heard anything from UtahFM, but the Internet radio station is starting to find new life in Salt Lake City. --- After a couple of fallout moments, management woes and ownership changes, the station is creeping its way back on the air in a brand-new studio in downtown SLC with a new attitude looking ahead to the future. And with that, it's been looking for dedicated personalities to start taking on shifts to produce content of either the musical or talk variety.
One of the newest of the new class is Femme Fatalacast, a show offering "close encounters of the female kind" between two good friends about anything related to women. But don't let the name fool you -- this show gets raunchy and bold, tackling subject matter of personal taste in men and sexual positions, along with personal stories due to embarrass both their parents. Today, I hat with the two hosts of the show about what they're doing, along with pictures I took of their last show from the new UtahFM studio this past Sunday.
Cori Hoekstra & Syd Werner
Gavin: Hey, ladies. First thing, tell us a little bit about yourselves.
Syd: My name is Syd. I'm a Salt Lake native, living at home with my mom trying to finish my bachelor's degree in biology before I apply to veterinary school.
Cori: I'm Cori, an all-around geek who is learning horror makeup and specializes in airbrush artistry. I sometimes craft when it strikes me. It might be important to note that I belong to the "fairer sex."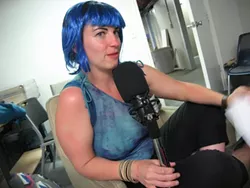 Gavin: When did the two of you first meet and become friends?
Syd: We met through Geek Show Podcast. I think the first time we talked was on the bus during Charity Barnson's 40th birthday bar crawl.

Cori: Yup, it was the great bar hop of 2010, where I sat in front of her on the bus. Luckily, my phone found her to be photogenic and Past Me knew Future Me wanted me to remember this person. Since then, we've been pretty good people-watching buddies.
Gavin: Had either of you taken an interest in broadcasting or podcasting as a career, or was it more a passing fancy?
Syd: I've always loved talk radio and have been listening to The Mediocre Show and Geek Show for many years, but I never thought I had anything interesting enough to say to broadcast.
Cori: I think it's fancy, but hopefully not passing. I'm surprised at how comfortable I get when in front of a mic, and I do get a bit of a performance high after jumping off. I don't want to leave it. If someone would ever want to pay me to do that more often, that'd be spectacular. I'm not going to go looking for it, however.
Gavin: Prior to the show, how did the two of you start getting into these kind of in-depth conversations?
Cori: I think I gravitate towards women who don't have to put up a stereotypical female front, which I believe has allowed Syd and me the ability to really connect. I believe our Ikea packaging didn't include a filter, so that helps a pretty open conversation flow.
Syd: We really didn't get into many in-depth discussions. Mostly, it was topics like, "If you were a vegetable, what vegetable would you be and why?" Now that we have started recording, we try purposely to not talk about show topics, so the responses are surprising even to us.
Gavin: What was the point where you both realized you had something?
Syd: I think about 10 minutes into our first episode, when things started flowing smoothly and we were both having fun, I thought that this podcast thing could be a regular thing.
Cori: Right into our first show, for sure. I was thinking we'd just talk until we had nothing to see if we could pull this off, expecting to maybe reach 15 minutes and then struggle with dead air. We took off running, and an hour and a half later we were struggling to make it stop.
Gavin: Where did the idea come from to start up a show, and what made you choose the name?
Cori: I've noticed with some beginning interactions with some men and women that there are preconceived notions of what we would say or behave to keep within certain stereotypes that just really isn't who I am. I enjoy talking and laughing about farts and boners as much as the next guy, but apparently not so much as the next gal. There is so few female-centric entertainment and media that isn't too focused on being a feminist show, which I think sadly drives the male population's interest away from anything involving female subject matter. We can be viewed as some weird alien race, sometimes even to ourselves. I wanted to create something that would open that type of dialogue to a wider network, and interact with the community in a type of way that can drop that awkward social veil. The title is kind of a nerdy twist on that, and yes, I'm fully aware it makes our show sound a little scintillating. I prefer to keep it that way.
Syd: It was all Cori. I'm just riding her coat tails.
Gavin: What made you decide to go to UtahFM rather than start up a podcast?
Syd: Again, Cori had the connections at UtahFM. I feel so lucky that is where we landed. Not many podcasts have someone running the board, good equipment, a producer and a live feed.
Cori: I've been a guest on a podcast with Tui before, who is a podcast producer and works within UtahFM. I expressed interest in starting my own podcast, and he suggested coming into the studio and doing it live. I think it's created a nice dynamic to the show, where we can interact with the local community live and let it direct where the conversation can go. That way, the show is a little less about two girls talking about themselves and more about everyone's experiences.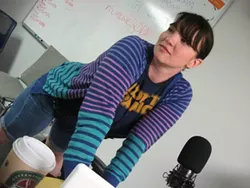 Gavin: What has it been like working with the UtahFM staff and the new location they're in?
Cori: If it weren't for the UtahFM staff and the studio, we wouldn't have been able to even have a show at the moment. It's provided us with great tools, equipment, and time so that we can actually focus on just bringing together the real meat of the show. With a few tweaks here and there, we'll be able to get a full interaction going on with the audience with the thanks of the staff's know-how. Since we seem to be a little community gathering, the location of being right down from the library and Washington Square gives us the opportunity to be right next to the heart of Salt Lake. I kind of wish our show was earlier, as I would have liked to have opened the studio doors and lure in some queens with some lemonade.
Syd: I don't know what the old location was like but this location rocks. The studio feels like home and is very comfortable.
Gavin: How do you go about choosing the show's topics, and how is it managing the flow of the show?
Syd: The "firsts" topic came from Cori, and it was fun to learn new things about her. For our second episode, we are talking about "favorites" that came from us just chatting with friends at Brewvies and we thought, "Hey, that's a good show topic."
Cori: We've exhausted the easy subjects to kind of allow a nice "get to know you" introduction, and now the conversations starts to lean towards something relatable toward the end. I'm kind of hoping for some nice, smooth transitions that can bridge each show. Also, our audience can let us know what they want to hear, and we try to pick subjects that can address those.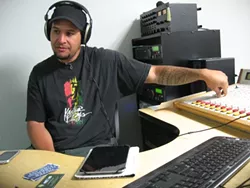 Gavin: You've only done a couple of episodes so far. What's the response been like from the audience?
Cori: The response has been absolutely great! Our live listener interaction continues to grow, and it's really shaped the show and made it something I hope people get excited about when it comes on.
Syd: So far, it has been mostly responses from Cori's dad and our friends. I'm happy we are getting feedback at all, to be honest.
Gavin: Even though you've just started out, are you going to play with the format, or will you stick to what you're doing for now?
Syd: I get the feeling we still have some tinkering to do but, since Cori is the brains of the operation, I'll do whatever she wants to do.
Cori: We will indeed play quite a bit with format. Right now, it's two rambling dorks, but once we can get a feel for what people want to hear, we will try our best to bring it to them. Once our audience begins to grow more and we get braver listeners, then we'll probably format it to be more interactive.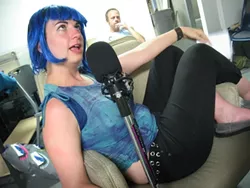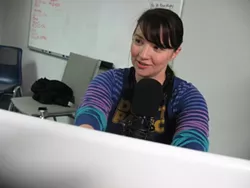 Gavin: What's your overall goal for the show?
Cori: I'd like to open up more of a dialogue between the sexes. Encourage women to be a bit more honest and open about who they are and why they act the way they do, and demystify the whole "rules of engagement" process for men that shouldn't even exist.
Syd: My goal is just to have fun; so far: Mission accomplished.
Gavin: What can we expect from both of you over the rest of the year?
Syd: You can expect more boob-and-testicle talk, for sure.
Cori: You can expect less Instagram selfies, and more photos of my creative output and the interesting people I come across. I'm looking to make my life more about adventures, and less about myself and my cat.
Gavin: Is there anything you'd like to plug or promote?
Cori: Please lend a listen to our other 'casts, A Steady Diet of Music and Pop Culture Massacre. Also, you can visit my makeup portfolio at the moment at Facebook.com/CreatureCreate. I can paint you naked or scary, your choice.
Syd: Don't forget to spay and neuter your pets!



| | | | |
| --- | --- | --- | --- |
| Follow Gavin's Underground: | | | |