One of the more interesting personalities floating around Salt Lake City these days is a guy by the name of Coby Prevailing Atrocity. --- Aside from being a personality on the move, a consultant for various projects including the Dark Arts Festival (in its final night this evening), a clothing designer and emcee, he has become an active voice for all things SLC and promotes the hell out of anything happening in the city that catches his fancy.
Today, I chat with the man himself about his career, focus in on his clothing line and how it has taken off in recent years, thoughts on other projects he's involved with and a few other topics. (All pictures courtesy of Coby and PAC's Facebook page.)
Coby Prevailing Atrocity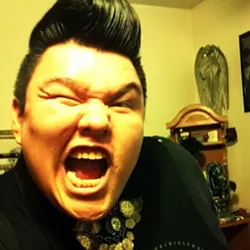 Prevailing Atrocity Clothing on Facebook
Gavin: Hey, Coby. First thing, tell us a little bit about yourself.
Coby: Thank you for taking the time to interview me; that's so kind of you. I'm Coby Prevailing Atrocity, I'm 26, born and raised here in Salt Lake City, and I've been an active member of the alternative/underground scene here in SLC for about 12 years, and have been so lucky to be part of such an amazing community. I enjoy thrift shopping, listening to records, meeting new people and going to as many live shows as I can get to.
Gavin: What first got you interested in local entertainment, and what were some early influences on you?
Coby: When I first started exploring Salt Lake, I was about 14, taking the bus from West Valley to places like Sugar House before it was a hole in the ground, Crossroads Mall, and other parts of downtown. These places always had amazing flyers for shows and the art work appealed to me; in addition to flyers hanging, using magazines like City Weekly or SLUG, or a few other zines were critical in my formative years, as I wasn't Internet savvy at all. I fondly remember going to shows at Kilby Court when Leia Bell did a lot the screen printing for shows, and Lo-Fi Cafe, Sanctuary before it was downstairs at Area 51, and other unknown little venues. Meeting the people who were creating art, and putting on shows, and actually performing really motivated me to be part of all of it. Most everyone early on was quite welcoming and encouraging later when I decided to start participating.
Gavin: What was it like for you growing up in SLC and being a part of the culture early on?
Coby: From a young age, I've always known I wasn't going to fit in with the majority of people I'd meet. So, I felt comfortable doing whatever I wanted, listening to what I thought was great and wearing what I felt comfortable in. The perception of others wasn't important to me. Also, I had always been around those who were a few years older than I was, and they would mention that the difficult part for most people like me was school, and it was just a few short years; don't worry about it. I followed their advice and was able to feel comfortable and confident with what I was putting out to the world.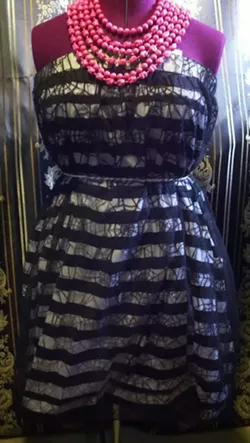 Gavin: Where did the Prevailing Atrocity moniker come from?
Coby: It comes from the whole concept of who I am as a person, and my personal level of taste. I authentically enjoy kitschy, gaudy, overdone fashions. When I go out, I wear far too many accessories, with lots of broaches, big sunglasses, scarves, with big hair. I translate that into the jewelry and clothing I make, and I feel one can easily identify a piece I've made due to this concept.
Gavin: What initially drew you interested toward fashion?
Coby: I would see things around that I thought were really amazing, but I couldn't afford it. I knew if I wanted to be fabulous on a dime I had to learn how to be resourceful, and coming across supplies and materials was easier on my pocketbook than buying something already made. The first time I sold something, it was a piece I put together; I was at a nightclub, having a great time, and somebody complimented me on my jewelry. I informed them I put it together myself and they told me to sell it to them; they pulled money out of their handbag, and I knew I had something from there. What really got me going with clothing fashion was working at Black Chandelier, and being around fashion and retail on a daily basis. From years of hoarding amazing fabric from thrift stores, I had plenty to being with, and just started.
Gavin: What was it like for you experimenting with designs and creations early on?
Coby: Difficult and frustrating, but also very rewarding; when a garment or jewelry comes out like how I imagine it, or better than the concept, it's such an excellent feeling of accomplishment.
Gavin: Did you attend any formal college or designing schools, or are you mainly self-taught?
Coby: My education background has nothing to do with fashion, or design. My mother taught me basic cutting and sewing techniques; after that, it's technique I've learned along the way, from many mistakes.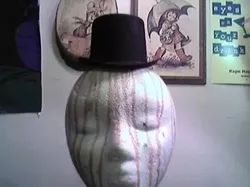 Gavin: What finally made you decide to start your own clothing line?
Coby: I was becoming the biggest hoarder of my own work. A friend knew I was making clothes and accessories, and told me about how to submit work to the annual Dark Arts Festival. I was accepted, and the reception of my clothing line was a great success, and I was given so much support to keep doing it.
Gavin: What was it like for you starting up the line, and why spread across full ensembles rather than specific objects?
Coby: Starting up was initially difficult. I didn't know how to market myself, where to sell things, or who was my audience. Those are all things I've learned along the way, doing this for many years. I work with what I have, so that's somewhat limiting sometimes. I try to avoid purchasing too much new, retail things, and rather work with broken jewelry that's been given to me, or found things, or I'll buy a big bag of jewelry from thrift stores and sift through what I can take apart, rework, and create with.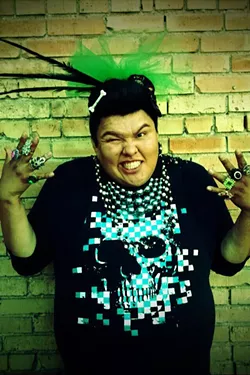 Gavin: What's the process for you in creating something new, from initial concept to final product?
Coby: During my day, ideas will pop into my head, based on what I know I have to work with. I'll jot down a note, or make a rough sketch, and try to recreate what my vision was. Or if I have a creative block, I'll look at past pieces, or at historical fashion books, or watch an old movie, like Cleopatra, which will help along with the creative process.
Gavin: Do you play around a lot with the designs while creating, or do you stick to an idea once you've got it?
Coby: I'll get an idea, and from there, I'll let the piece guide me to what it should become. At times, something won't be lying right, or it'll pucker weird, or it doesn't sit right, so I'll modify the it so it isn't a complete mess.
Gavin: What made you decide to go with Etsy rather than creating your own website?
Coby: When I first decided to actively offer my pieces for sale a few years ago, Etsy was the place; brand-new and buzzing with the beginning of the DIY movement, and everyone who encouraged me to start selling used Etsy as the place to start. Since then, I haven't really explored new options, although recently, I have had offers to help with creating a website. My old-lady sensibilities don't know to look around for new routes, but I'm now exploring new options.
Gavin: I know you used to display in local shops and then didn't for a while. Are you looking to get back into that, or have you abandoned being in brick-and-mortar stores?
Coby: Yeah, I used to consign in Salt Lake Tight Lacers retail space, Obscura Clothing before they closed, and Arsenic Fashions Boutique before they headed out to California. I have not been looking for new consignment places, really, but wouldn't be against getting back into it. It would make sense to; perhaps after this interview I'll ask around.
Gavin: People may not know everything else you're involved with, such as the Dark Arts Festival and doing your own photography. What else have you been working on in the meantime?
Coby: I work for two local nonprofits as my day job that I enjoy so much, so that takes up a lot of my time. I am one of the admins on the Salt Lake City Psychobilly page on Facebook, promoting a lot of shows coming through to get people out and experience live music; a few of my local favorites are Blue Moon Bombers opening up for the Nekromantix, Ugly Valley Boys, Carphax Files, Slick Shifters who I just seen perform for the first time recently, Jackie Pervo, The Heartbreak Beats and Redemption. We have so much local talent here in Salt Lake; I encourage everyone to get out as often as possible. I also emcee on occasion, mostly for the Bedlam Follies, a fabulous local dance troupe, who host performance art and vaudeville-inspired shows.
Gavin: What's kept you running with so many projects, and how much of a challenge is it balancing it all?
Coby: What keeps me running with all these projects is seeing the satisfaction others get from my creations, or when a band gets the crowd going at a show that I'm enjoying,; it's an amazing energy that has to be experienced, and is difficult to explain, but it's worth more than money. Come out and experience this; staying in is for chumps.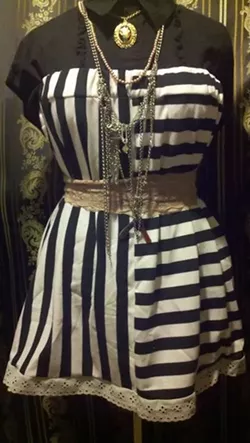 Gavin: What's your goal with the clothing line over the next few years?
Coby: I want to continue creating, using materials that others have deemed unusable, or discount their worth. I want to continue successfully upcyling, and creating beautiful items that others want, and can afford. As this whole Prevailing Atrocity line is what I do in my free time, as a hobby, I want it to continue to be that. I don't want it to morph into a money-making venture. Although it is a lucrative hobby, I don't want to shift focus from what I do in my free time to relax to something that stresses me out.
Gavin: What can we expect from you over the rest of the year?
Coby: I'll be hosting and emceeing more events; find me on Facebook to stay updated on what projects I'm doing, or for shows coming through that I think would be great to get people to. I'll be here in Salt Lake, working hard, bringing you what I have been for the past 12 years, an authentic, confident hot mess.
Gavin: Is there anything you'd like to plug or promote?
Coby: My Etsy page — check it out, hit me up on Facebook, Prevailing Atrocity, or Salt Lake City Psychobilly, or if you can find me to friend me, do that. Find me in person at The Dark Arts Fesival, held at Area 51, June 7-9; I'll be dancing in the Darling Duo on Saturday evening with my best friend Miss Tree, and showcasing in the Fashion Show Sunday evening. Also, I'll be at the Nekromantix Show on June 17 with local openers Blue Moon Bombers.



| | | | |
| --- | --- | --- | --- |
| Follow Gavin's Underground: | | | |