This year, SB Dance is taking things to a new level when it comes to dance performance by building on its already eye-opening show,
Of Meat & Marrow
. --- Putting together a much larger production on the main stage of the Rose Wagner on June 15, the risque show brings together its signature experimental dance routines with antagonistic, sexual and provoking themes, all laced with live music from rock band Totem & Taboo, for a locally produced rock opera. Today, I chat with two of the dancers behind the production about their careers and coming to SB Dance, thoughts on the show and local dance and a few other topics. (
All pictures courtesy of SB Dance.
)
Juan Carlos Claudio & Jenny Larson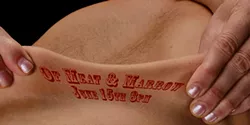 Gavin: Hey, guys. First thing, tell us a little bit about yourselves.
Juan: I am currently an assistant professor/lecturer at the University of Utah, Department of Modern Dance, former dancer with the Ririe-Woodbury Dance Company -- '96-'06 -- and dancer with SB Dance since 1999.
Jenny: Momma, fitness instructor, former Ms. Fitness Utah, owner of JL's BodSquad – group fitness classes and personal training on location all over Salt Lake City -- teach classes at BodyWIse Fitness and Xtendbarre AND on faculty at Uof U modern-dance department teaching dance conditioning to young and fresh dancers.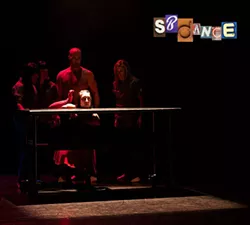 Gavin: How did each of you first take an interest in dance, and what were some early influences on you?
Jenny: I started dancing at age 3 and really have never stopped moving. I need to be active and moving as much as possible. I do sit on my ass from time to time, too. Don't get me wrong, Solid Gold, the TV show in the '70s and '80s – that was my first, big influence. God, I wish that show was still around.
Juan: I am originally from Puerto Rico, I came to the U.S.A. in the early 1990s as a biology student at Utah State University. There, I found modern dance by the late Lynn Topovsky, a former dancer with the Ririe-Woodbury Dance Company. I fell in love with dance because it provided me with a unique outlet to communicate and express sentiments in ways I could not have done otherwise. After graduation in 1995, I spent a year at UCLA studying dance therapy, soon after auditioned for Ririe-Woodbury and have spent most of my career traveling the world, teaching and performing. Joan Woodbury and Shirley Ririe are my earliest influences in dance education.
Gavin: What was it like for each of you growing up performing prior to college?
Juan: I thought I was destined to become a psychiatrist or working in a laboratory; I love science. I have always been intrigued by the unknown, the endless possibilities of things: creating, deconstructing and transforming. This is something that I share closely with Stephen; we both studied science and love the idea of investigation, creating to destroy and to create again.
Jenny: My first real performing experiences were with Stars Drill Team. I started with them at age 5 and I have been a total cheeseball ever since. I have fond memories of performing halftime numbers at BYU and Uof U football games, as well as Utah Jazz games. Just imagine: Donny Osmond, hanging out of a helicopter, singing Neil Diamond's "We Coming To America!" Oh, yes --I was dancing under that spectacle. I then went on to perform with local dance studios from there; the more conventional route. And then, of course, great choreographers and amazing performers at the U.
Gavin: Where did each of you go to college to continue training and performing, and what made you choose your specific school?
Jenny: U of U modern dance. Rated #3 in the country for dance at the time. Probably still in the top 10. Local school. Easy choice.
Juan: I attended the University of Puerto Rico from 1989-1991, Utah State University from 1991-1995 -- came to it through the National Student Exchange Program -- with a B.S. in dance and a minor in biology. Could have done a double major by staying one more year but I needed to get out of Logan. Then went to UCLA from 1995-1996 to achieve a master of dance therapy, and then, finally, the University of Utah from 2006-2009 for my MFA in modern dance. I went to Ririe-Woodbury Dance Company from 1996-2006, which I consider part of my schooling since I learned how to teach, perform, choreograph, produce and direct; at the same time performing with smaller companies in and outside of SLC, like SB Dance, which I've been with since 1999.
Gavin: What was it like for you to branch out and start performing on a professional level?
Juan: To me, it was something I always looked for; it is part of my career as a dancer. It would have been a disappointment if I did not make it onto the stage. I feel very fortunate for the people who I met through the years; they gave me opportunities like no other. I don't think I am where I am today if it wasn't for them. I loved performing for the Ririe-Woodbury Dance Company -- I was young, life was exciting and vibrant. I love performing for Stephen Brown, he brings the best in me without reservations. I can do whatever is necessary to fulfill the role he is looking for. I take chances, stretch my imagination, coming to results I didn't know I have.
Jenny: I got super-lucky to meet Stephen Brown. Being athletic and not your typical dancer has worked in my favor for this company. Stephen called Donna White -- former dean of the U of U modern dance department, now dean of the graduate school -- and asked her to recommend an athletic, female dancer. She referred Stephen to me. Yay! Of course, other dance companies don't need dancers like me. I'm just glad Stephen does.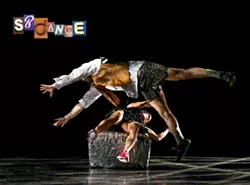 Gavin: How did you each come to SB Dance, and what were your first impressions of the company?
Jenny: Whoa! This is more dance theater than modern dance. I like it! I remember thinking this is so eccentric and different from any dance I've seen in Utah --  or anywhere, for that matter. Fell in love right away!
Juan: I came to SB Dance while working with Ririe-Woodbury. I think it was the group of dancer friends I had at the time; we were all connected somehow with Stephen. I remembered Stephen asking me to come to rehearsal and "play" with them. I had seen one or two of his previous shows and loved the craziness and wildness he brought onto the stage; no other company was doing it. It was a full evening-length performance, which I was also interested in being part of.
Gavin: What has it been like performing in the company and working on this kind of subject matter, compared to other companies?
Juan: To me, we're are a very tight family; every person who comes into SB dance and passes the audition process -- that, to me, is one show. Stephen gives you one show to push yourself and to deliver. If you come back for the following show, you know you are in for good. His subject matters are ridiculous, but real; imaginative, inventive, obscure but very human at the same time. He questions us, himself and also the audience. What I love about Stephen is that he mixes entertainment with real subject matter; he masks very well his real intentions, very persuasive in a way a magician does. He captures your attention to soon after deliver a bomb. The difference in working with other companies is that there are a set of steps to follow and you have to stay with the boundaries. Stephen allows us to blur those boundaries, but staying within the overall intention of the work.
Jenny: I love how SB dance makes evening-length shows, where each piece weaves into the next. This company is great because it's a more mature company ... in age, that is. Everyone's own life experiences change the way a person performs; more authentic, and the whole process is so collaborative and not competitive. Stephen will explain a step or a sequence of events and we all interpret it differently. And since we are older and have had to work with various types of people, we know how to listen to each other's interpretations and connect the dots from there.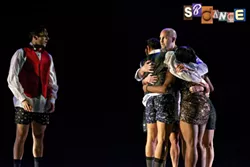 Gavin: What were your first thoughts on Of Meat & Marrow, and what was it like working on it?
Juan: I think this is the most physically demanding work I have done with SB Dance yet. You have to be able take risks, being able to challenge your mind and body. You have to be willing to earn your medals -- bruises, scrapes, torn fingers and toes. With Stephen, you have to play the game along with him rater than waiting for him to make the first move.
Gavin: Rather than playing to a recording, you've got a live band in Totem & Taboo playing on stage. How does the dynamic change having a live performance just a few feet away for the music?
Jenny: Live music always amps the energy to another level and Totem & Taboo are amazing! It's like going to a rock concert; you can't help but move. We just have choreographed steps to jam with.
Juan: It is very exciting to dance to live music onstage. Everyone is a unit -- we are all there for one goal in mind, to make the best show possible. I get to interact not only with the dancers onstage or the audience but also with the musicians as one big family. I absolutely love it!
Gavin: What's been your personal favorite piece from OM&M to perform, and why?
Juan: Every piece in OM&M pulls something different out of me, allowing me to explore the most and the best of my capacities as a performer and human being on stage.
Jenny: I love the finale in OM&M. The song is great and catchy. The whole piece is totally quirky -- so fast-moving and scary at times. And then I love how we evolve throughout the show into these crazy, almost drunk, dead people. And we're flying all over the place. Gotta love that.
Gavin: Knowing that this will only be seen once, how does that change the dynamic of how you perform every piece?
Jenny: We just have to go balls to the wall! It's pretty cool. There are parts of the show that are scarier and trickier to do, so on the one hand, I can tell myself, "Just get through this scary part and then you're good." But on the other hand, if I fuck it up, that would really suck. My fear would be the winner. With shows that run two weekends, there tends to be a handful of flat performances. After months of rehearsals and weeks of performing, the process can get stale and there are bound to be less-than-exciting performances. With one, and only one, we're going to be off the wall with excitement. Watch out!!
Juan: I have to be fully present; I have to push, connect and make this performance resonate in a one-time delivery. It is exciting and also very scary.
Gavin: What are your thoughts going into opening night?
Juan: I am going into this performance knowing that there might be the possibilities for injury, that I have to give it because there is no tomorrow, that I have to fully embrace the community I am dancing with, that it is not about me but about all of us. It a very selfless act.
Jenny: It's gonna be a wild ride!
Gavin: Going local, what's your take on the Utah dance scene, both good and bad?
Juan: I see Salt Lake City gaining a lot of strength concerning to the dance scene; every company in town has something different, special and unique to offer. We have a great dance community that allows every dancer and audience in the city to find their niche or something they enjoy.
Gavin: Is there anything you believe could be done to make it more prominent?
Juan: I think we are currently working on it. Ririe-Woodbury, RDT, SB Dance, NOW, Ballet West and many other smaller companies -- they all offer something different to our audience. The array and approach of works are different. What can help make dance more prominent it is our audience. They have to support our endeavors -- there is no dance without an audience.
Gavin: What's your opinion on other local dance companies and the work they're doing to promote the art?
Juan: I believe our local dance companies are doing their work. We need the audience to get out of their homes to support the local companies, to see what is different among them, to embrace or question what we have to offer and for the audience to know that we are waiting for them in the theater. There is nothing like live art. It is one-of-a-kind. It happens in one moment in time, is real. It doesn't get any more human than this.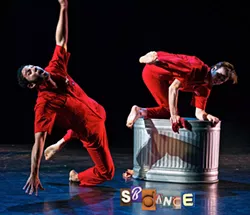 Gavin: What advice do you have for anyone looking to get into professional dancing for a career?
Juan: See dance, expose yourself to different companies and workshops. Engage in communities that speak your same language. Don't just go to school to study dance and then start to look for a dancing job; it doesn't work that way. A dancer has to let themselves be visible right from the beginning -- first as an audience member, as a workshop participant -- to then be able to audition for a company. Artistic directors know what they are looking for in a dancer. It is the young dancer's job to expose themselves to them. I remembered exhausting myself going to performances, getting to know the dancers in those companies, letting them know they were a valuable asset to me as an audience member.
Gavin: What can we expect from both of you over the rest of the year?
Juan: People who knows me well know I can't stay still; too many plans to count them all. After SB Dance, I will be teaching summer school at the U, traveling to Beijing to teach, dancing for a new project with Ririe-Woodbury alumni Keith Johnson, coordinating SB Dance summer workshop, to enter into the fall at the U, back with SB Dance in October, coordinating Momentum, a December show for Ririe-Woodbury Dance Company and spring semester at the U.
Jenny: I hope more of this crazy SB Dance shit ... and then fitness classes all over the valley.
Gavin: Is there anything you'd like to promote or plug?
Jenny: My own business, JLBodSquad.com. Fitness classes anywhere, almost anytime. A local businesses where I can turn your place into a fitness circuit just with rabid exercisers, and personal or small-group training. I'm your girl!
Juan: Just as Maya Angelou said, "If you learn, teach" ;don't keep your knowledge to your self, share it! Come and support live art, it brings humanity to your humanness. Get out and see dance!
| | | | |
| --- | --- | --- | --- |
| Follow Gavin's Underground: | | | |