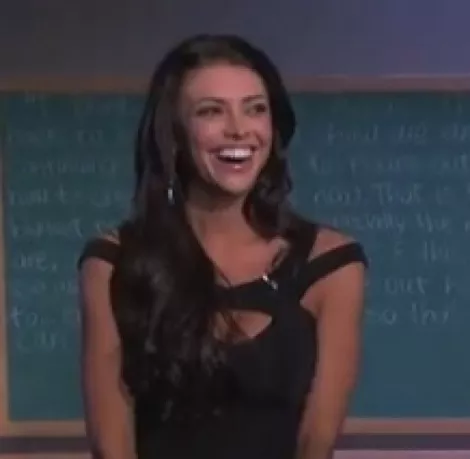 Although Miss Utah blew it at the 2013 Miss USA Pageant, she redeemed herself on Jimmy Kimmel Live with her poise, candor and sense of humor.---
Miss Utah Marissa Powell gave a less-than-eloquent answer to her interview question at the Miss USA Pageant last Sunday. The question, presented by NeNe Leakes, was: "A recent report shows that in 40 percent of American families with children, women are the primary earners, yet they continue to earn less than men. What does this say about society?"
Miss Utah responded, "I think we can relate this back to education and how we are continuing to try to strive to … figure out how to create jobs. Right now that is the biggest problem. I think especially the men are, um, seen as the leaders of this. And so we need to try to figure out how to create education better, so that we can solve this problem. Thank you."
The Internet jumped on the "beauty-queens-are-dumb" bandwagon and tore her apart.
But did she deserve it
?
Silencing her critics, she took the embarrassing performance in stride and redeemed herself on Jimmy Kimmel Live Tuesday night when she showed the country she not only recognizes and is willing to take responsibility for her mishap, but she's also able to laugh at herself.
Here, she talks about her experience at Miss USA, as well as her life's most embarrassing moment up until last Sunday:
This is where she really kills it. Able to laugh at herself, Miss Powell belts her infamous answer to the tune of America the Beautiful.