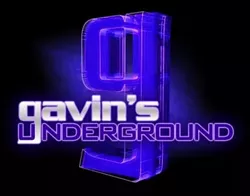 This past weekend was full of concerts that packed rooms and sent lines out the door to catch acts involved with
CrucialFest
! --- The third-annual event was held in 10 venues over the course of four days, featuring over 60 acts of both local favorites and national visitors, every show with at least five bands giving wristbands to dedicated holders, who would plastic-wrap their wrists in the shower to keep it on and get their money's worth.
Part of CrucialFest's experience is to catch a show at times you wouldn't normally be at a venue, which included a show at The Shred Shed starting at 6 p.m. Today, I chat with the two bands who opened up that show, Cody Taylor and Rocky Mountain District, along with photos I snapped of their performances, which you can check out in this gallery here.
Cody Taylor
Gavin: Hey, Cody. First thing, tell us a little about yourself.
Cody: Well, I was born in Chicago and my family moved to Utah when I was young. I started playing the guitar when I was 9 and have been obsessed ever since. I'm a fairly introverted person, so music not only acts a catalyst for me to connect with people I otherwise would be too shy to talk to, but it's also something I can cherish when no one is around.
Gavin: What got you interested in music, and who were some of your favorite acts and musical influences growing up?
Cody: I think music must have just been in my blood. My grandma played in a somewhat popular band in the '40s called The Five D's and my father used to run sound at Magic Mountain for bands like Blue Oyster Cult and Black Sabbath. This all happened before I was born, though, so my real interactions with music just came from hearing my dad sing and play piano or from his old CDs and the radio. After I really discovered music, I went through phases, like all kids do. Neil Diamond, Slipknot, Led Zeppelin, Rocky Votolato, and Despised Icon are all big influences.
Gavin: What was it like for you getting into the local music scene and playing with bands?
Cody: It felt very natural, actually. I started contacting venues and booking shows for my band London Greyhound when I was 16, and I was playing show at my school with me and my brother's metal band Apocalyps, which featured Tyson Clegg of Starvist, even before that. No one has ever helped me with any of it, but I've been around professional musicians my entire life. Because of that, I knew a lot about music business before I even got started.
Gavin: When did you decide you wanted to start a solo career and performing strictly under your own name?
Cody: Strangely enough, I started playing solo music because it was too hard to find a good metal band to play with. I had always imagined myself as a metal vocalist and guitarist until my brother introduced me to indie-folk music. I was still looking for a metal band to play with when I wrote my first album.
Gavin: What made you gravitate toward folk rock after being in harder-rocking bands for years?
Cody: Well, it's hard for me to admit, but when I was very young, my first love in music was Neil Diamond. I do love metal music still, but softer music has been a part of me much longer. Led Zeppelin is also my favorite band of all time and they sowed the seeds of both the folk and metal we listen to today, so I'd attribute my crossover into folk to that and discovering acts like Rocky Votolato and Bryan John Appleby.
Gavin: What was it like for you playing solo shows and all-acoustic showcases? Did it come easier for you, or was it just as big a challenge as being in a band?
Cody: That's a difficult question, actually. I have grown accustomed to being the frontman in a band, so it wasn't strange for me to be the focus. I feel that at times, though, I've "over-performed" trying to compensate for the lack of energy not having a band behind you. I hope someday that I have a full band touring with me, because I would feel more at home.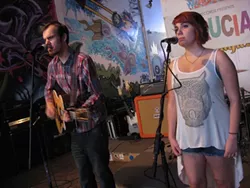 Gavin: Back in 2011, you recorded your debut self-titled album. What was it like putting that together?
Cody: It was strange. You see, the first recording for that album started in 2009. I was used to the idea of going into a studio to record an album and coming out of that studio a few weeks later with the final product. That wasn't the case, though. I was spending three to for hours at the studio on the weekends and mixed it with my producer one song at a time at his house. I'd like to get to a point where I can get an album done all at once. It wasn't fun spending that much time on my last one.
Gavin: What did you think of the response from both local fans and national outlets when it was released?
Cody: I feel the response was very good. The problem is that hardly anyone knew about me in the first place. I'm terrible with creating buzz and getting my name out there, so unless someone had stumbled into one of my shows accidentally, they have no idea I exist. I feel that my fans who had seen me play before, though, loved my album. They've all been extremely supportive and wonderful, really.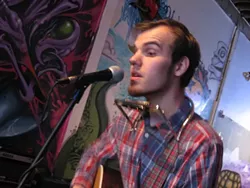 Gavin: Is there anything in the works for a new album at this time?
Cody: There always is, Gavin! I actually have some very big things in the works, but I am severely lacking in the funds to be able to record it right. Count on hearing some new music, though, in the near future.
Gavin: Going local, what are your thoughts on the music scene, both good and bad?
Cody: Well, my experiences with the music scene are mostly centered around Provo, since I live closer to there and there's a bigger indie-folk scene in that area. What I've noticed over the years is that folk and indie music here are what I'd describe as self-sustaining. Provo and Salt Lake City have more combined talent in music alone than most other states do as a whole. I've also noticed, though, that most of these acts are content; they have no intention of touring or seeking out a career unless a career seeks them out. Some big acts have come from here, but it's because they toured and made themselves known everywhere else, as well. The Provo scene will continue to thrive, but with all of that great talent condensed into one location, I doubt the scene will even really need to host that many touring bands, even though they do accommodate some great ones.
Gavin: Is there anything you believe could be done to make it more prominent?
Cody: Yes, people need to go. That simple. I'm an offender, as well, as I don't go to as many shows as I used to since I live in Eagle Mountain, but I need to. We all need to. Music scenes die because people let them. Our music is by no means dead, either, but it could use a lot more support.
Gavin: Not including yourself, who are your favorite acts in the scene right now?
Cody: That a tough one. In folk and indie, I'd say Jay William Henderson is very high on the totem pole with me. So is Polytype, Book On Tapeworm, The Moth & The Flame, even though they're not here anymore, and I have to say I'm very excited for Strange Family.
Gavin: What's your opinion on the current airplay on community radio and how it affects local musicians?
Cody: I think KRCL has done a wonderful job of promoting local music. I love how involved they have been and how unafraid they are of playing a great local act like Sayde Price in between huge national acts like Bright Eyes.
Gavin: What do you think of file sharing these days, both as a musician and a music lover?
Cody: Honestly, I don't think about it much at all. I am fully aware that people have used torrents and file sharing to download my music, and I don't let it get to me. On one hand, I feel it's made it a little harder to make a living of this, which makes it much harder for me to produce new albums and new music. On the other hand, though, new ears are hearing my music and, free or not, that's always a huge win in my book.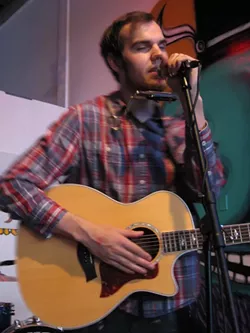 Gavin: What can we expect from you over the rest of this year?
Cody: I'll be playing shows regularly and working on getting new music to you guys as soon as I can. You can hear a lot of the new material that will be on my next album at my shows right now.
Gavin: Is there anything you'd like to plug or promote?
Cody: I'll be playing at Bar Deluxe on August 8. Also, you can always keep updated on when I'm playing next in your area at my website.
Rocky Mountain District (Thys Pendley & Aaron Peat)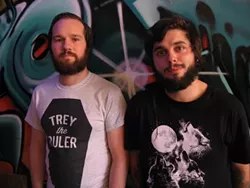 Gavin: Hey, guys. First thing, tell us a little about yourselves.
Aaron: My name is Aaron; I hit the drums for Rocky Mountain District. I love playing music and shows, collecting Marvel action figures and comics, and hanging out with my dog, Emma.
Thys: My name is Thys; I play guitar and yell for Rocky Mountain District. I'm pretty low-key; mostly, I like to ride my fixed gear, and to collect vinyl records.
Gavin: What got you interested in music, and who were some of your favorite acts and musical influences growing up?
Aaron: My older brother and my cousin were in a band. I thought that was the coolest thing, to see them writing music while hanging out. At The Drive-In was the band that really opened me up to this genre of music.
Thys: To be honest, I started to play guitar to help me with the ladies. It did not help, but I have been around music all my life. My mom and three sisters all played piano, my dad and two brothers played guitar, and I was in a private choir from the age of 6 to 18.
Gavin: How did you both come together to form Rocky Mountain District?
Aaron: We were both in local bands in Ogden. Thys was in a band called WeDropLikeBombs along with our former guitarist Jace. I was in a band called The Chevalier that played with them pretty often. I actually tried out to play guitar for W.D.L.B. back in 2009, but it wasn't until we were all hanging out in my basement that we all jammed together and it just felt right. It all happened really fast.
Gavin: What influenced the post-hardcore style in a kind of lo-fi format, and how has it been making that sound your own and separating yourselves from other post-hardcore acts?
Thys: I have always been fond of lo-fi recordings. Some of my favorite bands take a really stripped-down approach to recording my favorite records. They all feel so alive, and that's what we try to create when we write our music -- living, breathing entities. Our songs are filled with some heavy topics and undertones. We felt like recordings we did would give it the depth that we produce when we play them live. Our songs tend to have a lot of space in them, to where the silence become the most powerful aspect of the song. We write songs in a pretty unconventional manner and I feel like that is what makes us so special.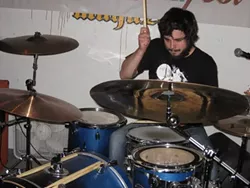 Gavin: You've been around for just over a year now. What's it been like for you gaining an audience along the Wasatch Front with a heavy hardcore fanbase?
Aaron: It's helped that we've been playing in bands since 2005 all along the Wasatch Front, but it wasn't until we starting playing in the Salt Lake area more heavily. Our friendship with Eons really help us feel apart of a scene.
Gavin: Late last year, you put out the Goodbye Blue Sky EP. What was it like putting that record together?
Aaron: It was a really great experience for our band. Working with Ian Cooperstein of Visitors/Dustbloom and Bryan Lee from Visitors/Heartless Breakers was super-easy; they let us have full control of what we wanted out of the record, but gave us great advice along the way. We've been friends with these dudes for quite a while now, so they understood the direction we wanted to go with that record. It was a party!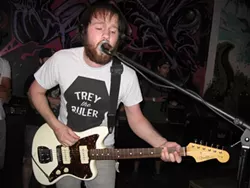 Gavin: What did you think of the public reaction to its release?
Thys: It was overwhelmingly positive. When we released Goodbye Blue Sky online, a few members of a hardcore band from Brazil contacted us to tell us how much they loved the record. They even mentioned wanting to do a split EP with us. They also put it up on YouTube because they loved it so much. We put it up for free download, and a good number of generous kids made donations. Those donations are the reason that we were able to pay for cassette tapes that you can purchase from us.
Gavin: Have you been looking to tour yet, or are you just playing around the state for now?
Thys: We actually had the pleasure of playing a couple of out-of-state shows with our good friends in Eons. It was so nice of them to share the last two shows of their most recent tour with us. It was so much of a blast that we are in the works of trying to put together a West Coast tour. Hopefully, we can get out to the Midwest in this following year, and maybe even the East Coast. As for now, we are having a blast playing all over this state and a few neighboring states, as well.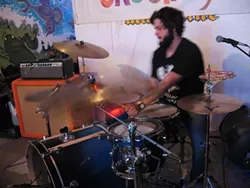 Gavin: are there Aay plans in the works for a full-length album or another EP, or are you mainly just writing material?
Thys: We have a grip of songs in the works. Our goal is to start recording in the next few months and kinda see where that takes us.
Gavin: Going local, what are your thoughts on the music scene, both good and bad?
Aaron: I am so proud to be part of the scene right now; there are so many outlets available for bands to play. The Salt Lake community has really come together to help one another out. We know that we would be nowhere without the support of these great musicians, and venues. The bad in my opinion is that I think there are some jaded musicians who play in the same places and expect different outcomes. The great thing about being in a band is that I really feel like you get back what you put into it. It's a bummer to see bands always complaining about the scene, when it is really thriving around them.
Thys: I couldn't have said it any better myself.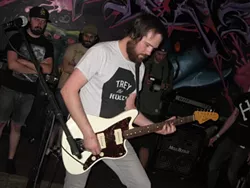 Gavin: Is there anything you believe could be done to make it more prominent?
Aaron: Going to local shows, and supporting the venues. Spreading the word about local bands that you are into. Word of mouth, and social networking are great tools to show your support for bands. It shows us that people actually like what we are doing.
Gavin: Not including yourselves, who are your favorite acts in the scene right now?
Thys: Every single band that we have played a show with has inspired us in some way. We have been very fortunate to play with some really talented bands. Some of our favorites that you should check out are: Commoner, Eons, Sight Sounds, Temples, Shadow Puppet, Dustbloom, Heartless Breakers, ICE CAVE, Cult Leader, Collin Creek and Breaux. The list could go on forever, but all the bands playing CrucialFest this year are choice!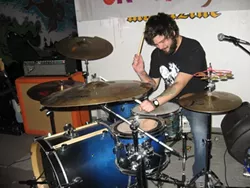 Gavin: What's your opinion on the current airplay on community radio and how it affects local musicians?
Thys: It's a really cool opportunity for bands to share their craft to people all over. I have a few friends in other countries who listen to KRCL on the Internet daily, so I can only imagine how many other people listen to radio stations like that. The ability to expose your music to anyone who is open to listen is incredible. And anyone can listen. That is the best part.
Gavin: What do you think of file sharing these days, both as musicians and a music lovers?
Thys: I don't have a problem with file sharing. I tell everyone to download our record for free and share it with someone. I look at it as more exposure for our band, especially since we have only been at it for about a year now with RMD. It can only help us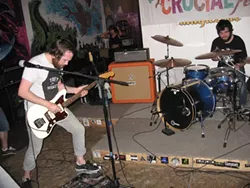 Gavin: What can we expect from both of you over the rest of this year?
Thys: We have a few shows lined up in July and a couple in August. Also a tour, but in the meantime, we are putting together a merch catalog so that everyone can have a chance to get some RMD swag. We want to start recording in the later months of this year and possibly release a vinyl.
Gavin: Is there anything you'd like to plug or promote?
Thys: You can download our record for free on Bandcamp.
Aaron: Go Jazz!



| | | | |
| --- | --- | --- | --- |
| Follow Gavin's Underground: | | | |