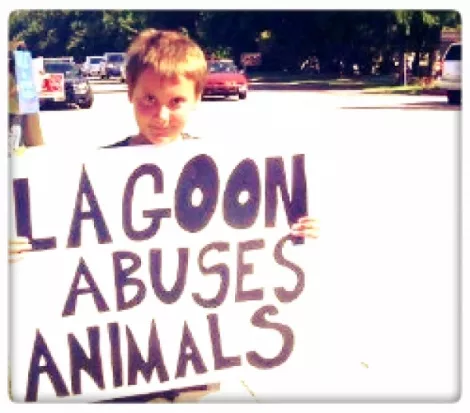 Lagoon—it's what fun is. But, according to PETA, it's also where animal abuse happens. The animal-rights group has organized a protest specifically for kids Saturday.---
According to Jordon Kasteler, who's organizing the protest, "Lagoon has received 18 citations from the USDA for violating the animal-welfare act, and some of the citations involve failure to provide adequate care, filthy enclosures, untrained employees and staff."
USDA last cited Lagoon in September 2011, for an "indirect" non-compliance issue. According to the report, two leopards were treated for having three-plus ascarids each. After treatment, the leopards were not given subsequent fecal tests to "ensure that the ascarids were successfully eradicated." Lagoon hasn't had any violations since.
Saturday's protest is geared toward getting children's voices heard in defense of animals. Adults are welcome but will be "sidelined," according to the Facebook event page. "WE NEED LOTS OF KIDS FOR THIS!" the page continues.

PETA and Kasteler are aiming to get the animals moved. Kasteler believes that "[Lagoon] is not a safe environment for the animals. There have been instances of people throwing rocks and trash at animals, and the loud noises from the rides can scare the animals or put additional on stress them."
The group makes the point that Lagoon isn't all bad, though. "Lagoon provides plenty of amusement with rides, games, etc without having to imprison animals for entertainment of humans."
Lagoon could not be reached for comment.

"We've talked to many organizations that would help fund this process and help transport the animals," Kasteler says. "By doing this, Lagoon would save animals and costs, because obviously maintaining and caring for the animals takes a lot of money."
Photo courtesy PETA