This past Saturday was extremely active around the valley, especially in the music scene. Well ... maybe not so much at a certain club on 600 South, where it was bad country-dancing night, but that's about all we need to say on that. --- In this sea of concerts, I decided to make my way to
Bar Deluxe,
where Crash Kings and Nico Vega passed through town on their national tour.
But, the way this blog goes, I only cover the local acts. So, rather than focus on the main two who got tons of radio promotion coming in, I instead chat with opening act Joel Pack & The Pops, along with pictures of the group performing live, which you can check out here.
Joel Pack & The Pops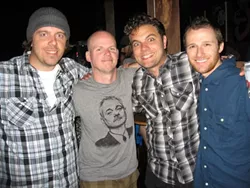 Gavin: Hey, Joel. First thing, tell us a little about yourself.
Joel: My name is Joel. I sit in my recording studio all day, every day, and make music for myself and help other songwriters and bands turn their ideas into something they can be proud of. When I'm not in the studio, I like to be playing live somewhere. On days like birthdays or Halloween or St. Patrick's Day, I feel weird and awkward if I'm not playing music somewhere. Basically, music and being a husband are the only two things I'm any good at. I also like to drink beer.
Gavin: What got you interested in music, and who were some of your favorite acts and musical influences growing up?
Joel: I come from one of those large Mormon families, where everyone took piano lessons, so my whole family is pretty musical. One of my sisters played Christine in Phantom Of The Opera back in the '90s, both on Broadway and the touring group. We had this beautiful black Baldwin piano in our house, and I started playing when I was 5. Around that same time, I used to sneak into my brother's room and listen to his tapes. I loved listening to The Cure, Siouxie and the Banshees, Love & Rockets and Bauhaus. When I started playing bass in the early '90s, I got more into Red Hot Chili Peppers, Primus and older funk groups like Parliament Funkadelic.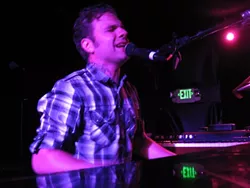 Gavin: You've been involved with the local music scene for over 20 years. How has it been for you performing around the state in various groups and as a solo artist?
Joel: Performing locally can be rough. Like you said, it's been about 20 years since I played my first local show on what is now known as Utah County's "100 Block." Even back then, there were different scenes just within the one town, and those scenes tend to have a "changing of the guard" every couple of years. I've been in three Utah County bands that all at one point could sell out any all-ages venue in Utah, but if you ask anyone down there now if they've heard o, Strange Itch, Illborn or Broke, most people will stare back blankly and then brag about how they saw Imagine Dragons play at Velour once -- absolutely love that venue, BTW. The whole live thing is all about momentum, and it can be gained and lost very quickly. That being said, there is something very cool about capping out a venue, coming back the next year with a different band and playing to no one, and then building it back up again ... then playing as a solo artist at some coffee shop to the 10 most diehard fans who know EVERY song and want to hear old things you haven't played in years.
Gavin: How did you come together to form this new group, The Pops?
Joel: The last band I was in, Broke City, had gone through about three bass players since we lost our deal with Maverick Records. I lost some of my best friends over stupid politics. We went from opening huge shows in arenas and working with serious industry professionals to putting together our own not-so-well promoted or attended tours, and not being able to get anyone to return our phone calls. After our last bass player quit, Ryan and The Rob were all, like, "So, Joel, back to auditioning bass players? What do we do now?" I was so over it. I was writing some of what I felt like was my best music, but after seven years, the vehicle for it was old and tired, jaded and hardly recognizable to what it used to be. I just called it what it was, and started back at the drawing board for creating something new that I could actually have fun with. I toyed with the notion of being one of those acoustic singer/songwriter guys -- you know, lone ranger, loaded six string on my back and all -- but after a few shows playing like that I could tell it just wasn't "me" at this point in my life. I guess I got sick of taking everything so seriously for so long and wanted to just have fun. Ryan and The Rob play with me in the Pops, and they are the same guys who were with me at the end of my last band, so it was all pretty seamless.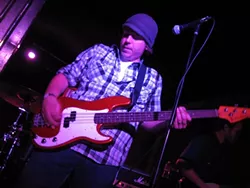 Gavin: What influenced the more pop/rock style that you've created as a group?
Joel: A lot of the music I've been listening to for the last few years is a lot older. I also LOVE more theatrical music. Some of my favorite shit is the music from Little Shop Of Horrors and Rocky Horror Picture Show. I guess I thought it would be cool to have a live band that kind of had that same theatrical element to it. At first, the idea was to have a horn section and female backup singers, but logistically it didn't work out. I still really really want to put together that element for The Pops, but I'm thinking that's maybe the next chapter.
Gavin: Late last year, you put out The Rigby Road EP. What was it like recording that and putting it together?
Joel: It was SO MUCH FUN! I would just take a day here or there, slack off on all of my responsibilities and get to work on it. Ninety percent of it was just me hanging in my studio with a bottle of High West, stacking obnoxious amounts of harmonies into Pro-Tools. I'd get to where I thought a song sounded pretty cool, but not finished, and then I'd call up a some buddies whose taste I trust and invite them over to the studio to check it out and give their feedback. The whole process was like that, down to the mixing and mastering. Doing things by yourself, you don't have the feedback that you do as much in a band situation, so I needed to get that from somewhere. Rather than having a big list of people who did this or that, the back of the CD just has the names of everyone who came by for a bit to let me know what they thought.
Gavin: What was the public reaction to it like when it finally came out?
Joel: It has been great! I think a lot of people have been pleasantly surprised by the direction. So much of what I've written in the past has been "angst-y," and this has been more fun, which from the feedback I'm getting is a refreshing and welcomed departure.
Gavin: You've been a band for about a year and a half now. Are there any plans to head out on a small tour yet?
Joel: Nah, nothing yet. We did a lot of touring with our last band, and I have so much going on here in Salt Lake as a producer. If I had the extra time, I think I'd rather write/record more. I love getting out of town for the refreshing vibe it can give to music, but if we leave Utah, it will probably either be to record, or just to use the show as an excuse to have a mini-vacation; hmmm ... Joel Pack & The Pops tour Hawaii!
Gavin: Are you looking to record a full-length soon or just playing gigs for the time being?
Joel: I am always writing new material. The three of us snowmobiled up to a cabin in the middle of nowhere this last winter and recorded a bunch. There is a load of music ready to go; I think it's just a matter of figuring out what to do with it. I like to feel like when I release something that it's cohesive and has a definite vibe to it. It's really just going to take me sitting down one day and saying, "The Pops need another record!" Then, the music part will be easy. At this point, I don't feel like we have exhausted the last EP yet.
Gavin: Going local, what are your thoughts on the music scene, both good and bad?
Joel: This last year, I have made it a point to go out of my comfort zone with shows. I've been turning down the bar gigs and playing more art shows and private events. It's been so cool to meet more people and business owners doing their thing to carve out their place in Salt Lake. That being said, it sure would be nice if it were easier to book those events and have alcohol. I know there are loopholes and ways around it, but they are expensive and a pain in the butt. That's part of our culture here, though, and if everything were super-easy, maybe it wouldn't be as cool.
Gavin: Is there anything you believe could be done to make it more prominent?
Joel: I am really jealous of the Rooftop Concert Series. I feel like I moved away just before shit got cool down there. I still could never live down there -- I get anxiety for some reason; maybe high school flashbacks or something -- but, man, it sure is cool. All of those great musicians get together every year and rehearse songs together for the one event. I feel like there are all of these artists in Salt Lake that I hear about, or run into casually, and I'm always, like, "I want to do something creative with that person." I always wanted to produce a CD full of great Salt Lake musicians and songwriters, but make them write with each other rather than in their respective bands. Then, do a live show with all those songs. There are so many mini-music communities and it would be cool to see some more cross-pollination.
Gavin: Not including yourselves, who are your favorite acts in the scene right now?
Joel: I recorded a couple of songs for Holy Water Buffalo and those guys are rad. I saw them at last year's Beer Festival and ran into their singer, Tommy, in one of the beer lines and convinced him they should record with me. They were a lot of fun to work with in the studio, and I love their more pop-y songs. I also hung out with Ransom from King Niko the other week at Karaoke, and he totally KILLED "Twist and Shout," so I'm stoked to see those guys when we will play with them in a couple of months.
Gavin: What's your opinion on the current airplay on community radio and how it affects local musicians?
Joel: KRCL is pretty badass with that stuff. It seems like they play the local stuff right next to the not-local stuff, and that makes all the difference. I think good music is good music, and if someone hears something they like, they'll search it out. When radio stations have their "one hour of local music on Sunday nights," the only people listening are the bands, and all the "normal people" know not to listen during that hour.
Gavin: What do you think of file sharing these days, both as musicians and a music lovers?
Joel: I love that I can listen to music before I buy it. I actually buy more music now than I ever have before. I also enjoy it more when it's something I pay for. As a musician, I wish iTunes were cooler about downloading MP3s to your phone. Maybe I'm just not tech-savvy enough, but if I set my own price on my own website for an MP3 download, I wish people could download it on their iPhone and play it on iTunes. I know that's not a music-sharing thing, it's a tech-business model thing, and I am part of the problem because I use iTunes and have an iPhone.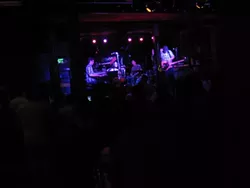 Gavin: What can we expect from all of you over the rest of this year?
Joel: I've been writing more music for commercials and TV, so maybe you'll hear a little bit of Joel this fall when the new shows come out. We'll also continue playing, and I'm sure my "aha" moment for putting the next release out will come soon. I can feel it!
Gavin: Is there anything you'd like to plug or promote?
Joel: We will be the house band for The Paul Duane Show on Aug. 16. Oh, also, if you are in a totally awesome band, you should have me produce your next single; e-mail me at joel@rigbyroadstudios.com.



| | | | |
| --- | --- | --- | --- |
| Follow Gavin's Underground: | | | |