My best buddy from college lives in the French Quarter of New Orleans, and years ago he suggested we eat at K-Paul's Louisiana Kitchen, chef Paul Prudhomme's original restaurant. --- I'd always thought the place was a bit of a tourist trap, and resisted. But Jamie, my buddy who knows food, insisted. Well, I'm sure glad he did, because our meal at K-Paul's was one of the most memorable I've ever had.
In particular, I recall a rich, decadent pasta dish -- sort of like fettuccine Alfredo, but made with crawfish. It was otherworldly.
So, here is my approximation of that dish, as best as I can remember it. My recipe calls for crawfish tails. If you can't find them, you could substitute shrimp and/or crab meat.
Ingredients:
3/4 pound dried pasta, such as fettuccine or pappardelle. I like a hearty, thick pasta for this thick, hearty sauce.
6 Tbs. unsalted butter
1 Tbs. Chef Paul Prudhomme's Seafood Magic or Blackened Redfish Magic
3 scallions, finely chopped
a handful of chive sprigs, minced
2 cups heavy cream
12 oz. cooked, peeled and deveined crawfish tails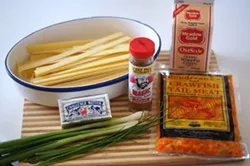 Method:
First, cook the pasta according to package directions. Drain and set aside.
Melt the butter in a large skillet over medium heat. When the better has melted, add the Seafood Magic, chives and the chopped scallions and saute for a couple of minutes, stirring occasionally.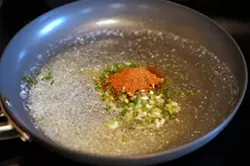 Pour in the heavy cream, bring to a boil and stir well. When you first begin stirring the mixture, you'll get a cool tie-dye pattern!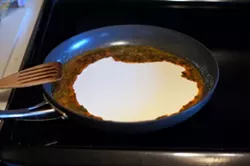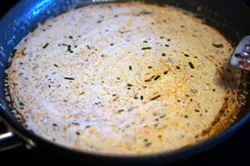 Simmer the sauce for 3-4 minutes, stirring or shaking the pan, until it thickens a bit.
Add the crawfish, stir and bring back to a boil.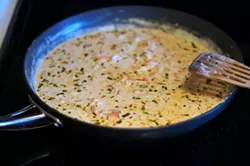 Add the cooked pasta to the pan and toss to coat well, until the pasta is heated through -- a couple of minutes or so.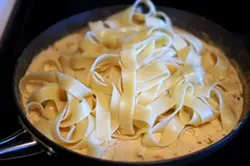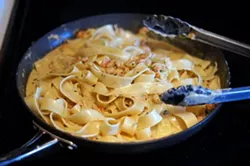 Serve immediately on warm plates, garnished with chive sprigs and freshly ground black pepper (optional).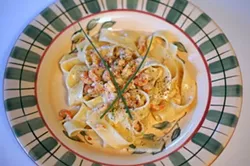 If you want to make this dish even more decadent, serve with freshly grated Parmigiano-Reggiano cheese.
The Cajun-Creole pasta is delicious with a chilled bottle of Ruffino Moscato D'Asti alongside.
Photos by Ted Scheffler