The pornographic website MormonBoyz.com says its servers were '"directly and repeatedly attacked" by the LDS Church. ---
According to a statement by the owner of MormonBoyz.com, Paul Jackson, MormonBoyz.com began experiencing problems with its server late Sunday night. Jackson says the website's server administrator discovered that the IP address of where the attacks originated is associated with the ZIP code 84150. That ZIP code includes city blocks owned by The Church of Jesus Christ of Latter-day Saints and where the LDS Church Offices Building, Temple Square, and the LDS Conference Center are located.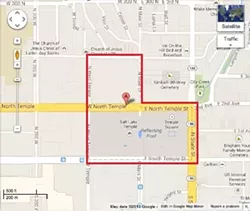 The red lines are the boundaries of the ZIP code 84150.
Despite the attacks, Jackson says, the website was never forced to shut down, however, it was "slowed down." The statement also reassured customers that personal data was not breached in the attacks and that the site is implementing security measures to prevent further attacks.
Q Salt Lake originally broke the story, and in their interview with Jackson, he said, "We are currently investigating the issue and will work with law enforcement." The LDS Church did not respond to our requests for a comment.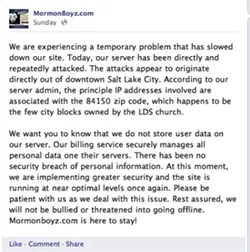 The MormonBoyz.com website features men in Mormon temple garments and other Mormon-related attire during sexual encounters, something the LDS Church would not condone.