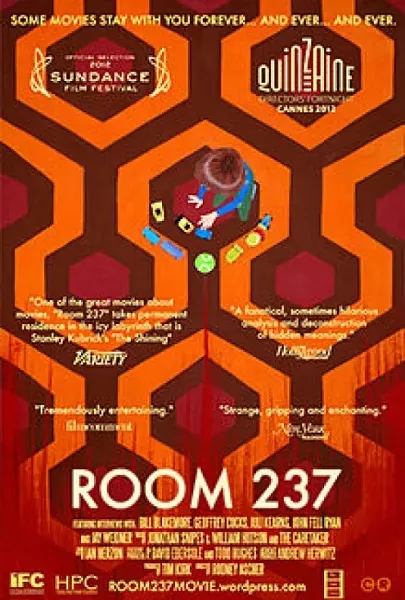 Tonight, catch a special screening of one of the year's most fascinating documentaries, including a Q&A with the filmmaker. ---
In Room 237, which debuted at the 2012 Sundance Film Festival, director Rodney Ascher interviews five individuals whose wild interpretations of Stanley Kubrick's 1980 adaptation of Stephen King's The Shining—as assessment of the genocide of American Indians; as Holocaust allegory; as confession that Kubrick faked moon-landing footage—are scattered across the Internet, offering "close readings" that start to make demented sense the more freeze-framed snippets you watch. The interviewees never appear on screen, their comments illustrated by film clips that make it clear Ascher is poking a bit of fun at these ideas. Yet, he's also providing a wonderfully entertaining primer on how extra-textuality inevitably sneaks into criticism, and how you'll almost always find what you're looking for if you spend enough time staring. When is a continuity error just a continuity error, and when is it a fascinating insight into the mind of the person who notices it?
The Utah Film Center presents a free screening Wednesday night at the Rose Wagner Center, with Ascher in attendance. Join in a post-film Q&A, moderated by KUER RadioWest host Doug Fabrizio.