Thanks to the most recent Alt Press Fest (now behind us), several artists were exposed to the general public and a fresh set of eyes also was given established artists they haven't had before. --- So, of course, we're now seeing a rise of illustrated pieces and screen-print works coming out of galleries and studios. One of those artists receiving his fair share of attention is Evan Jed Memmott, the man who designed this years APF flyer, and who's had several works from the past couple of years on display leaving his possession.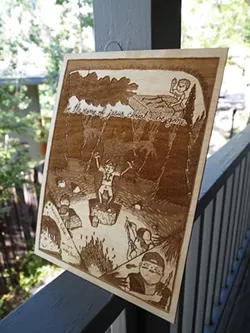 Today, I chat with Memmott about getting into printmaking, his thoughts on the local art scene, striving to further his career as a freelance artist and more. (All pictures courtesy of Memmott.)
Evan Jed Memmott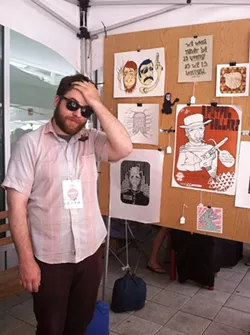 Gavin: Hey, Evan. First thing, tell us a little bit about yourself.
Evan: Well, I was born and raised here in The Beehive State. I draw and paint and print and make things. I make things about problems I have, feelings I feel, TV shows I like or don't like and inside jokes that probably aren't even funny. I like avocados, Arnold Palmer's, tiny things, the way quaking aspens quake, and the way I feel when I finish a new piece of art. I live in a '70s bachelor pad looking out past downtown to Antelope Island. Eventually, I'd like to live in the woods and make art every day.
Gavin: What got you interested in art, and what were some early influences on you?
Evan: Being a child is what got me interested in art. Like most kids, I really liked drawing. I just never moved on to anything else. My earliest influences were probably the Teenage Mutant Ninja Turtles, and Ed Emberley drawing books.
Gavin: What drew you toward illustration and printmaking, and how was it learning both forms?
Evan: When I was in high school, I slowly started discovering contemporary; lowbrow art. I'd find one person's website and then visit every link they had on their site, discovering a slew of new artists. Then, I'd visit all the links on each of their sites. I slowly found more and more art that I liked, and a lot of that happened to be pretty illustrative, and often was found on screen-printed posters. A lot of the art I like is inspired by the same things that inspire me, like '90s cartoons, skateboard art, street art, concert posters, etc. These things just tend to inspire illustrative, graphic art, which often works well within printmaking. I've found that illustration and printmaking are both ways of working that bring the best out of me.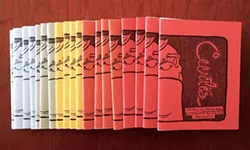 Gavin: You received a BFA in printmaking from the University of Utah. What made you choose the U and what was its program like?
Evan: When I started at the U, I was planning on entering the illustration program, but it was canceled my first semester there. I decided I was going to enter the drawing and painting program instead, while mixing in as much printmaking as I could. However, halfway through my first semester and my first printmaking class -- letterpress, in the Book Arts Program -- it became clear to me that the printmaking program was where I wanted to be. And it turned out to be exactly what I needed. From the small amount of people in the program to the type of people printmaking seems to attract to the great professors and teachers I had, and to the sense of community that printmaking always seems to inherently bring with it, the printmaking program was a perfect fit for my young, reclusive self.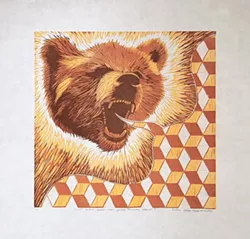 Gavin: During that time, what was it like for you branching out and getting involved with the local art scene?
Evan: Ever since I discovered the art scene in Salt Lake, I've wanted to be involved with it. For years, I never missed Gallery Stroll. I went to every show I heard about. I talked to every artist I could. I've gotten to know a lot of great people and artists, and they're a big part of why I've stayed in Salt Lake. Everything good that's happened with my art has seemed to happen because of the friendships I've made in this community.
Gavin: What kind of challenges did you meet while trying to pursue art as a career?
Evan: The biggest challenge is just knowing what to do now that school's over. I really have no idea. I know I should keep making art, so I try to do that, but finding success as a contemporary artist is something I'm just fumbling in the dark for. The first print I made after graduating, entitled To be continued … was about exactly that. I knew what general direction to head in, and I had a couple of tools at my disposal, but I felt, and still feel, like I was just heading into blackness, unsure of where I might end up.
Gavin: When coming up with a new piece, what's the process like for you?
Evan: Most things I make, I see in my head, complete, before I start. I get an idea, I mull it over and form it in my head, and then I put it down on paper, usually not varying much from the original idea. A lot of times, I'll hear something on the radio, or see someone on the street, and an image of something I could draw just pops into my head. I sometimes have a really hard time getting anything significant down on paper until I've really thought it out, though. When I'm designing something for someone else, I tend to draw it over and over again; refining this, and changing that. Whenever I do text design, I'll fill pages and pages of my sketchbooks with whatever words I'm working with.
Gavin: Do you try to stick to the original concept ,or do you play around with your designs as you go?
Evan: The original design almost always stays the same, but oftentimes, the process of printmaking leads to exciting surprises and informs other decisions. My most recent print, Space & Time, varied very little from the original sketchbook drawing to the final print. As I printed it, though, I made some choices, informed by the process of screen-printing, that added something very different and exciting to the print. The design never changed, but printmaking making allowed me to play around and sort of spice it up.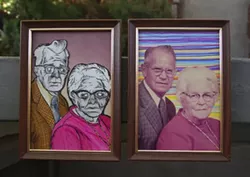 Gavin: What was it like for you getting set up to do print works on your own and printing materials on a bigger level?
Evan: Since graduating from the U, I've just kind of bounced around, printing a little here and a little there -- the U's Printmaking and Book Arts programs, and Copper Palate Press. I've now joined Copper Palate Press as full member after years of being a quasi-member/tagalong. Recently, I printed 240 posters for the Alt Press Fest there, which was the largest edition I've ever printed. I felt really intimidated by such an edition size, but then I tried it and realized I could totally handle it. Printing things on a bigger level, and for a variety of purposes, has definitely led to a good amount of personal growth.
Gavin: What's it like for you balancing out printmaking and illustration without fully diving into one or the other?
Evan: I see both illustration and printmaking more as tools that I have at my disposal, and less as titles that I need to adopt, and work within their confines. There are so many different art forms I want to try, so labeling myself as just a printmaker, or just an illustrator, or just a button maker has no value to me. I'm just an artist, and I'm gonna use anything at my disposal to make the things I want to make.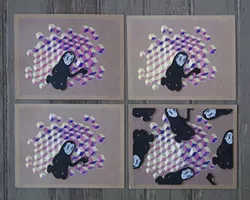 Gavin: How has it been for you becoming more of a freelance artist and working with clients on projects?
Evan: I really enjoy freelance work because, generally, the client is just someone who really likes my art. I've been lucky enough to work with people who just want me to do what I do, but for them or their event or whatever. I enjoy striving to create something that is both distinctly "Evan," AND fitting for the project. Making art for someone else can be super-stressful, but I find it often helps push me to make something better than I ever have before.
Gavin: What was it like for you joining Signed & Numbered and working with Leia Bell?
Evan: Working at Signed & Numbered is the best! It's the only job I've ever liked enough to stick with for a full year, and now I'm going on two years there! Having bosses who are artists as well is great. Phil and Leia are so supportive and understanding whenever my ambitions as an artist conflict with my work schedule. And having Leia and Andy Chase around to answer my questions about how to be an artist has proven to be invaluable. Plus, it's the first job I've ever had where I don't have to wear a uniform!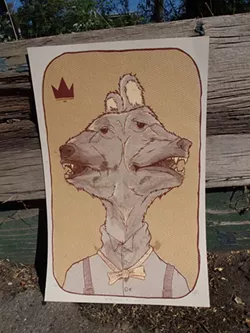 Gavin: Are you looking to expand into other art forms, or are you comfortable with the work you're producing for now?
Evan: I'm really happy with the quality of the work I'm producing now. I just want to be creating literally 10 times as much, and that would absolutely include expanding into different forms. Comics, animations, sculptures, murals, and installations are all, hopefully, in my near future, as well as a whole mess of drawings, paintings, and prints. My sister Alexiss is a super-talented character animator, and we're, hopefully, going to work on some fun things together soon.
Gavin: What are your thoughts on print works and letterpress materials coming out of Utah today?
Evan: The printmaking scene in Salt Lake is the best! There's a such a large, friendly community of printmakers around, and that absolutely leads to great art being made. A good amount of the best artists in Salt Lake are printmakers, and I find myself constantly having to strive to keep up with how good they are, and how quickly they get even better. If you want proof, just check out anyone at Copper Palate Press, the Book Arts Program, or the U's printmaking Program.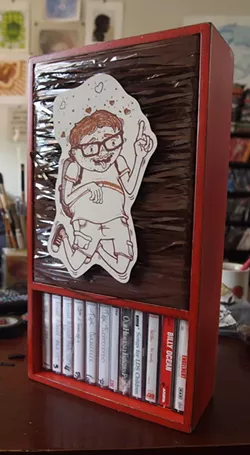 Gavin: What do you recommend to anyone looking to get into the genre and make prints?
Evan: Just involve yourself. Go to the shows and festivals around town. Buy art. Talk to artists. I started out as a scared little kid, not knowing that people used screen printing for anything other than T-shirts, and now I find myself making prints next to some of the best printers around. The printmaking community is exactly that -- a community -- and there's always room for a few more.
Gavin: What can we expect from you over the rest of the year?
Evan: A new website, a new webstore, involvement in a number of shows around Salt Lake, and a whole bunch of awesome art! I've also recently started making a variety products that are laser engraved, which I'm super-stoked about, and there will definitely be more of that coming soon.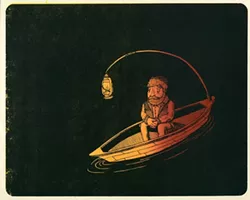 Gavin: Aside from the obvious, is there anything you'd like to promote or plug?
Evan: Claire Taylor's new show, Thoughts On Existence As Told By Coyote, opens at Copper Palate Press this Friday night and will probably be the best ever. The Rocky Mountain Printmaking Alliance will be holding its second-annual symposium here in Salt Lake City this October, which will be great. And I suppose just my own art, which you can keep track of by following me on Instagram or Tumblr.



| | | | |
| --- | --- | --- | --- |
| Follow Gavin's Underground: | | | |