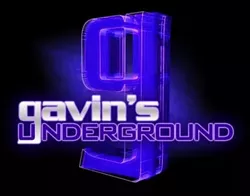 The Green Bikes in downtown Salt Lake City are having one hell of an effect on downtown commuting and the cycling community in general. --- Aside from a rise in popularity and ridership, local bike shops seem to be seeing a rise in sales, both in new and used bikes, as well parts and labor for repairs, which shops are more than happy to provide. One local shop whose name seems to be coming up a lot this year is Cyclesmith, located on 1300 East just outside the University boundaries. The shop helps to serve the east side of downtown, as well as the thousands on campus with anything they may need with a laid-back staff who know their shit.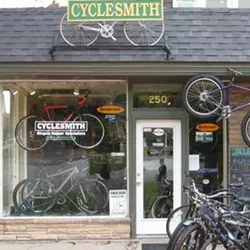 Today, I briefly talk with the shop's owner, Marek Shon, about his career and getting involved with the shop, its development over the years and a few other topics. (All photos courtesy of Cyclesmith's Facebook page.)
Marek Shon
Gavin: Hey, Marek. First thing, tell us a little bit about yourself.
Marek: Born in Jersey. Lived all over the place. Favorite cereal is Lucky Charms. I have a pit pull named Pickles.
Gavin: What first got you interested in cycling, and what was it like for you growing into the sport?
Marek: I went to my first bike race at the age of 6 -- BMX. My dad bought me a bike and said let's go racing! I have never stopped since then.
Gavin: How was it competing in events and cycling around the U.S. and other parts of the world?
Marek: It is great -- new people, new food, new adventures! Bike people are some of the best folks in the world.
Gavin: What eventually brought you to Utah, and what made you decide to stay?
Marek: Skiing ... sort of. Okay, it was a girl.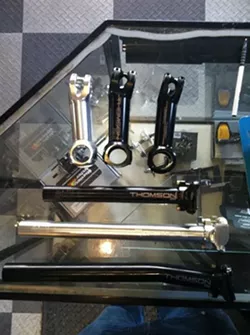 Gavin: You run the Utah Crit Series. What was it like putting that series together and watching it grow into what it is today?
Marek: It is a lot of fun and the best job I have ever had. It keeps me racing, and all of my friends out of trouble. Three or more times a week, I get to hang out with friends from all over the valley and we race bikes. You can't get any better than that!
Gavin: What's it like for you balancing out being a competitor as well as a series runner?
Marek: That is the hardest part and not one I am good at. In fact, I had to put my racing on hold this year because I was spread too thin. I picked up a MTB series -- Intermountain Cup -- and that had me working day and night. There is a joy when the race is over and you know people had a good time -- that is satisfying -- but the best balance is when you get to put on a great race and be a racer, as well.
Gavin: How did the idea come about to get involved with a cycle shop?
Marek: I was a dot com guy, sort of, and wanted out of that so I bought into Cyclesmith and now I am sole owner. Eric Flynn and the guys really run the joint. I just come in when I want and screw everything up and they fix it.
Gavin: How was it building up your team over the years and making sure everyone in the shop knew their stuff?
Marek: When I bought into the shop, the first person I wanted was Eric Flynn! He is great at all things bike, no BS, and very funny. Once he was in place, the right people just starting showing up. Jason came from Texas, Wes came from? I don't know where Wes came from. Smity and James came from the Apple store; it is a great mix of talent and personalities.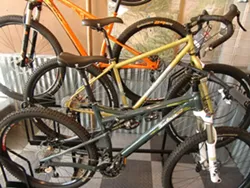 Gavin: Aside from the normal services, you also have a Shock Lab. What made you decide to provide that service, and what exactly does it do?
Marek: Shock Lab is all about tuning and fixing bicycle-suspension systems! It started when Jason, Wes, Eric and I would ride MTB and they were always stopping to help people; almost always something with the suspension. So, as a shop we decided to focus on becoming the best at fixing and tuning shocks, and teaching people how to use and care for them, as well. Jason is a great example. He is always showing people the best insider tricks on how to dial in suspension for any terrain. Wes can take any busted, beat-to-death, left-out-in-the-rain shock and make it new again. They are the core of the Shock Lab and their work is amazing!
Gavin: How do you go about deciding what bikes, equipment and other products to sell in the shop?
Marek: It is voodoo. Bianchi for the history, Rocky Mountain for the rep, Giant for their value, Felt for cutting edge, and Salsa just because?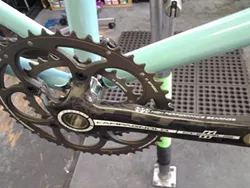 Gavin: Are you looking to expand the shop or operations down the road, or sticking to the one location for now?
Marek: We will see.
Gavin: How important do you believe it is for the cycling community to have a local shop, as opposed to doing the work and repairs themselves?
Marek: I think you need both. People need to know how to do some things on their own; changing a tire, etc. For those big repairs, having a shop around is a must. It keeps the balance right.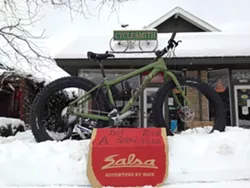 Gavin: What are your thoughts on the local cycling community, both good and bad?
Marek: There is no bad; the more people riding bikes the better -- better air, better community, better people!
Gavin: What do you think of the new Green Bikes and the service they provide to downtown SLC?
Marek: LOVE IT! More people on bikes is always a positive!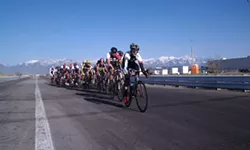 Gavin: What can we expect from both you and the shop over the rest of the year?
Marek: More racing -- Cross season -- UTCX.net -- is coming up. Bigger and better service at the shop.
Gavin: Aside from the obvious, is there anything you'd like to promote or plug?
Marek: Sure. Do you and your community a favor -- walk into to any bike shop and buy yourself a bike ... and ride it! That will change everything!
| | | | |
| --- | --- | --- | --- |
| Follow Gavin's Underground: | | | |