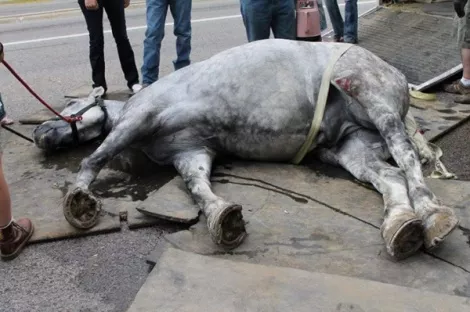 Saturday, a 13-year-old horse named "Jerry" collapsed in Salt Lake City while carrying passengers by carriage around downtown Salt Lake City on a day when the temperature hit a high of 98 degrees. Now, multiple petitions are calling on the Salt Lake City Council to end horse-drawn-carriage rides in Salt Lake City.---
One online petition has already gathered more than 1,200 signatures seeking an end to carriage rides that regularly take tourists and others around Temple Square and downtown Salt Lake City. The petition organizer, Donna Pemmitt, noted that after Jerry's collapse on the afternoon of Saturday, Aug. 17, he had to be dragged with ropes onto a trailer and hauled by a forklift into a barn.
"It's time for Salt Lake City to do away with this cruel industry," the petition reads. "Please contact the Salt Lake City Council and politely tell them to end this cruelty!"
The Salt Lake Tribune reported that the horse's owners say that he was also suffering from colic, which may have led to his collapse. Still, many are questioning the safety of horses carrying passengers during sweltering heat amidst downtown traffic, including Councilman Charlie Luke, who asked the question on Facebook Saturday: "Are congested downtown streets really appropriate settings for horses?"
It's a point also raised by animal-rights activist Amy Meyer, who is also hosting an online petition that, when signed by Utah residents, automatically e-mails the Salt Lake City Council and Salt Lake City Mayor's Office.
"These dangerous conditions are inherent to the use of horse-drawn carriages in an urban environment," Meyer's
petition
reads. "They cannot be corrected with regulation because it's impossible to reshape the landscape of our city to suit horses."
If you have an opinion on this, you can sign Pemmitt's petition here and/or Meyer's petition. You can also find your council representative's contact info here, or you can submit general comments to council.comments@slcgov.com
*Photo courtesy Jeremy Beckham, via Reddit