Mixed Martial Arts fighting has really come into its own in Utah, with a couple of promotions in town offering fight nights on a regular basis for fans to be a part of, with hometown fighters to root for. --- Of course, no one makes a career just being a regional fighter these days; many of those stepping into the cage are looking to make a name for themselves quickly and rocket their way up to one of the national or global promotions.
One of the more prominent gyms turning out fighters is Elite Performance, the West Jordan gym owned and operated by Jeremy Horn. A former Ultimate Fighting Championship and Elite 1 fighter with several titles to his name, Horn opened the gym and gave local fighters a place to hone their skills with a professional ring and equipment Horn himself uses to train. Today, I briefly chat with Horn about his career and the gym, plus thoughts on local MMA. (Photos courtesy of EPG's Facebook and website.)
Jeremy Horn
Gavin: Hey, Jeremy. First thing, tell us a little bit about yourself.
Jeremy: There isn't much to tell. I grew up in Omaha, I moved to Iowa in 1998 to train with Pat Miletich. Then, around 2003 or so, I moved to Utah, where I met my girlfriend, Jennifer Howe. The rest is pretty well-known; mix in a few hundred fights and I'm pretty much like everyone else. Haha.
Gavin: What first got you interested in MMA fighting, and what influenced you to get involved with the sport?
Jeremy: I don't really remember what got me started. My older brother was training, and like most kids, I wanted to do what my brother was doing. After training for a few years, a promoter offered us a chance to fight and I was hooked.
Gavin: How did you officially break into the UFC, and what was your first year like in the league back then?
Jeremy: I got my start in the UFC when I was scheduled to be an alternate for UFC 17 against Chuck Liddell. When they decided to add another fight against Frank Shamrock, my fight got swapped to him instead.
Gavin: What did you think of your overall career in the organization up until you were released?
Jeremy: The UFC treated me very well; I had a great time.
Gavin: Your last official fight was in late 2011. Do you consider yourself retired at this point, or are you taking time off before returning to the ring?
Jeremy: I'm retired, but I'm running the gym and the fight show, Elite Fight Night; It keeps me pretty busy. I would like to fight again after the first of the year sometime.
Gavin: During that time, what brought you to Salt Lake City, and what made you decide to take up residence here?
Jeremy: I moved here when I met my girlfriend, Jennifer Howe.
Gavin: How did the idea come about to start up your own gym?
Jeremy: Starting a gym and teaching has always been something I enjoy, and was a logical end for my career when that time comes.
Gavin: How did you come across the location in West Jordan, and what made you decide to make it the gym?
Jeremy: We had one of our students' fathers, who was a realtor, find it.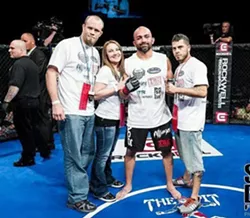 Gavin: What was it like getting all the equipment together and turning it into a gym to suit the needs of MMA fighters in training?
Jeremy: We got the equipment together over a few years. When we started we just had the mats.
Gavin: How was it for you when you first opened and you started seeing people use the facility?
Jeremy: It's nice to see people be interested in what I have to offer. It's also very nice to see fighters grow and improve with what I have given them.
Gavin: What kind of fighters do you see come through the door, and how do you determine who has what it takes, who needs work and who just can't get it together?
Jeremy: It's hard to tell who has it and who doesn't until they get into a fight for the first time. A lot can change when they get hit for the first time.
Gavin: Who are some local fighters coming up through the ranks you believe people should be checking out?
Jeremy: There are too many to name them all and I don't want to leave anyone out and get hurt feelings. Haha!
Gavin: Do you have any plans to expand the gym at this time, or are you good with keeping things as they are?
Jeremy: Not at the moment. The one building we have is almost more than I can handle now.
Gavin: Going a little more local, what's your take on the MMA organizations in Utah today, both good and bad?
Jeremy: There are a few promoters who are great for the local scene and to help fighters. There are others who just want to make money and don't care about the fighters.
Gavin: What advice do you have for anyone looking to get into the sport?
Jeremy: Find a good gym and be patient. It doesn't help to rush into things.
Gavin: What can we expect from both yourself and Elite Performance over the rest of the year?
Jeremy: I'll still be here training people who want to get in better shape, or learn some self defense or try their hand at MMA fighting.
Gavin: Is there anything you'd like to promote or plug?
Jeremy: Of course. We have another Elite Fight Night coming up at The Complex on November 1, and we are offering a free week of training at Elite Performance.



| | | | |
| --- | --- | --- | --- |
| Follow Gavin's Underground: | | | |