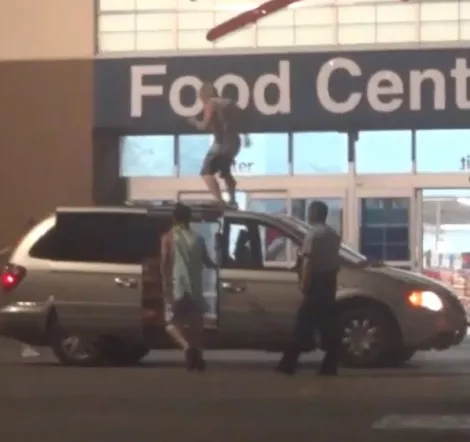 After pointless memes like Harlem Shaking, planking and milking, it seems it's getting harder and harder for bored kids to create videos worthy of Internet fame. So, when a group of Utah teen-bros hash out a plan to dance in and around a minivan in a Walmart parking lot to crappy house music, the last thing they need is some Internet-hating cop rollin' up to squabash the operation.---
But thanks to a group of keen-eyed witnesses, the majority of this mess was caught on camera and perhaps now, in some weird meta way, their mini-van dancing might just go viral ...
If you can't sit though the whole thing, skip ahead to 1:55 to see the cop put an end to the party.
Considering that there's probably stranger people and activities happening inside the Walmart, it makes you wonder why cops even give a shit about something as mundane as this. One can only speculate how the responding officer reacted when dispatch radioed out what was going down at Walmart that evening:
Dispatch: Attention all units, we have a 419 happening at Walmart. Any officers in the area please respond.
Officer: You hear that, rookie? Now's your chance to earn that badge.
Rookie: Gee, Sarge, what's a 419?
Officer: What's a 419?! It's a police officer's worst nightmare: dumb-ass teens trying to make a viral video.
Rookie: Jesus Mary Mother of God! Well, what do we do with these shoplifters in the back seat?
Officer: (In Batman voice) We have bigger fish to fry.