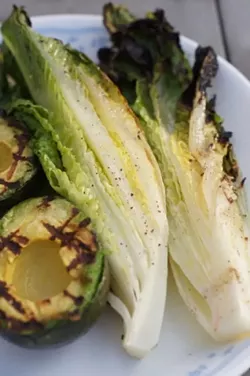 As summer draws to a close, I try to get the most out of my outdoor grill. Before I know it, it'll be covered in snow. ---
One of my favorite light summertime meals is grilled Caesar salad. It's exactly what it sounds like: grilled romaine lettuce with Caesar salad dressing. The dressing is easy to make ahead of time and the lettuce only takes a few minutes to grill. It's a quick but delicious main meal or starter salad.
I make a meal out of grilled Caesar salad by adding grilled shrimp and avocado, but those are optional, of course.
Ingredients:
1 head romaine lettuce
1 cup olive oil
1/4 cup Dijon mustard
2 garlic cloves, peeled and roughly chopped
2 Tbs. white-wine vinegar
1 tsp. anchovy paste (or you could use 1-2 canned anchovies)
1 tsp. Worchestershire sauce
1 egg yolk
1/2 cup grated Parmigiano-Reggiano cheese
3 Tbs. fresh lemon juice
1 tsp. kosher salt
1/4 tsp. freshly ground black pepper
1-2 Tbs. additional olive oil for drizzling on the romaine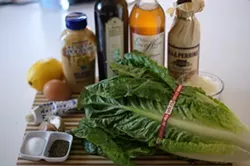 Method:
Put all of the ingredients except the romaine, salt, pepper and additional tablespoons of olive oil into a blender or food processor.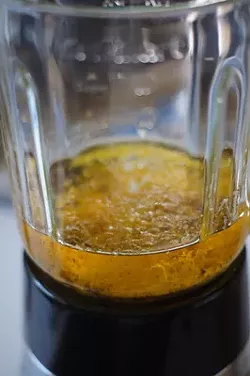 Blend until the dressing is completely emulsified.
Pour the dressing into a glass container and refrigerate until ready to use. I like to make mine a few hours ahead of time to allow the flavors to intermingle.
Preheat an outdoor grill (you could also use a broiler) to medium heat.
Trim the bottoms and the tops of the romaine, then cut the lettuce lengthwise through the heart into quarters.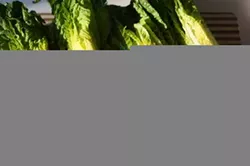 Just before grilling, season the romaine with the salt and pepper and drizzle with the remaining olive oil.
Grill the romaine on each side for a couple of minutes, until grill marks appear and the lettuce is slightly wilted.
Serve whole or chopped into bite-size pieces.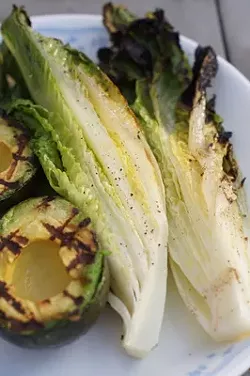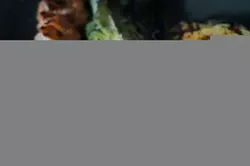 Some of the grilled Caesar salad here is pictured along with grilled shrimp and avocado.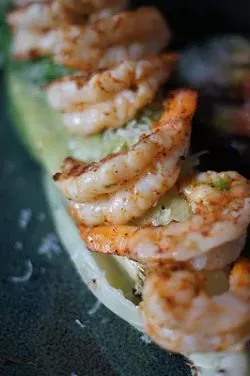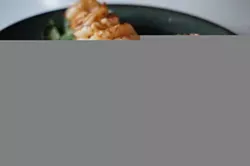 Photos by Ted Scheffler