I've always liked scallops, but I find that their flavor can be a bit intense; a little goes a long way. Here is a recipe that will turn scallop haters into scallop lovers -- even kids like it. ---
I like to top the cooked scallops with a dollop of orange-butter sauce, but that's optional; they're also good without it.

Ingredients:
6-8 sea scallops
salt
freshly cracked black pepper
1 Tbs. Dijon mustard
2 Tbs. honey
1/2 tsp. ground ginger
1/2 cup panko breadcrumbs
1/2 cup finely chopped pecans
2 Tbs. unsalted butter, melted
1/4 cup orange juice
2 Tbs. coarsely chopped pecans, for garnish
Method:
Preheat the oven to 400 degrees F.

Lightly salt and pepper the scallops
In a small bowl, whisk together the mustard, honey and ginger.
In another bowl, stir the bread crumbs and finely chopped pecans together.
Dip one or two of the scallops into the honey-mustard mixture, then into the breadcrumbs-pecans to coat well. Place in an ovenproof baking dish and repeat with the remaining scallops.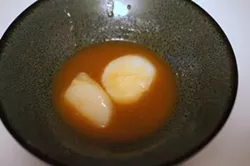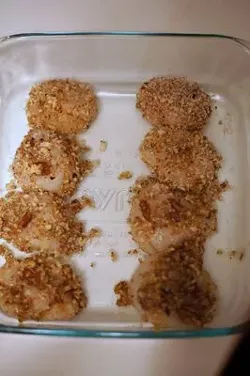 Cook the scallops in the oven for about 12 minutes.
While the scallops are baking, make the orange-butter sauce.
In a small saucepan, combine the butter and the orange juice and reduce over medium-high heat until thickened to a gravy-like consistency. If the sauce is too thin, stir in a half teaspoon or so of cornstarch.
Serve the scallops garnished with coarsely chopped pecans and a dollop of the orange-butter sauce.

Photos by Ted Scheffler