Hello to all you shoe-polishing, tie-straightening, wardrobe-matching, hair-combing, haven't-seen-this-many-men-primp-themselves-since-Pride-Festival enthusiasts! --- Yeah, there's no escaping it, that feeling of being at 44 weddings, 27 funerals, 19 time-share conferences and the annual visit from Glenn Beck. Everyone's dressed in their finest because conference weekend is happening. I have no personal beef with Conference, but men, if you're going to dress like a Mr. Mac store attendant all day, could you at least match the shoes with the pants? Blue slacks and white leather with buckles just doesn't work. It's not that hard to color coordinate; just do it. In lieu of a 337 Wall update, here's some random art posted around downtown Salt Lake City.
Getting right into events, later this week on Thursday is Local First Utah's annual fundraiser event, Celebrate The Bounty. This is one hell of an evening, where dozens of chefs will have food on hand for you to try, as well as selections from local businesses and breweries, along with an auction and other events -- all geared toward raising money for the nonprofits that do so much work to promote local business. Tickets are still on sale, but they're going quickly and won't be sold the night-of, so get them now!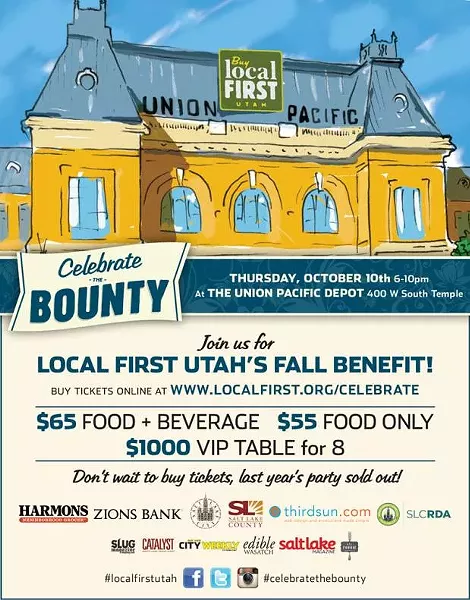 On Friday, an event I'll discuss more about later this week, Art Meets Fashion returns to downtown SLC, being held at Pierpont Place on Oct. 11. With the loss of Fashion Stroll in the fall, this is the premiere event for all local designers, models, food and art to be checked out. Check out their website for full details and be sure to get your ticket.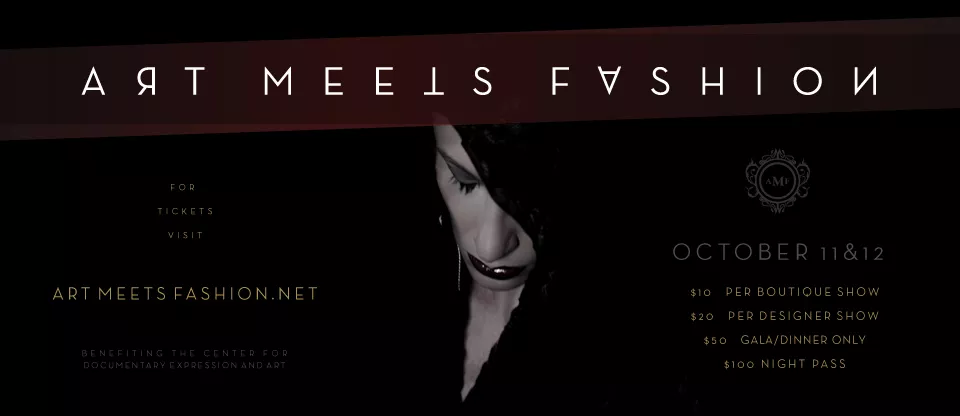 On Saturday, Oct. 12, the Night Of The Running Dead returns for another charity run. This particular run is fun because the race starts with a set of "survivors" who are given a head start, followed by a hoard of "zombies" to give chase for 5K. There are various other runs and ways to donate, but Saturday morning will be fun to watch regardless, and all for a good cause, as all proceeds go to the Huntsman Cancer Foundation.

Also on Saturday, the Wasatch Roller Derby will be holding the Beehive Brawl. If you're a derby fan, this is a can't-miss event, as four derby leagues will be fighting under one roof in a double-elimination tournament. Happy Valley Derby Darlings, Wasatch Roller Derby, Moab Roller Derby and Junction City Roller Dolls will all be fighting for your derby enjoyment. You should go.
On Oct. 18, Layton turns into another cosplay capitol as Anime Banzai hits the Davis Conference Center -- three days worth of costumed fun, anime stars, video-game tournaments and many, many, many more events that trying to list here would just be ridiculous. If you loved Comic Con or missed out on it, this is the older version that tends to get a lot crazier.

Also on Sunday, Oct. 13, the
Urban Flea Market
makes one last run for 2013. The current location has allowed it to branch out well beyond last year and bring in far more people to buy, sell and trade random goodies. Head to 600 S. Main and see what it's got until next summer.
On Monday, Oct. 14, the third-annual Salt Lake Design Week returns; I won't spend a lot of time on this one, as I'll be talking about it later in the week, but trust me, these events are worth checking out for the artistically curious.
On Oct. 18, the 2013 version of An October Evening returns to the Masonic Temple on South Temple. This year's events will be centered around the woods and the haunting happening around a campfire. Details are still being worked out, but this event always draws a great crowd. Grab a ticket before it sells out.
And finally, on Oct. 19, the Happy Valley Derby Darlins will be holding their own Halloween themed bout, as two teams made up of Vampires and Zombies will compete at The Hive in Spanish Fork. This is one of the last derby bouts you'll see before 2014, so head to Utah Valley and enjoy the battle.
As for the blog: Over the next couple of weeks ... well, I'm not entirely certain. I had planned to do a lot this month around haunted attractions and other seasonally themed things, but much of that fell through. So, fuck 'em! I've got other stuff in the works for October; as always, we'll see what happens!



| | | | |
| --- | --- | --- | --- |
| Follow Gavin's Underground: | | | |